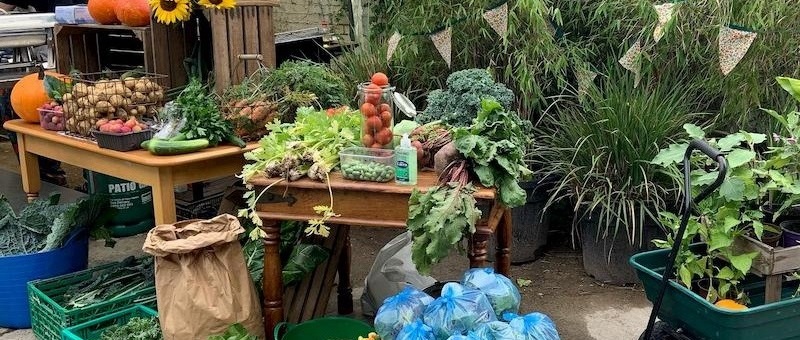 Life At The Swan in 2020
It is fair to say that 2020 has been something of an annus horribilis for everyone and whilst it would be easy to dwell on everything that has not gone according to plan, it has not all been doom and gloom. So as we look forward to getting back to normal as soon as possible in 2021, we would also like to take a moment to look back at what The Swan community has achieved this year.
January and February
We rang in the New Year to the sounds of Astronought playing to a packed Swan. Live music continued through January and February as The Jam Factory also entertained us and Astronought returned for Valentine's Day. We were delighted to host an event for Plastic Free Windsor to help raise awareness of the dangers of single-use plastics and for children, we held a Pancake Day Party including a pancake tossing competition!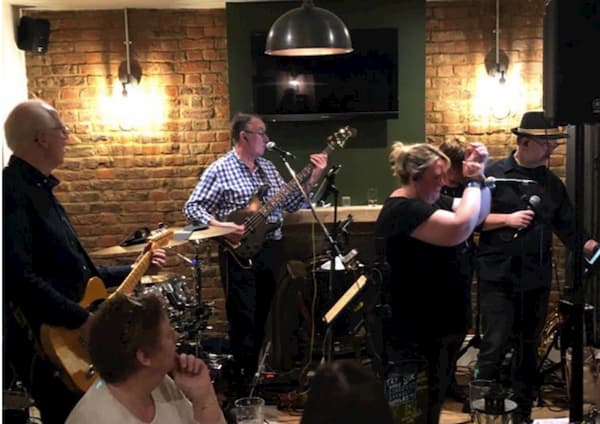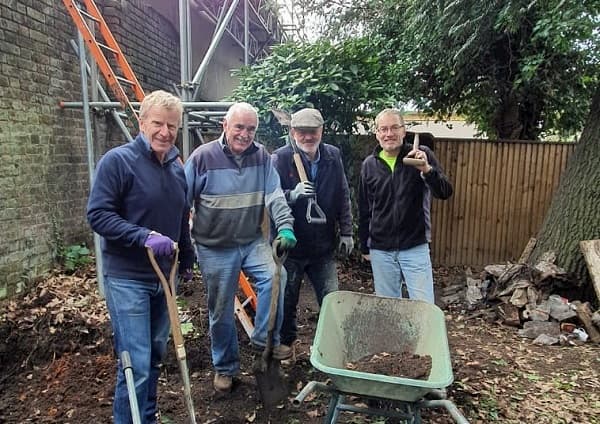 The Weekday Warriors got stuck in to the preparations for starting the kitchen renovations and if the weather allowed, they were up on the roof reducing the height of one of the chimneys and making other repairs and improvements including the removal of debris accumulated over decades behind the kitchen walls.
March and April
March started with a craft session for our younger customers to celebrate St David's Day and continued with our first ever Cheese and Wine Night. It turns out that the Swan community is rather fond of ... cheese and wine!
A group of volunteers known as The Swan Elders were pleased to help with a Careers Coffee Morning, providing guidance and life coaching to the Green Room students. Meanwhile, the Sewing Bees were busy preparing the soft furnishings for the pub and the Weekday Warriors had re-worked the stockroom.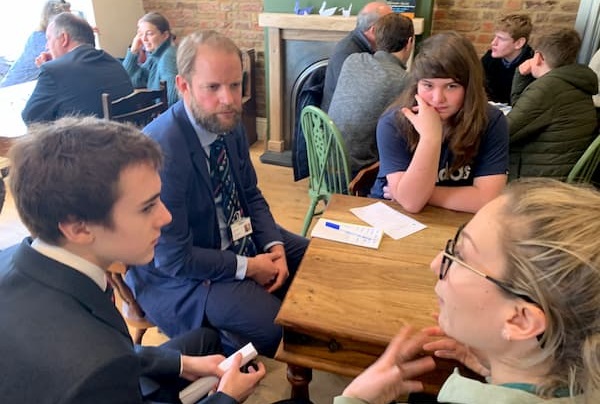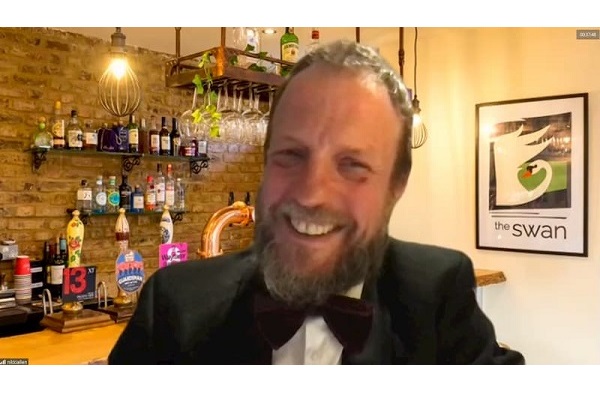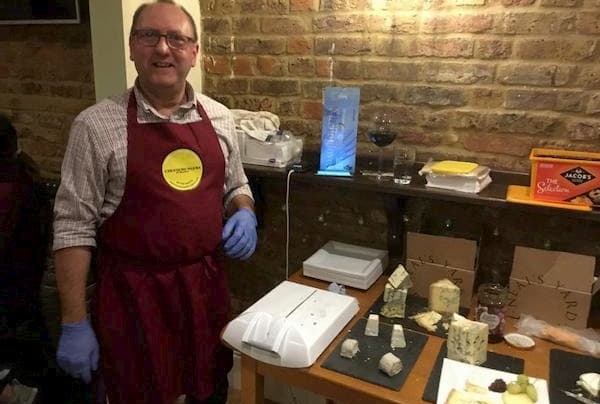 On 20th March, The Swan closed its doors as the UK went into lockdown in a fight against the Coronavirus. Both the pub and school shut down and all volunteering work had to stop. However, as our habits and vocabulary adapted to include social distancing (of course!), lockdown and self-isolate, we all realised the importance of community - and Zoom! Up to 40 households regularly took part in weekly Bingo and Quiz Nights.
May and June
As lockdown continued through May and June, so did our online events, raising much needed funds for The Swan as well as our chosen local charity for this year, Family Friends. We had guest quiz rounds from Family Friends, Plastic Free Windsor, Datchet Border Morris and Hetties Heroes, whilst the list of bingo winners lining up for a space on our 'Virtual Caribbean Cruise' grew quickly! Fridays saw us open as a collection point for Dublicious Take Away meals and beer. It was great to see some familiar faces returning – if only briefly.
Sunday evenings saw the introduction of live music from Mark & Sherridan and themed nights such as VE75, Motown, Disco, the 80s and 90s got us dancing as we cooked our roast dinner! Meanwhile, the Book Club had also moved online and increased their meetings to fortnightly.
In The Courtyard, amazing things were starting to happen to The Coach House, as a full restoration project commenced, including raising and replacing the roof. We were also proud to work with the Windsor Community Defibrillator Partnership and complete installation of a unit outside The Swan. This is in memory of Adrian Chojnacki, one of our investors and Weekday Warriors who passed away unexpectedly in March.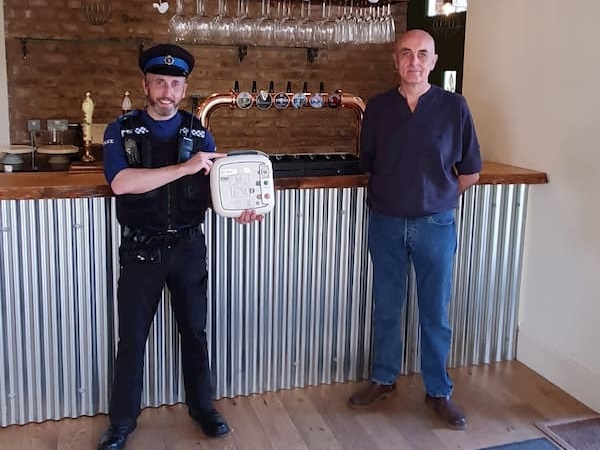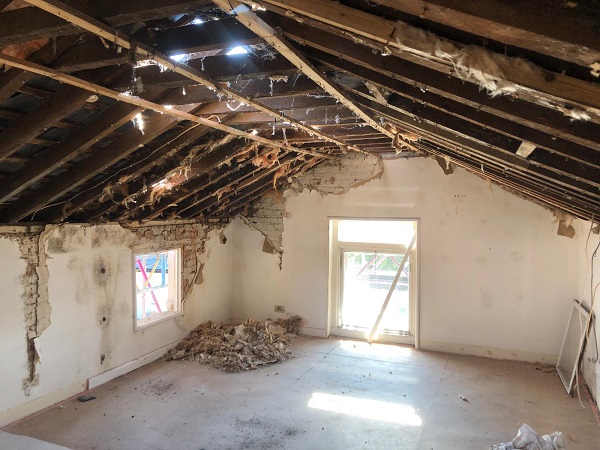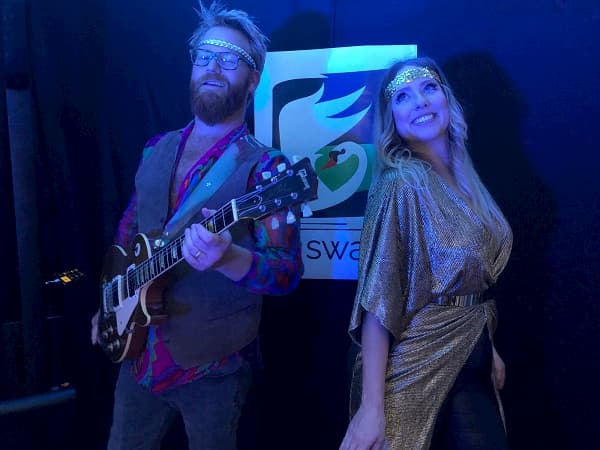 July and August
After 106 days of lockdown, we were excited to be able to open again in early July. New regulations meant big changes to how we operate, but following a deep clean inside and a spruce up of The Courtyard by volunteers, a warm welcome at The Swan was still assured.
We held our first AGM in The Courtyard and online, which was well attended. You can see the video of the day, the presentations and the notes here.
Unfortunately, our big plans to celebrate the first anniversary of our opening had to be shelved, but a few of us still managed to get together and raised a glass to everything we had achieved so far.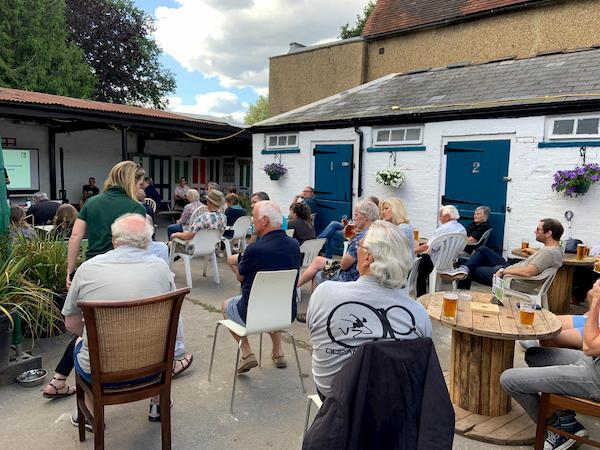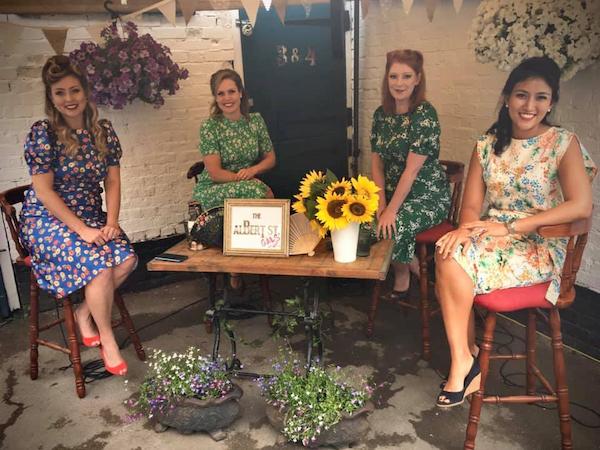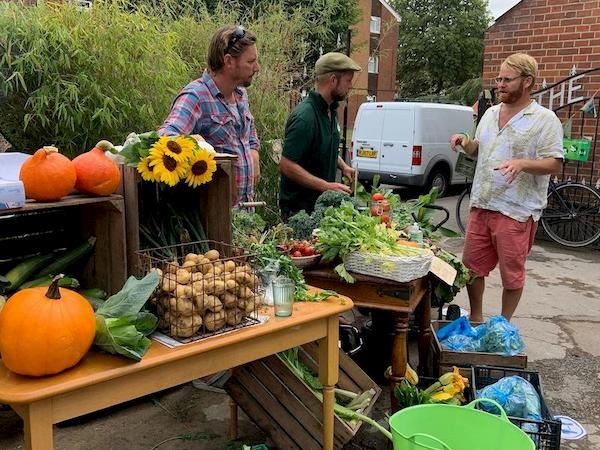 In August, we celebrated the 75th Anniversary of VJ Day with music from the Albert Street Gals and held our first ever mini-market. Our Saturday BBQs continued and the courtyard was packed with people making the most of a little bit of freedom and sunshine.
Most exciting of all, we learned that we had been nominated as finalists in the Great British Pub Awards and so started our campaign to win as many votes as possible.
September and October
As the weather held, so our BBQs and courtyard activities continued. Our monthly mini-markets proved very popular and our Charity Coffee Mornings raised a fantastic £600 for Macmillan and over £700 for the Poppy Appeal.
Work on the Coach House was also completed with an amazing new technology suite opened for the students. September's fantastic news was that we had won the Great British Pub Awards in the category for Keeping the Community Entertained. A huge thanks to everyone who voted for us and showing that it is the community spirit that makes The Swan special. The £10,000 grant for winning is being put towards the renovation of our kitchen.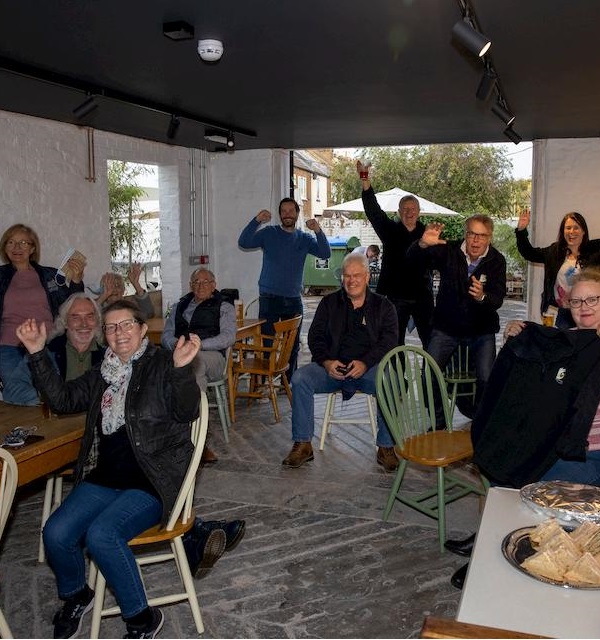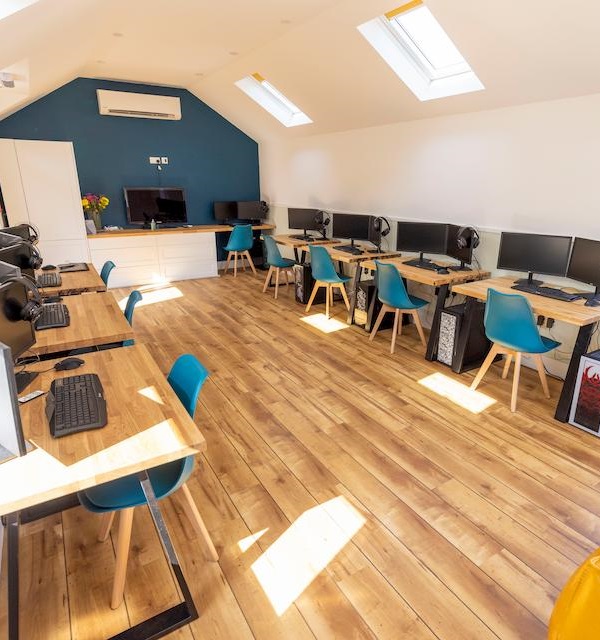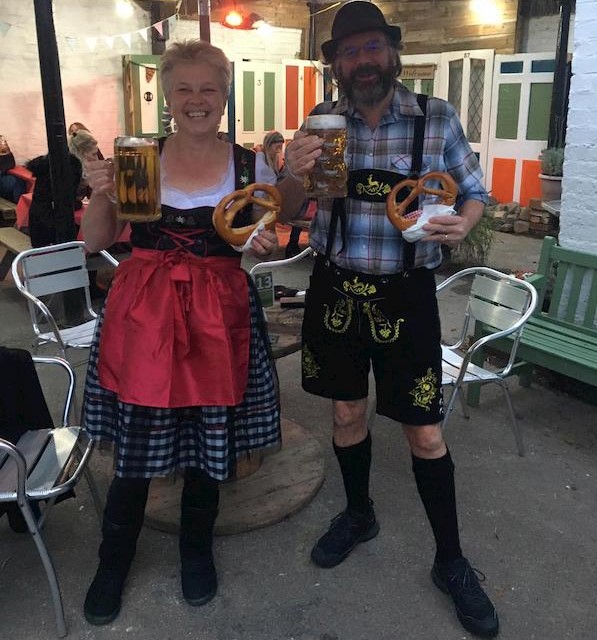 One year on from their live broadcast from the pub October saw BBC Berkshire do a special 'catch-up' feature on The Swan. The ever popular Cheese and Wine Night also returned. However, our very first Oktoberfest was the highlight of the month and a huge success – so much so that we nearly ran out of beer on the first night! With a top up on the German beer, the sun shining on a blue and white decorated courtyard and plenty of Bratwurst on the BBQ, it was a fantastic weekend for all.
Throughout all of this, the Weekday Warriors made great progress on the chimneys and roof.
November and December
With COVID rates rising, November saw us having to close again for a month. However, now fully experienced in on-line events, bingo and quizzes started again; the Book Club continued on line and we started our weekly Virtual Coffee Mornings.
We can't always see what the Weekday Warriors are doing, but the huge task of replacing worn bricks and repointing continues. The top layer of tarmac was stripped from the courtyard and a trench appeared ready to introduce a three phase electrical supply to the kitchen in time for the builders to start. The team continue to work with the professionals to prepare the infrastructure for the new kitchen to be fitted.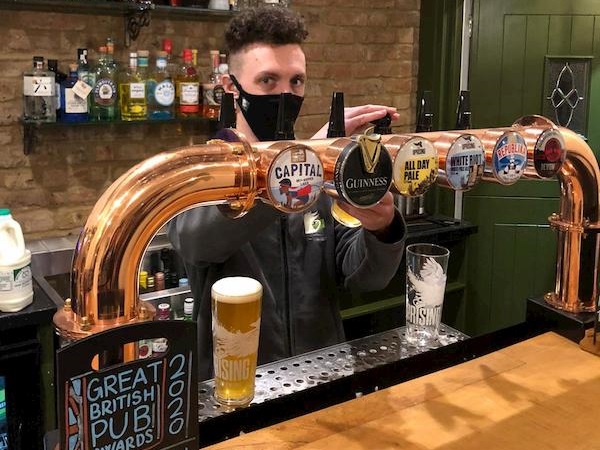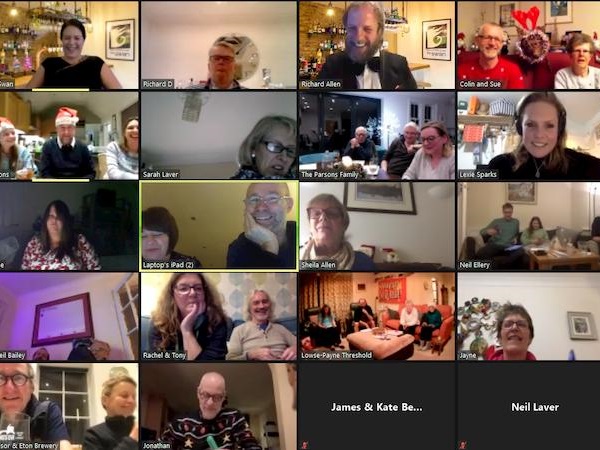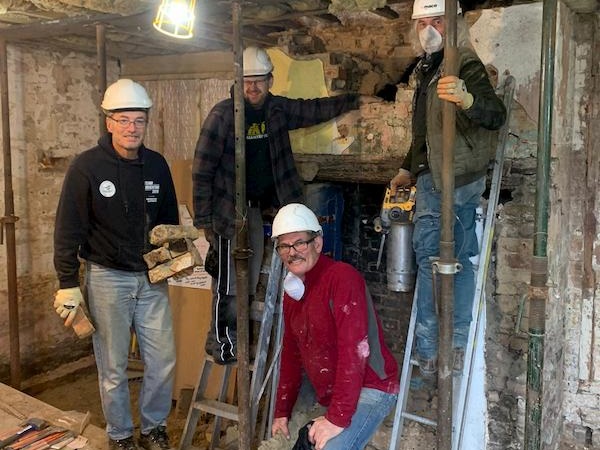 After a quick lick of paint to the bar, we opened again on 4th December and learnt what exactly constituted a 'substantial meal' – who knew that the humble Scotch egg would become so important! We managed to squeeze in a coffee morning for Family Friends but sadly, as the Royal Borough slid from Tier 2 to Tier 4 in only 48 hours we soon had to close again. We were sad not to have been able to celebrate Christmas in person with The Swan Community, but remained undeterred and held 'Our Swan Song to 2020' with music bingo, beer tasting and a quiz.
Roundup
So, as we look forward and plan for 2021– for the return of live music, cheese and wine nights, packed Friday nights, BBQs, an open kitchen, quiz nights, coffee mornings, beer festivals, monthly markets, cycle clinics, community events and much more, we can also look back and be proud of what we have achieved in 2020 in spite of everything.
We would also like to take this opportunity to thank our volunteers, customers, investors, supporters, benefactors and friends for all of your support this year. Without your enthusiasm and commitment to The Swan and community of Clewer we would not have been able to achieve even half of what we have.
You can see much more in the Renovation Diary and Past Events sections of our website – you might even spot yourself in the photos. Please send in your photos and videos so we can add them.
Will, Richard, The Friends of The Swan and The Green Room School look forward to seeing you all at The Swan as soon as we are able to re-open, but in the meantime wish everyone…
A Safe and Happy New Year!