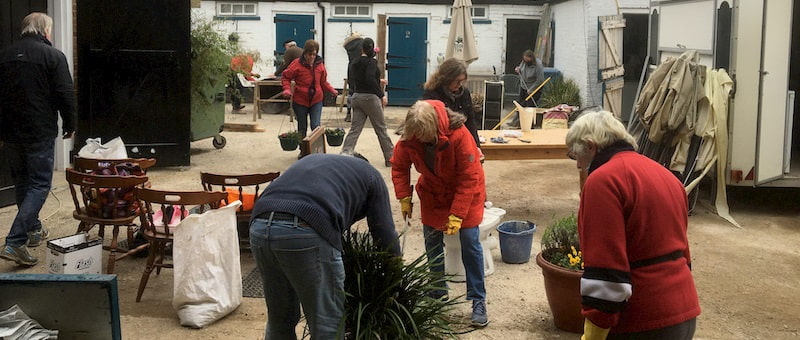 They come in all shapes and sizes. They offer time, materials, reductions, freebies, samples, equipment, knowledge, advice and help. They are a unique bunch who all have helped with the renovation of The Swan. Without them, the whole project would not be possible.
Our Benefactors
These people, companies and clubs have donated funds, materials or equipment to The Swan. Their help is gratefully received and really appreciated by all involved and also by the local community - a huge thanks!
THE COACH HOUSE

Brendan and his Jayflex team completely revamped The Coach House in three months during summer 2020 so that it is ready for the start of the school term in September. Through their generousity, The Coach House was not only made safe, but is now an IT Suite upstairs and a General Purpose area below.

More information about Jayflex is available on their website.

See the details in our Renovation Diary.

THE COACH HOUSE

Brendan O'Reilly and Jayflex

COCA COLA

The Swan won a Great British Pub Award in 2020 in the category Keeping The Community Entertained. This was awarded for online activities during the Covid pandemic. As part of that, Coca Cola generously donated £10,000 towards the refurbishment of The Kitchen.

More information about the GBPA Award is available in our awards section.

KITCHEN GRANT

Coca Cola

LION'S DEN 2019

Windsor Lions launched their community project and invited entries from those seeking funding for a new Community Project which benefits either the wider community. After presentations were completed, The Swan was awarded £1,000.

More information about The Lions Club of Windsor is available on their website.

LION'S DEN 2019

The Lions Club of Windsor

WCDP

The Windsor Community Defibrillator Partnership (WCDP) was established by a small group of representatives from local service organisations and the local authority seeking to purchase and maintain strategic lifesaving equipment for the town. They helped source, install and maintain the defibrillator mounted outside The Swan.

More information about the WDCP is available on their Facebook page.

DEFIBRILLATOR

WCDP

SHANLY FOUNDATION

The Shanly Foundation primarily supports good causes predominantly in the surrounding area. These include scouting and guide groups, schools, community groups, sporting groups, social and community events as well as registered charities. And we are so pleased to announce that they funded our defibrillator too.

More information about the Shanly Foundation is available on their website.

DEFIBRILLATOR

SHANLY

PLANT SALE

Bedding Plants - Basket Plants - Hanging Baskets - Hardy Perennials

Richard and Pam Stockbridge had a plant raising over £516 which they donated to the costs of the refurbishment.

A huge thank you from us all for their time and efforts to help us.

PLANT SALE

Richard & Pam Stockbridge
Our Business Supporters
We've had a huge response from local companies, suppliers and tradesmen. It has been absolutely fantastic and we thank each one for their help. We could not have progressed so far without you.
If you click on the company, you can get more information about them including their website. If you do contact them, please be sure to mention The Swan.
Our Current Weekday Warriors
The regular Weekday Warriors turn up every week no matter the weather to continue the ongoing building works – currently Phase 2 - The Kitchen! Their dedication to The Swan is admirable and we can't thank them enough for all the voluntary hours they put in.
IAN BIRCH

Weekday Warrior

TONY CROSS

Weekday Warrior

JOHN SYMON

Weekday Warrior

TREVOR HARVEY

Weekday Warrior

THOMAS GYONGYOSSY

Weekday Warrior

RICHARD DOUGLAS

Weekday Warrior

LEXIE SYMON

Born organiser
Past Weekday Warriors
Our ex-Weekday Warriors who for whatever reason can't contribute regularly right now.
ex-Weekday Warrior

JIM HOUSTON

ex-Weekday Warrior

BOSCO RIDGE

ex-Weekday Warrior

KEN SUTHERLAND

ex-Weekday Warrior

STEVE HODKIN

ex-Weekday Warrior
Our Swan Saviours
This section is dedicated to all those who come and help us out as and when needed, be it for gentle DIY, running repairs, cleaning, planting up the courtyard. Thank you a million times for getting stuck in and dirty with us!
LEXIE SYMON

Born organiser

AIDAN CRONIN

Joker & All-Rounder

MICKY FODEN-ANDREWS

Painter & Thinker

BAS & DIANA WILLIAMS

Finishing Specialists

DAWN CHOJNACKI

Painter and ClearUpperer

MIRANDA & BEZ

Queens of the Strippers

LIZ SUTHERLAND

Mrs "Do what's required"

ANNE TEBBATT

All rounder

ALAN & GERRY WICKENS

Pointing specialists

DUNCAN BELL

All rounder

TONY BALDWIN

Does Anything Required

DERMOT GOFF

Our recycling guru

JEFF SAUNDERS

Our plumbing expert

LAURA & JACK

Our chair painting specialists

DANIEL & BAFFY

School House Rockers

ASHLEY & MARK

School House Rockers

IZZY BROWN

Get's Stuck In

AILISH & FAMILY

Painters Extraordinaire

ANTHONY BIRCH

Mr "Destruction"

ALAN STEVENSON

Mr "Powerhouse"

COLIN SHEARER

Painter & Decorator

DANIEL ROBERTS-GREEN

Power Tool Specialist

CAROLINE HOPTON

Ex-Committee

RIC CASALE

Ex-Committee

LOUISE WINCH

Ex-Committee

RACHEL CROSS

Ex-Committee
Our Event Volunteers
Without these folk we would not have been able to run the events that we have. The BBQs, the quizzes, the special evenings. They have all donated their time and effort to help generate funds for The Swan, record the events and to ensure the community have a good time.
MARK & SHERRIDAN

School House Rockers

IAN & TONY

Masters of the BBQ

LOUISE BIRCH

Mistress of the BBQ

ANNE and RACHEL

BBQ Support Specialists

RICHARD ALLEN

Mr Bingo Caller

KEN, PETER & RICHARD

Events Support

WILL CALVERT

Online Beer Specialist

LOUISE WINCH

Set Decorator

MIKE UNGER

The Windsor CheeseMunger

RICHARD DOUGLAS

Charity Coffee Organiser
Our Sewing Volunteers
Huge thanks to the Sewing Group who put together all the soft furnishings in the bar, including covering the chairs: Sasha, Marilyn, Miranda, Michelle, Liz, Bez, Dawn, Diana, Louise, Lexie and Jen. Thanks goues to Sarah Howard who made the gorgeous blinds adorning the windows.
THE GIRLS 1

The Swan Sewing Bee

SARAH HOWARD

Blind Specialist

THE GIRLS 2

The Swan Sewing Bee
Also huge thanks to our sanders and painters for the various chairs throughout the pub: Ailish & family, Laura & Jack, Miranda and Bas to name just a few.
The talent of our Swan family is just amazing!
Activities
Lots of people play lost of parts, it is difficult to record them all. Below are some of the people who have pushed back the boundaries of a normal pub to really make it a community hub.
CARLY ABBOTT

Stay & Play

RACHEL CROSS

Kids Activities

THOMAS WIGLEY

Genealogy

SIMON RUSSELL

Board Games

THERESA ROONEY

Book Club

MARTIN PAYNE

Quiz Nights

IAN BIRCH

Cribbage

RICHARD DOUGLAS

Coffee Mornings
Our Professionals
Meet Our Professionals
We have been fortunate to work alongside some brilliant people in bringing The Swan to life. These people have helped in many ways to get the building to the stage it is at today; some have been on board for a significant period of time and others as and when their skills are needed. We really are thankful for their massive contribution.
MARILYN MORRISON

Marilyn is providing all project management for the renovation of The Swan. Also leading on the decorating and styling.

MARILYN MORRISON

P1 Project Manager

PETER KEEN

Peter is our builder looking after all the works going on within The Swan. From flooring, to ceilings, to building the bar. He is the man!

PETER KEEN

P1 Building

SCOTT KEENAN

Scott is providing all our plumbing and heating solutions throughout the pub and at ecellent rates. His company is SKPH Ltd if you are looking for him to provide you with a solution

SCOTT KEENAN

Plumbing

ROB SHARP

Rob has teamed up with Scott to provide the plumbing and heating solution. His company is W.S. Plumbing and Heating if you need a solution.

ROB SHARP

P1 Plumbing

LEN GILSON

Len from Lino Len' has given us a great discount o the flooring materials and free fitting too!

LEN GILSON

Flooring

IAN GRAY

Ian is a local lad who has his own plastering business. We are getting the toilets done at very good mate's rates.

IAN GRAY

Plastering

STUART MANDER

Provided plaster and beading free, and a team of plasters at a knock down price.

STUART MANDER

Plastering

KELVIN OF THL

Came to our rescue for the BBQ when we realised that we didn't have enough toilet facilities.

KELVIN

Sanitary Solutions

PAUL CLARKE

This is one of the two Victorian fireplaces that we discovered in the attic rooms that Paul has carefully cleaned for us.

PAUL CLARKE

Chimney Sweep

SANDERSON

Provided a significant amount of paint for The Pub, The School House and The Coach House. These are luxury paints that adorn walls in some very famous establishments across the UK. Huge thanks to Katie & Alison who supported us.

SANDERSON

Paint Providers

MATT RAYBOULD

From the supplier of the excellent paint stripper. Not only did he not charge us, he drove down from Manchester to deliver it too.

MATT RAYBOULD

Paint Stripping

THE TEAM AT SELCO

This is the management at Selco Slough who will kindly give us 10% off all purchases.

THE TEAM AT SELCO

Building Materials

FRANK AND KARL

Have completed all the electrical and security work at an excellent price.

FRANK AND KARL

P1 Electrics & Security

DAVID HOWES

Our structural engineering looked at removing the pillars in the bar area.

DAVID HOWES

Engineering

PAUL THE BRICKIE

Helping us put The Swan back together.

PAUL THE BRICKIE

P1 Brickwork

DOUG SEEBURG

Freelance photographer who has done a lot of the photos on the website and social media.

DOUG SEEBURG

Photography

WARREN

David helping his son Warren from Berkshire Scaffolding who provided the scaffolding at very preferential rates.

WARREN

Scaffolding
Missing?
If we've missed anyone, we're genuinely sorry. Please email a photo to webmaster@theswanwindsor.co.uk and we'll get you added in a blink.