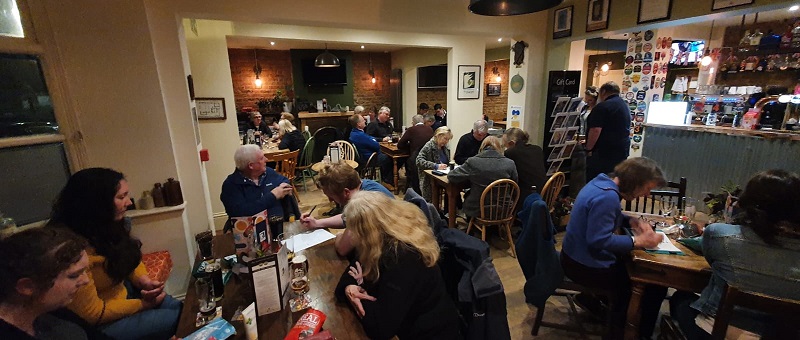 We try to have a variety of organised events at The Swan from the traditional quizzes, markets and live music to different and interesting ones such as creative drawing, illusionists and coffee mornings. With our on-site school also organising events such as Epic Thursdays and the Winter Fayres, there is always something going on at The Swan. Our calendar of forthcoming events is presented below. And after those, we suggest you have a look at our Events Diary showing what has been happening since we re-opened in 2019.
Regular Clubs & Hobbies
Club/Hobby
Dates
Time
Bingo
Nov 16th
7.30pm
Board Games Night
Nov 6th
Dec 4th
7.30pm
Book Club
Nov 7th & 21st
Dec 5th & 19th
7.30pm
Chatty Café
Every Friday
12.00-1.30pm
Cheese & Wine
23rd Nov
7pm
Coffee Morning
Nov 24th
10.30-12.30pm
Cribbage Club
Nov 7th
7.30pm
Epic Thursdays
Nov 16th, 23rd & 30th
Dec 7th.
11-2.30pm
Mindfulness Workshop
Every Wednesday
7pm
Quiz Night
Nov 8th & 22nd
Dec 13th & 27th
7.30pm
Stammtisch
Nov 2nd
Dec 7th
7.30pm
Stitch Club
Nov 25th
Dec 9th
1-3pm
Warhammer
Every Tuesday
7.30pm
Windsor Cycle Hub
Every Saturday
11am
Windsor Ukulele
Every Tuesday
7pm
Kitchen Takeovers in November
Swan Director, Willie Calvert, will be taking over our Kitchen on two dates during November. On the 15th he will be having his widely acclaimed (he said that!) Curry Night. And then on the 30th, he will be having a St. Andrews Celebration with traditional haggis, neeps and tatties. Both are from 6pm until 8pm and sure to be entertaining. Pre-booking is essential so please do email pub.manager@theswanwindsor.co.uk to book your table.
On Friday 24th and Saturday 25th, there is a Kitchen Takeover by the Secret Cook. Serving between 5pm and 9pm each day, there's some excellent autumnal food in the menu that is sure to please. Booking advisable via pub.manager@theswanwindsor.co.uk
And watch out for one on Boxing Day! More details to follow in the near future.
Christmas at The Swan
December Overview
It is very nearly time to 'deck the halls' and there is a lot planned for The Swan before, during and after Santa pays a visit. Get the dates in your diary and join us to enjoy plenty of Festive Spirit. With so much on offer there is bound to be something for everyone.
Winter Fayre
On Saturday 2nd of December, The Green Room Foundation proudly presents its annual 'Winter Fayre' set in the magical courtyard of The Swan. Hosted by students and staff from all three Green Room Schools, it promises to be a fun filled, festive occasion for the whole family to enjoy!
Choose from an array of delicious food including Yorkshire pudding wraps, seasonal vegan soup and a variety of sweet treats. Sample tasty beverages from The Swan's outdoor bar, including mulled wine and hot chocolate to warm up with, while you look around the market place to find the perfect Christmas gift from a selection of handmade crafts and local produce.
Kids will be entertained with games, arts & crafts, face painting, karaoke and more - as well as the chance to meet Father Christmas himself!
At 6:15pm, be sure to catch a surprise performance for the Windsor & Eton Living Advent - an annual tradition for the whole community to enjoy.
We look forward to seeing you all there! The Green Room College
Breakfast with Santa
The main man himself is coming back to visit the children of Clewer for Breakfast. Father Christmas has such a wonderful time last year, he has taken time from his busy schedule to do it again. This a pre book event so book quickly to avoid disappointment. You will have full access to a cooked buffet and continental breakfast and each child will receive a gift from Father Christmas. Your time slot gives you a full 2 hour experience where you can stay as long or little as you choose.
Our Events Diary
We keep a wee diary of our events. It is split by year and we also are adding 'look-up' by event type (e.g. quiz nights). We include photos, videos and a little description of what it was all about. We will continue to grow this as the pub matures. Just click on the photo below to be see all the events, feel the atmosphere and enjoy the fun we have had at The Swan since re-opening as a community pub.
Did you attend of our events? If you have any photos or feedback, we would appreciate if you would share on our social media sites. Thanks in advance. We really want to build a good history of The Swan going forward. Suggestions, photos and stories are most welcome.
Organise Your Own Event
The Swan has three different rooms available for you to use. Rates are depending upon the occasion. For more information, just click on the photo below.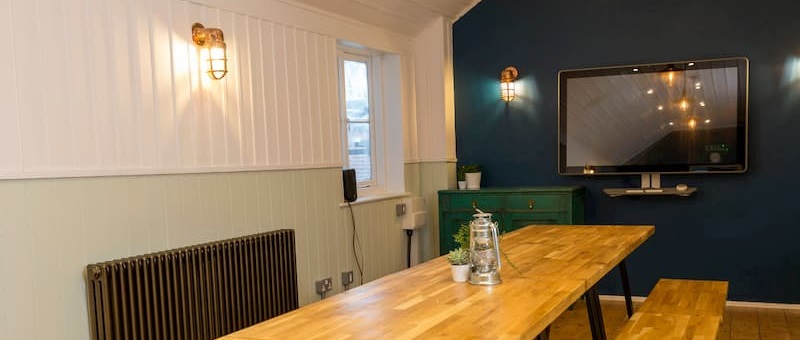 Facilities For Hire