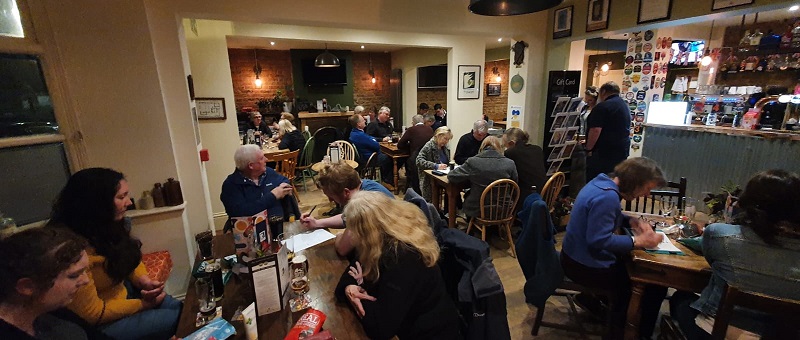 We try to have a variety of organised events at The Swan from the traditional quizzes, markets and live music to different and interesting ones such as creative drawing, illusionists and coffee mornings. With our on-site school also organising events such as Epic Thursdays and the Winter Fayres, there is always something going on at The Swan.
Our calendar of forthcoming events is presented below. And after those, we suggest you have a look at our Events Diary showing what has been happening since we re-opened in 2019.
Future Events
MINDFULNESS WORKSHOP

If we are not happy, if we do not have peace, we will not be able to share peace and joy with others, even with loved ones who live under the same roof.

If we are at peace, if we are happy, we can smile and flourish, and everyone in our family, throughout society, will benefit from our peace.

Cost is £10 for a session, book through pub.manager @theswanwindsor.co.uk

By Andreas Sira.

MINDFULNESS W/SHOP

Thurs 30th June

7pm

WINDSOR CYCLE HUB

The Bike Kitchen will be running from 11-Noon. Want help with puncture repair, chain lubrication, tyres pumping, safety check, or just a good old chat about anything bike–related? Pop down in this hour and we will be happy to help.

Weather dependent, there should be a guided ride from 11.30am (ish). For more info, please go to our WCH page.

WINDSOR CYCLE HUB

Sat 2nd July

11am

INDEPENDENCE DAY

With Independence Day on a Monday, America will be celebrating over a long weekend. The Swan will also be celebrating on Sat 2.Jul with an American themed barbecue from noon 'til 8pm - hot dogs, burgers, corn on the cob, bean burgers and brisket. And from 7pm, of course it had to be good old line dancing to finish off the night. Yee'haa!

INDEPENDENCE DAY

Sat 2nd July

Noon - 11pm

BARBECUE

The BBQ has proved so popular that it is now becoming a regular event through summer. Cooked and served by Josh, our chef, direct from the BBQ. Traditional, veggie and kids options available. There are some excellent beers and wines to help quench your thirst too.

BARBECUE

Sun 3rd July

Noon - 6pm

GAMES NIGHT

Simon, our local games inventor, is hosting an evening of exciting board games. Some you will be familiar with, some will be totally new. He will help setting games up and getting you going. Also with any questions you may have during the game. Feedback is also welcomed.

Why not come down, meet some new people and try a game over a pint?

Everybody welcome, all ages, no need to book a place.

Hosted by Simon Russell.

GAMES NIGHT

Mon 4th July

7pm

CRIBBAGE CLUB

Not everybody knows how to play cribbage, and thus, can appreciate the tactics and complexities of the game. Once up and running, people find that is very enjoyable, addictive and a great night out.

There is an informal group currently meeting at The Swan with a view to playing on a regular basis. You don't need to know, the experienced players will be explaining all the rules and helping novices through the whole process.

CRIBBAGE CLUB

Tue 5th July

7.30pm

TRICKS FOR THE CURIOUS

Stephen Long is a co-writer of Derren Brown stuff, like Svengali, Apocalypse, The Great Art Robbery, and The Push. Hector Chadwick is his pen name.

Stephen adores card magic and is constantly fiddling with cards, or working on complex sleight.

He will be holding small, intimate magic sessions each Tuesday in The School House. Six max and min. age of 16yo. Advanced booking is required via Skiddle.

MAGICIAN

Tue 5th July

8pm

CREATIVE DRAWING

Local Creatives is an art academy offering leisure based art sessions for adults taught by professionals. Dean will be offering a mix of drawing and painting sessions ideal for complete beginners or those with some previous experience.

For more information or to join, please contact lcreativesuk@outlook.com or call 07557 226263. See also www.localcreatives.co.uk.

Some photos of the first drawing class are in our diary.

CREATIVE DRAWING

Wed 6th July

7pm

WINDSOR CYCLE HUB

We've shared our love of cycling with the people of Windsor for almost year. We're all volunteers at Windsor Cycle Hub & to support our visitors we need more volunteers to help with Guided Rides. Interested? See you every 2nd Tuesday of the month.

VOLUNTEER TRAINING

Tue 12th July

7pm

THE SWAN QUIZ

Every second and fourth Wednesday of the month, our quizzes are very popular with the locals. Martin is our quiz master and usually sets five rounds which vary each time. £2 per person, six max per team. With a special draw each week too which is open to all.

To avoid disappointment please book a table, information on how to do so is on our Bar page for more information.

See our Quiz Night page for more info.

THE SWAN QUIZ

Wed 13th July

7.30pm

STAMMTISCH

The Stammtisch is now a regular event at The Swan. This is a traditional German monthly meet up and any proficient German speakers are welcome. The idea is to have a monthly connect, practice our German and keep a very German tradition alive in our favourite local. If you want to practice some rusty German you are most welcome too.

STAMMTISCH

Thurs 14th July

7.30pm

CHEESE and WINE

The CheeseMunger is back! The exact cheese menu will be published on social media shortly before the evening. Micky &Connor will have some fine wines on special offer too.

See previous our previous Cheese and Wine Nights to get a flavour.

CHEESE and WINE

Tues 19th July

7pm
Popular Weekend Events
Over the years, we have had some excellent weekend events that have entertained the local community. Our own SwanFest, Oktoberfest and many others over the years have showcased live music, guest ales, special food, and much more. More information will be provided closer to the events but until then, put the dates in your diary!



Our Events Diary

We keep a wee diary of our events. It is split by year and we also are adding 'look-up' by event type (e.g. quiz nights). We include photos, videos and a little description of what it was all about. We will continue to grow this as the pub matures.

Did you attend of our events? If you have any photos or feedback, we would appreciate if you would share on our social media sites. Thanks in advance. We really want to build a good history of The Swan going forward. Suggestions, photos and stories are most welcome.




Organise Your Own Event

The Swan has three different rooms available for you to use. Rates are depending upon the occasion. For more information, just click on the photo below.

Facilities For Hire