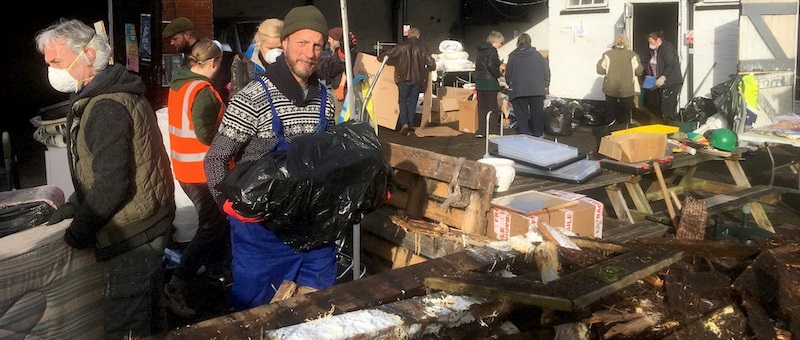 Front of House
How would you like to be part of Windsor's Number 1 award winning community pub? We are looking for budding Front of House volunteers to help our bar staff during busy periods by welcoming and chatting with our patrons, clearing tables, delivering food & drink to tables and collecting empty glasses. To find out more, take a look at the more detailed Role Description here and if you're interested drop us an email at: volunteers@theswanwindsor.co.uk
Weekday Warriors
Are you bored during the week? Had enough of daytime TV? Thought that you want to make a real difference in the world? Or simply want to hide from your partner or family? Well the answer is here!! Come and volunteer down at The Swan during the week. We need you whether you are skilled bricklayer, or carpenter, or can be a general labourer for the day. We also need people to take stuff the dump too.
Interested? Then please get in contact with volunteers@theswanwindsor.co.uk
Due to Covid-19, you must register so we can carefully plan activities around space, social distancing, equipment and the likes. If you do volunteer, please abide the instructions given: they are for your safety and of the other Warriors.
Please wear old clothing, gloves and secure footwear. High viz vests, hard hats, masks and the likes will be available. Before starting there will be a little light reading to do and also a safety briefing too. We will also need your signature as part of the legal stuff.
There is still plenty to do! See the recent photos here. We will be posting more as we go along to try and record our journey.
Your time and help would be appreciated.
Specially Organised Events
We have volunteers days usually at the weekend or on mornings that the pub has suspended operations. These are well supported bu the local community. We ran two different formats: a formal one with pre-registration and specific times and an informal one wth drop-in if and when you can. Both are very successful. We have recorded each of the days in the events page and are constantly adding to them as we receive more photos.
Tradesman & Professionals
We are also looking for further help with the project at preferential rates (or for free, as a gift to the project). Can you help? Or do you know someone who can? We are also looking for skilled tradesmen who are able to volunteer their time during the week.
We are going to need people with a wide range of skills:
Skilled tradesmen such as builders, plumbers, electricians and gas engineers.
Other skilled people such as plasterers, painters and handymen.
Surveyors, accountants and lawyers.
Graphic designers, photographers, marketeers and web designers.
Please let us know either when registering for volunteer days coming up, or get in touch directly via email to: Lexie Sparks.
General Volunteering
To get this working for the community, we need people to help:
Organise the running of clubs, pub competitions and special events.
Be mentors and coaches for our young people from The Green Room School.
Raise funds for further phases of improvements to The Swan.
And those with hospitality skills.
We will also need volunteers to help with the renovations of later phases of The Swan (e.g. B&B, outbuildings, etc).
How Do I Volunteer?
There are several ways to volunteer: