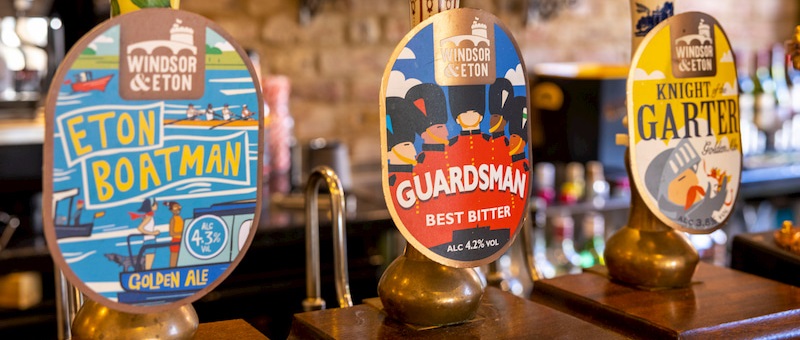 Bar Opening Hours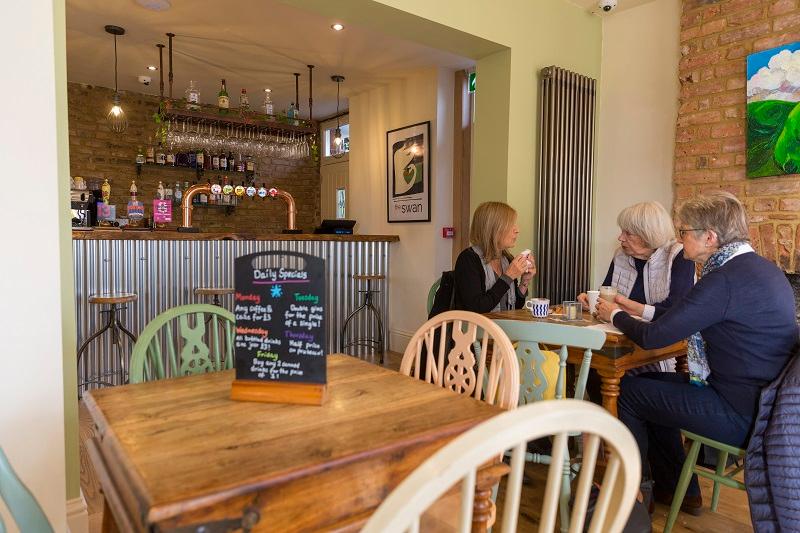 Our summer opening hours for The Bar are:
| | | | |
| --- | --- | --- | --- |
| Monday | 5pm | - | 11pm |
| Tuesday | 5pm | - | 11pm |
| Wednesday | 5pm | - | 11pm |
| Thursday | 5pm(*) | - | 11pm |
| Friday | Noon | - | 11pm |
| Saturday | 11am | - | 11pm |
| Sunday | Noon | - | 8pm |
(*) During term time, Epic Thursdays will be available from 11am to 1pm. Our school students take over the pub and serve drinks and food based on a special theme for that week. The pub will then remain open until closing time.
Although not required, table bookings are possible; see below.
Drinks List
Micky and the team would like to introduce the bar price list to you. Here are the most popular drinks we are asked for. We do have an range of other drink in bottles or cans, and mixers too so please do ask. And do you prefer a cocktail? Then just ask and the team will help!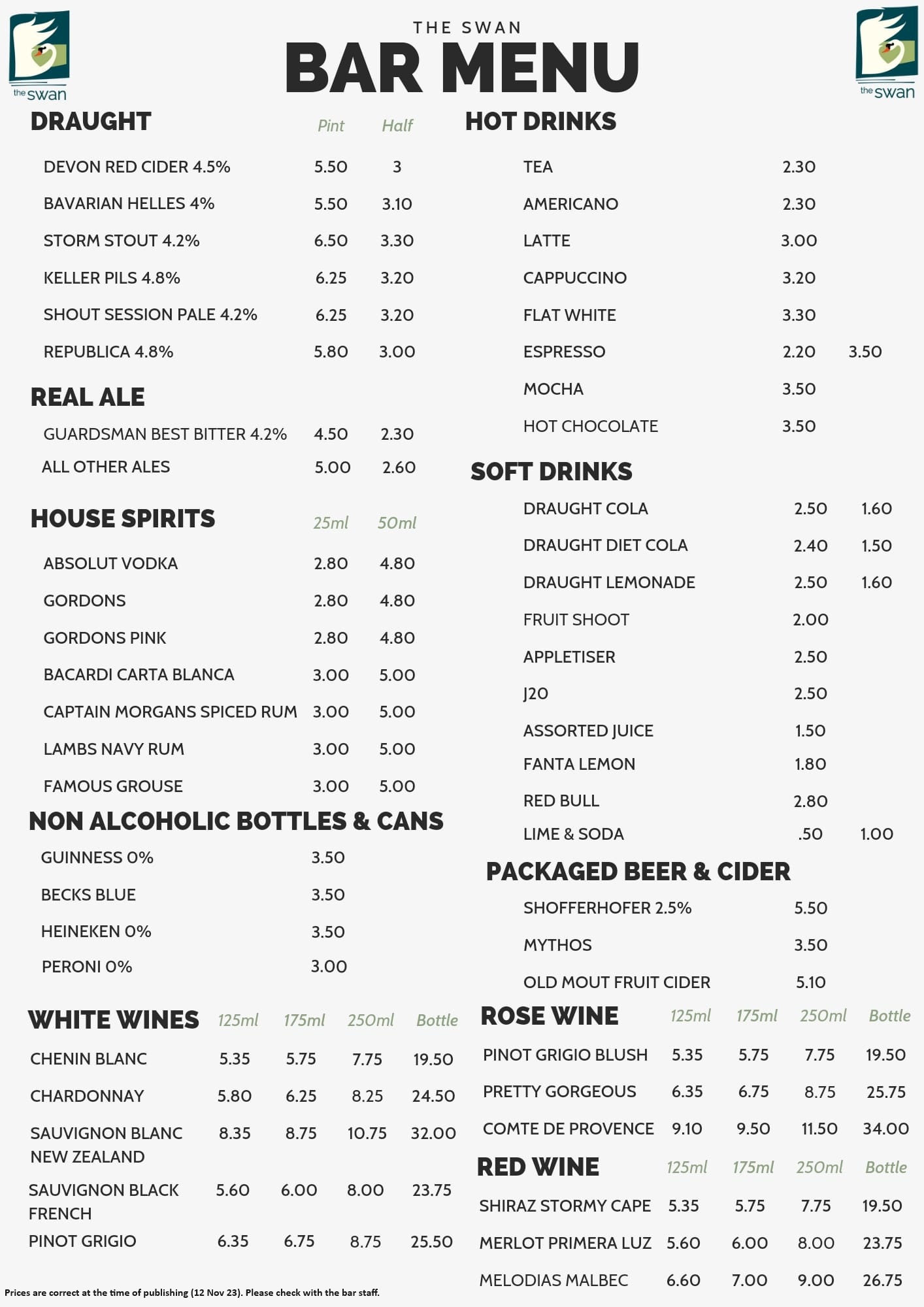 For further information please ask at the bar or contact pub.manager@theswanwindsor.co.uk
Special Draught Beers
Please check the bar staff on the day as there are price fluctations at this time. BUT it is fair to say these beauties are being offered at much less than the normal price as we do know you love them! Subject to availability.

Guardsman
£4.50/pint
A firm favourite at The Swan, this Best Bitter is a copper-coloured classic British ale with tangy taste and fresh hop aroma. Brewed with locally grown premium pale and crystal malt for its caramel notes, while the traditional use of Golding and Fuggles hops, provides a quintessentially bitter balance. (4.2% ABV)

Knight of the Garter
£5.00/pint
The very quaffable Garter is a flaxen-coloured, easy-drinking Golden Ale with distinctive fresh citrus notes. This is brought on by the use of American Amarillo whole leaf hops, giving a strong grapefruit aroma. Zesty sunshine in a glass! (3.8% ABV)
Nine for Ten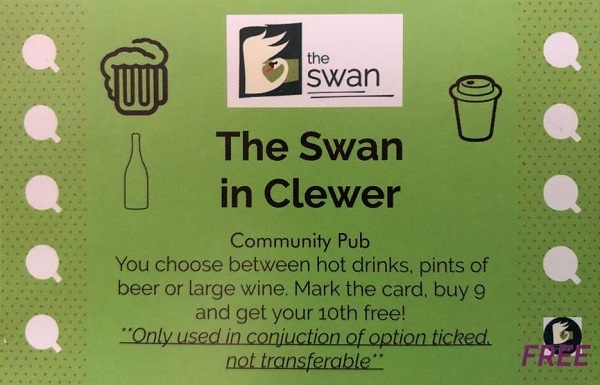 We've extended our Nine for Ten offer to include wine and hot drinks too. Choose which you want to collect: beer, wine OR hot drinks. Buy any nine drinks and then the tenth on us.
Please note that there are some conditions:
Includes all draught beers & ciders.
Excludes half pints and bottled beer.
Includes only 250ml (large) measures of wine.
Includes sit-in or take-away hot drinks.
To redeem, all stamps must be on a single card.
No mixing of types of drinks on a single card.
You can have multiple cards.
No bottles, soft drinks or spirits are included.
If in doubt, please ask our bar staff for more details. Look out for the green Nine for Ten cards on The Bar!
---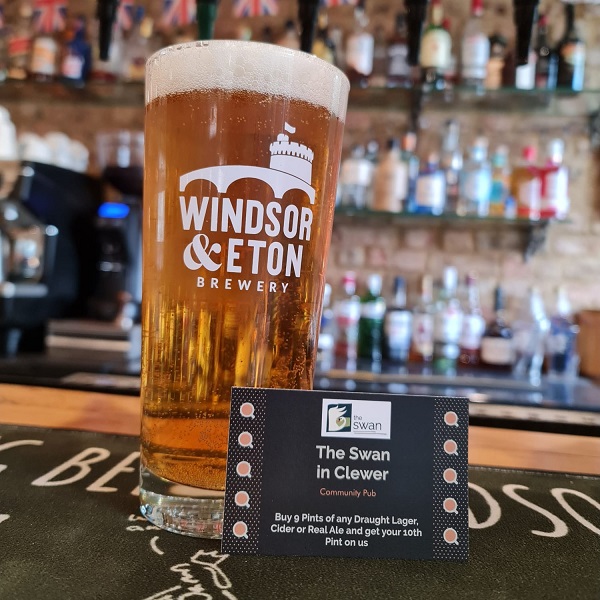 This is the original offer on draught beer - you can identify it easily as it is a black colour with gold markings. All cards have now been circulated so you will only be able to get the new green Nine for Ten card from The Bar. These old cards will still be honoured.
Buy any nine pints of our fab draught beer and get the tenth on us. This includes beers from our fine selection of draught lagers, ales, ciders and Guinness too.
Make sure you get it stamped each time you buy a pint of draught beer. And when you buy your tenth, make sure you present your card to the staff to get it free.
Please note that there are some conditions:
Includes all draught beers & ciders.
Excludes half pints.
No bottles, wines, soft drinks or spirits.
All stamps must be on a single card.
If in doubt, please ask our bar staff for more details
Booking A Table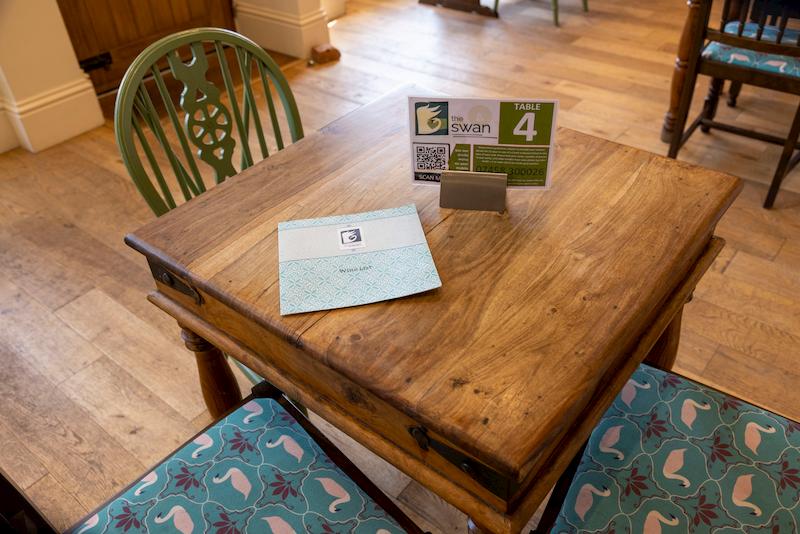 There a number of tables available for booking however walk-in is still possible as we do not book out all the tables. These tables are under the covering in The Courtyard (with heaters), in The Coach House and also in The Bar itself. Please book by emailing your details to pub@theswanwindsor.co.uk Please note that there is only a 15 minute grace on your time of arrival. For events, we do recommend booking early to get the table you want and also to avoid disappointment.
Core Cask Range


Guardsman
A Best Bitter is a copper-coloured classic British ale with a tangy taste and fresh hop aroma. It is brewed with locally grown premium pale and crystal malt for its caramel notes, while the traditional use of Golding and Fuggles hops provides the quintessentially bitter balance. (4.2% ABV)

Knight of the Garter
A flaxen-coloured, easy-drinking Golden Ale with distinctive fresh citrus notes brought on by the use of American Amarillo whole-leaf hops, giving a strong grapefruit aroma. Zesty sunshine in a glass! (3.8% ABV)

Seasonal Cask Range

Father Thames
A premium bitter brewed with Berkshire malts and Kentish Admiral hops for marmalade notes on a bready, biscuit base. Notes of toffee and caramel complement the hint of added golden syrup for a well-balanced and rich autumnal brew. (4.8% ABV)

Last Drop
This Rose Red Bitter is a rich ruby ale brewed each year for The Six Nations, a quaffable and smooth beer with subtle tangy hop notes over the mellow body. (4.0% ABV)

Windsor Knot
A Pale Ale was originally brewed to commemorate the Royal Wedding of 2012. Made with the finest natural ingredients including two specially selected hops, Sovereign and Nelson Sauvin, this beer has a balance of mellow fruitiness with hints of the tropics. (4.0% ABV)

Conqueror
A unique Black IPA that is rich, complex, dark, and distinctive. Brewed with a careful blend of five specialty malts and Cascade hops, this beer has an intense combination of flavours from resinous pine to smoky, burnt treacle. (5.0% ABV)
Core Keg Range

Republika
Was WeBrew's first lager – an authentic pilsner brewed exclusively with Czech Saaz hops and a yeast sourced from Prague, made with a slow fermentation process followed by 6 weeks lagering. No compromises have been made in producing this award-winning beer. (4.8% ABV)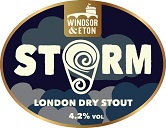 Storm
A London Dry Stout that&s smooth, creamy and velvety; with notes of cold brew coffee and bitter dark chocolate. (4% ABV)

Uprising Shout
Brewed with 6 of the loudest new world hops gives a face-full of zesty, juicy fruit bowl aromas - there's banana, white grape, pineapple & grapefruit over a solid biscuity malt base. Session strength. (4.2% ABV)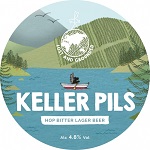 Keller Pils
Gentle and balanced, Helles uses the same pilsner malt blend that is gently hopped with Magnum, Perle and Tettnang. From Lost & Grounded. (4.4% ABV)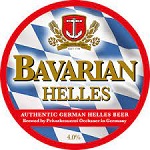 Bavarian Helles
This beautifully golden, crystal clear Helles Lager drinks like it's higher strength counterparts. Full bodied with a crisp, clean finish. From the Oeschner Brauerie. (4% ABV)
Draught Cider Range


Devon Red Apple Cider
A perfectly balanced, refreshing, medium cider named after the rich red soil that gives the Orchards their distinctive quality. A traditional cloudy cider with a rich rosy colour. This cider has been packed full of apples to really allow the taste to come through. (4.5% ABV)