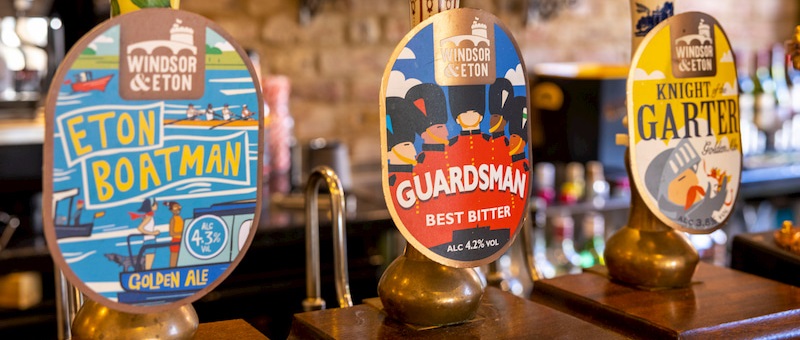 Bar Opening Hours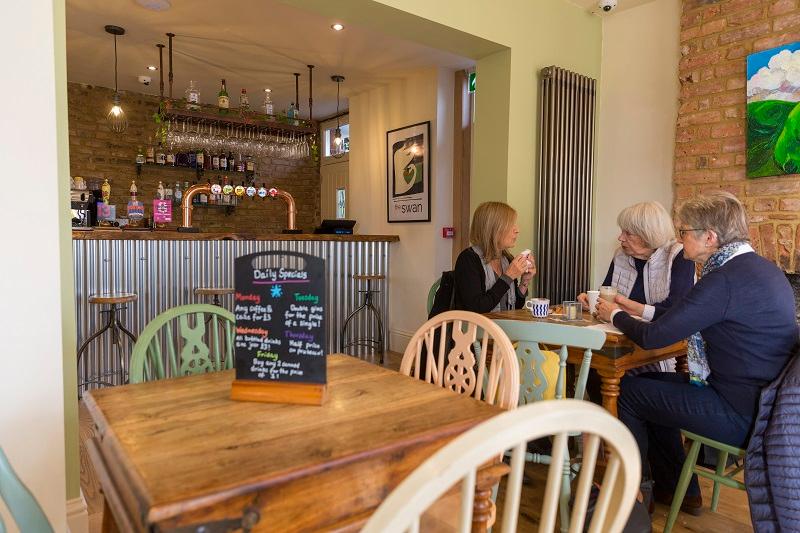 Our normal opening hours for The Bar are:
| | | | |
| --- | --- | --- | --- |
| Monday | Noon | - | 10pm |
| Tuesday | Noon | - | 10pm |
| Wednesday | Noon | - | 10pm |
| Thursday | Noon | - | 10pm |
| Friday | Noon | - | 11pm |
| Saturday | 11am | - | 11pm |
| Sunday | Noon | - | 9pm |
Although not required, table bookings are possible; see below.
Bar Drinks Menu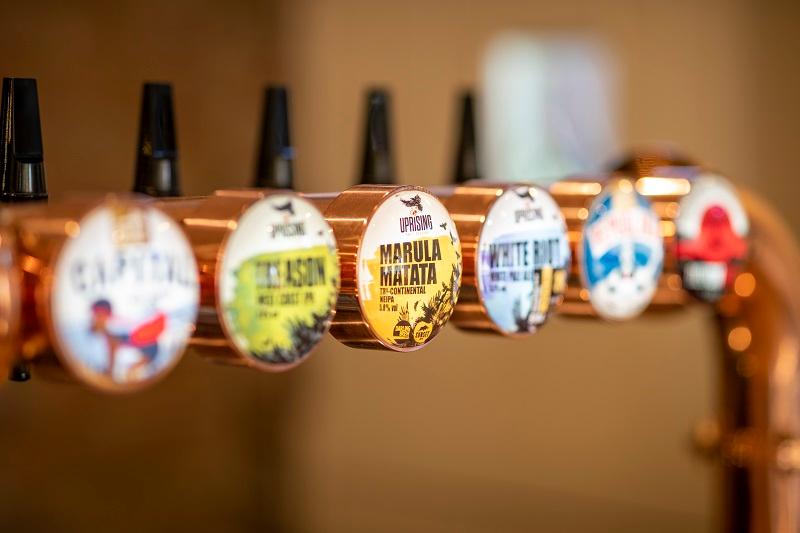 We have a range of beers, wines, ciders, soft drinks available from The Bar. We also have a range of specials and gust ales. To see more info, look at our online Bar Drinks Menu page which is regularly updated.
We have a range of regular beers, a guest ale of the week, and an exciting offering of wines (including non-alcoholic) and soon we will have four themed cocktails too. We also have pitchers and steins available which are great for sharing on sunny afternoons.
Bar Specials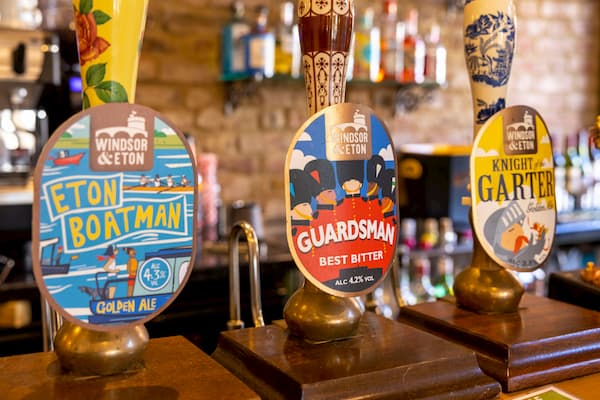 Our General Manager - Micky - and the team are proud to offer a number of special drinks offers tailored to the needs of the locals. There is therefore something for everyone including:
Guest ales
Special offers on draught beers
Specific offers of the day
You can find all of these on these on Bar Specials page. Due to the nature of the beast, that page is constantly updated with new guest ales, new offers and the likes. Please keep coming back and having a look.
Booking A Table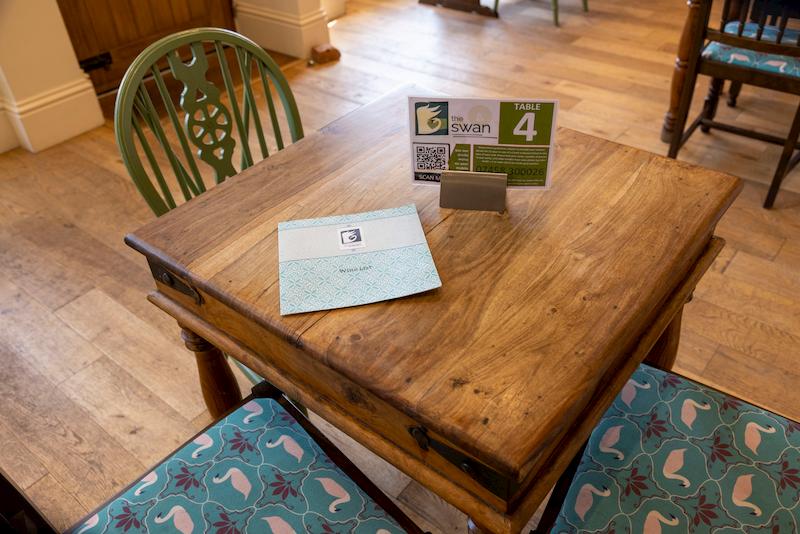 There a number of tables available for booking however walk-in is still possible as we do not book out all the tables. These tables are under the covering in The Courtyard (with heaters), in The Coach House and also in The Bar itself. Please book by emailing your details to pub.manager@theswanwindsor.co.uk Please note that there is only a 15 minute grace on your time of arrival. For events, we do recommend booking early to get the table you want and also to avoid disappointment.
Core Cask Range


Guardsman
A Best Bitter is a copper-coloured classic British ale with tangy taste and fresh hop aroma. It is brewed with locally grown premium pale and crystal malt for its caramel notes, while the traditional use of Golding and Fuggles hops provide the quintessentially bitter balance. (4.2% ABV)

Knight of the Garter
A flaxen-coloured, easy-drinking Golden Ale with distinctive fresh citrus notes brought on by the use of American Amarillo whole leaf hops, giving a strong grapefruit aroma. Zesty sunshine in a glass! (3.8% ABV)

Seasonal Cask Range

Father Thames
A premium bitter brewed with Berkshire malts and Kentish Admiral hops for marmalade notes on a bready, biscuit base. Notes of toffee and caramel complement the hint of added golden syrup for a well-balances and rich autumnal brew. (4.8% ABV)

Last Drop
This Rose Red Bitter is a rich ruby ale brewed each year for The Six Nations, a quaffable and smooth beer with subtle tangy hop notes over the mellow body. (4.0% ABV)

Windsor Knot
A Pale Ale was originally brewed to commemorate the Royal Wedding of 2012. Made with finest natural ingredients including two specially selected hops, Sovereign and Nelson Sauvin, this beer has a balance of mellow fruitiness with hints of the tropics. (4.0% ABV)

Conqueror
A unique Black IPA that is rich, complex, dark and distinctive. Brewed with a careful blend of five specialty malts and Cascade hops, this beer has an intense combination of flavours from resinous pine to smoky, burnt treacle. (5.0% ABV)
Core Keg Range

Republika
Was WeBrew's first lager – an authentic pilsner brewed exclusively with Czech Saaz hops and a yeast sourced from Prague, made with a slow fermentation process followed by 6 weeks lagering. No compromises have been made in producing this award-winning beer. (4.8% ABV)

Capital
A dry-hoppped Helles style lager first created in summer 2018, brewed with Mandarina Bavaria and North American Lemondrop Hops for a well-balanced dry and crisp beer with sharp zesty citrus notes. (4.0% ABV)

Treason
Was the original brew by Uprising, a bold and punchy West Coast IPA brewed with Simcoe hops for a classically clean yet bitter and hoppy aftertaste, and notes of stone fruit throughout. (5.8% ABV)

Guinness
Has a malty sweetness and a hoppy bitterness, with notes of coffee and chocolate. A roasted flavor also comes through, courtesy of the roasted unmalted barley that goes into its brewing. It has a sweet nose, with hints of malt breaking through, and its palate is smooth, creamy, and balanced. This is the world famous Irish Stout from the brewery in Dublin. (4.2% ABV)
Draught Cider Range


Devon Red Apple Cider
A perfectly balanced, refreshing, medium cider named after the rich red soil that gives the Orchards their distinctive quality. A traditional cloudy cider with a rich rosy colour. This cider has been packed full of apples to really allow the taste to come through. (4.5% ABV)