Windor Cycle Hub

Who is the Windsor Cycle Hub
The Windsor Cycle Hub is a community-focused bike hub based at The Swan, Clewer. Our objective is to increase the accessibility of cycling in and around Windsor. We meet every Saturday 12-1pm, where we offer help and advice on any bike maintenance you need. We are a HUB and not a club so we are open to absolutely anyone that can benefit from cycling. Know reasons or barriers that prevent you from cycling? Let us know! Either pop down in our Saturday session or send over an email. We want to hear what you want.
WCH are affiliated to the Maidenhead Cycle Hub and have organised Dr Bike events at The Swan, such as in April and May of this year. The Swan is extremly happy to host the WCH and look forward to an exciting partnership over the coming years.
Saturday 19th June - Intermediate Cycle Ride
We meet at The Swan from 12:00 on Saturday. Have your cycle checked at our new Bike Kitchen, have a drink & a chat too - while we make final arrangements.
This ride is aimed at slightly more experienced riders than our family rides. We recommend a road, cross/gravel or light hybrid for this one. We'll tailor exact details to the conditions & riders/bikes on the day, we'll use the gravel track from Stag Meadow if everyone's OK with it. We plan a 20 mile route max, but we leave no one behind - so there's plenty of flexibility cut sections of the park off (or add some on!) if everyone's up for it! Windsor Great Park's a great place to ride, we ll respect the current restrictions on routes & stick to tarmac roads in the park.
If you're not familiar with how to get to the park, or where the numerous roads lead & you want to meet some new friends to cycle with - then this is the ride for you!
Hosted by one of the approved guides of the Windsor Cycle Hub.
Silent Auction
This Saturday sees the continuation of the excellent Silent Auction with a range of items available to bid upon. The bidding is done in person during the gathering from noon down at The Swan. Susy and some of the WCH volunteers will be able to explain the details. Winners will be announced at 2.50pm at The Swan's mini-market at the end of the month. Go on - make a bid!
Voucher for a "Maidenhead Cycle Hub" Hand-Refurbished Bike up to the value of £150 (Choice of Childrens/Ladies/Mens)
"Cambridge Audio" Gift Pack (value £130) "Melomania" Wireless Headphones, notebook, reusable bag and refillable water bottle
"Nanoe & Double Mineral Ions" (value £100) Luxury Hairdryer
"FIAT" Picnic Hamper for Two (value £80) including two bottles of wine (red/white)
"Blackburn Local Plus" TopTube Bag (0.85litres) w/ "Touch screen" iPhone 8/device holder, "Blackburn" Adaptable Front or Rear (White/Red) compact USB Light + "Topeak FlyPaper" Glueless Patch Kits (value £60)
Saturday Meets
The Group get together every Saturday at noon. They will have a coffee and talk about bikes, routes, events, help, etc and generally chew the cud. At about 1pm, they will set off for a social ride together. The route is totally dependent upon the people there and their skill levels and experience. After the ride, the idea is to take refreshments at The Swan. Recently the Group have had a guided family ride along the Thames and a intermediate ride into The Great Park. All are truly welcome!
Here are some photos when the Group got together on 19th June, the day after the famous England - Scotland game in the Euros. All sprite and ready to go.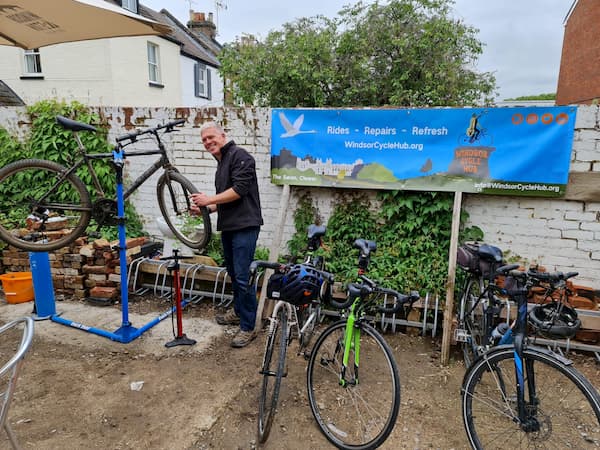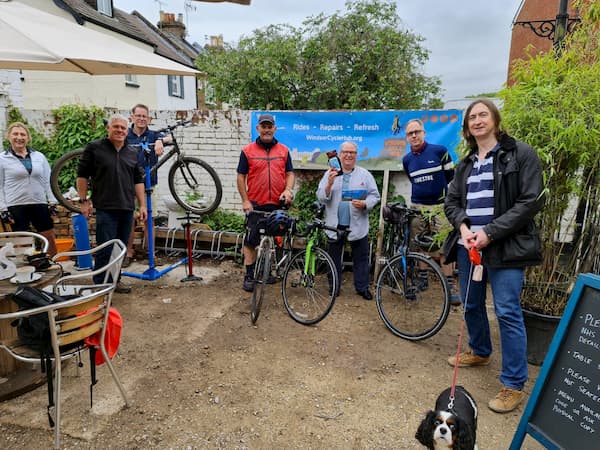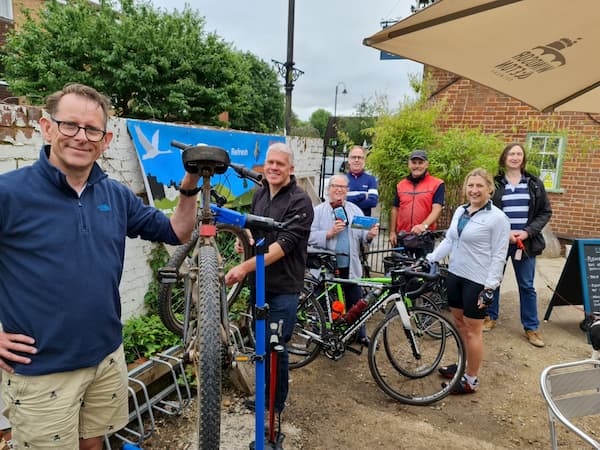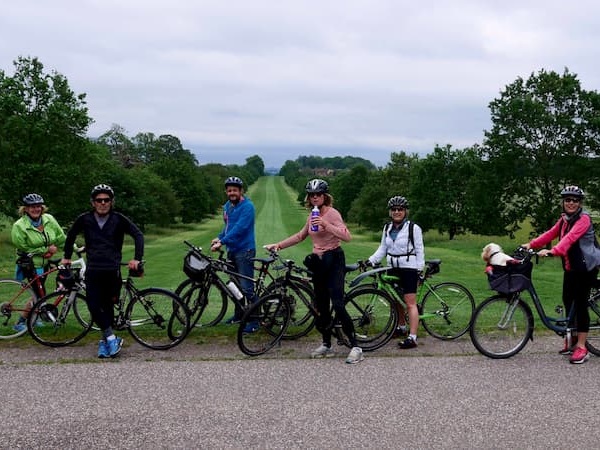 These are some photos taken on April 24th 2021 when the Group had their first informal get together. It was a 'word-of-mouth' event to test the water. It was a real success and now we have the Windsor Cycle Hub at The Swan.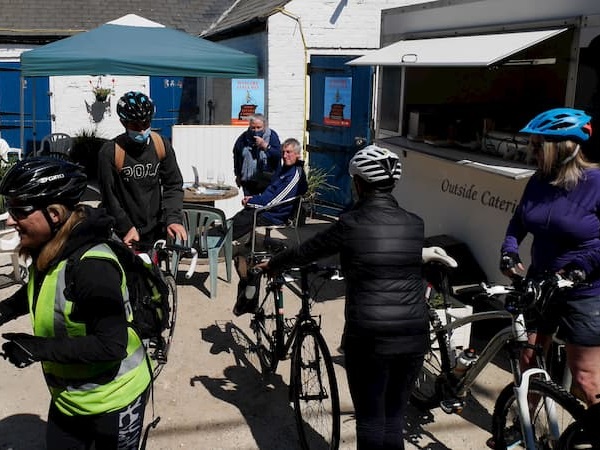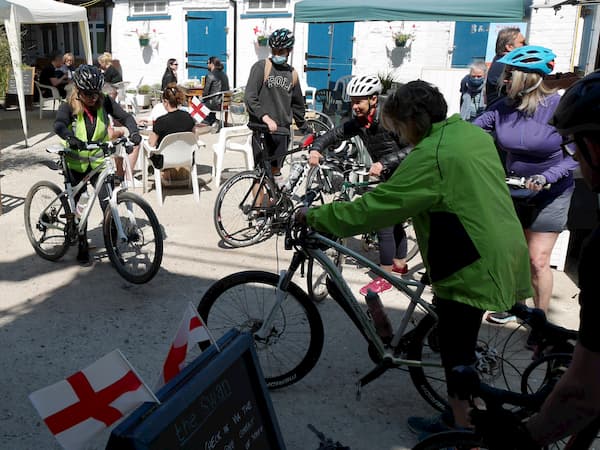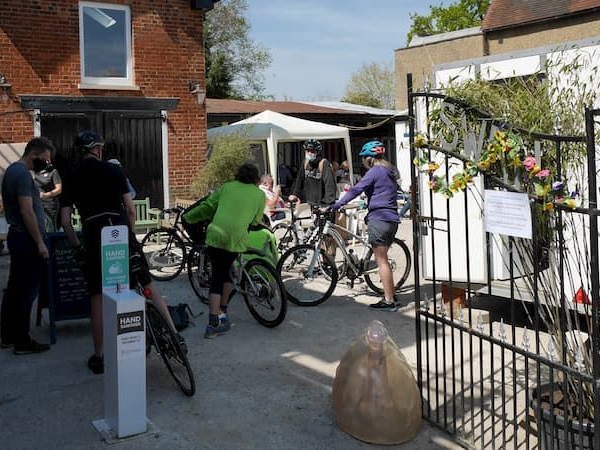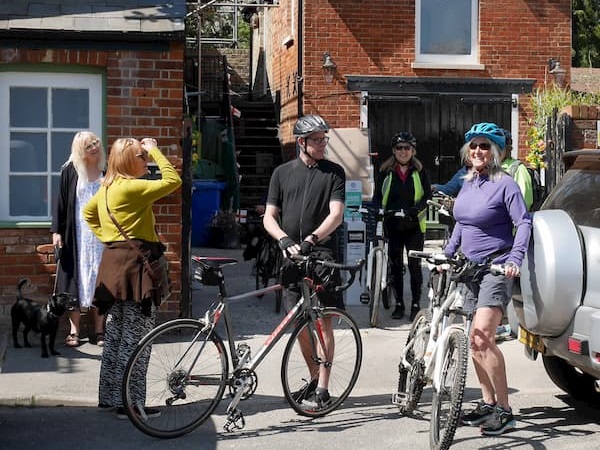 WCH Launch Event
The official launch of the Windsor Cycle Hub coincided with the start of CyclingUK's national Bike Week on Sunday 30th May, 2021. The Courtyard and The Coach House were busy with locals who had come to enjoy the cycling fun and festivities!
The team at the Windsor Cycle Hub took some photos which can be found in our Events Diary entry.
Windsor Cycle Hub Website
The Windsor Cycle Hub have their own dedicated website. This, like the hub, is it is infancy but we do recommend taking a few minutes out to check it out. This is sure to grow quickly as word spreads and there are more events.
Please visit the website regularly to see how the WCH grows.
Contacting the Windsor Cycle Hub
The main ways to contact the WCH are:
Email: info@windsorcyclehub.org
Facebook: @WindsorCycleHub
Instagram: @windsorcyclehub
Twitter: @WindsorCycleHub
Objective
The object of the WCH to promote cycling for all throughout the Windsor community through activities to encourage residents and visitors into or back to cycling, including recycling affordable bicycles, teaching mechanical skills, sharing knowledge and resource, and running events and rides. In doing so it will make Windsor a better and more sustainable place to live.
Activities
Activities that the WCH proposes to undertake to carry out its purpose include: Providing cycle safety and security checks, providing and teaching basic cycle maintenance, organising group rides and cycle hunts, encouraging people to take up or return to cycling.