Who Are We?
The Windsor Cycle Hub is a community-focused bike hub based at The Swan, Clewer. Our objective is to increase the accessibility of cycling in and around Windsor. We meet every Saturday 12-1pm, where we offer help and advice on any bike maintenance you need. We are a HUB and not a club so we are open to absolutely anyone that can benefit from cycling. Know reasons or barriers that prevent you from cycling? Let us know! Either pop down in our Saturday session or send over an email. We want to hear what you want.
WCH are affiliated to the Maidenhead Cycle Hub and have organised Dr Bike events at The Swan, such as in April and May of this year. The Swan is extremly happy to host the WCH and look forward to an exciting partnership over the coming years.
The object of the WCH to promote cycling for all throughout the Windsor community through activities to encourage residents and visitors into or back to cycling, including recycling affordable bicycles, teaching mechanical skills, sharing knowledge and resource, and running events and rides. In doing so it will make Windsor a better and more sustainable place to live.
Activities that the WCH proposes to undertake to carry out its purpose include: Providing cycle safety and security checks, providing and teaching basic cycle maintenance, organising group rides and cycle hunts, encouraging people to take up or return to cycling.
Saturday 30th July
Every week on Saturday at 12 noon we meet at The Swan in Clewer, Windsor. For the 1st hour our 'Bike Kitchen' is open to carry out basic safety checks & adjustments to your bike. We want everyone to have a safe & quiet bike. We'll also show you how to keep your bike in shape - so you can carry out basic repairs yourself.
After a coffee, & a chat, we'll head off for a ride at 1pm. Our rides are accessible to most riders - we publish details every week on social media. After the ride (normally 60-90 mins) it's back to The Swan for refreshment.
Two rides this week:
Beginners Ride:

For a small group of adults who want to start cycling or take it up again after many years. It's aimed at giving you confidence on the road & Windsor's cycle paths.

Explorer Ride:

A little bit of road riding (to Stag Meadow), the track up to the park & then the hills within it. 12-15 miles.
Contact info@windsorcyclehub.org for more information.
Saturday Meets
The Group get together every Saturday at noon. They will have a coffee and talk about bikes, routes, events, help, etc and generally chew the cud. At about 1pm, they will set off for a social ride together. The route is totally dependent upon the people there and their skill levels and experience. After the ride, the idea is to take refreshments at The Swan. Recently the Group have had a guided family ride along the Thames and a intermediate ride into The Great Park. All are truly welcome!
The team provide a Saturday Bike Kitchen between 12 and 1pm to help you with your own bike or to teach you some of the basic skills that cyclists need. Need your handlebars re-taped? Need some security advice? Look no further! Come down to the Bike Kicthen and the guys will sort you, and your bike, out.
Here are some photos when the Group got together on 19th June, the day after the famous England - Scotland game in the Euros. All sprite and ready to go.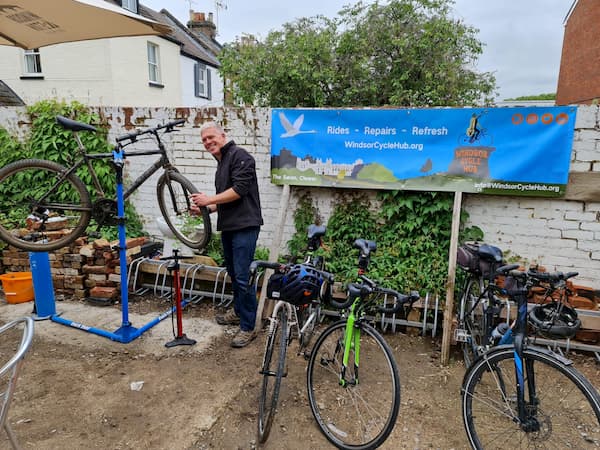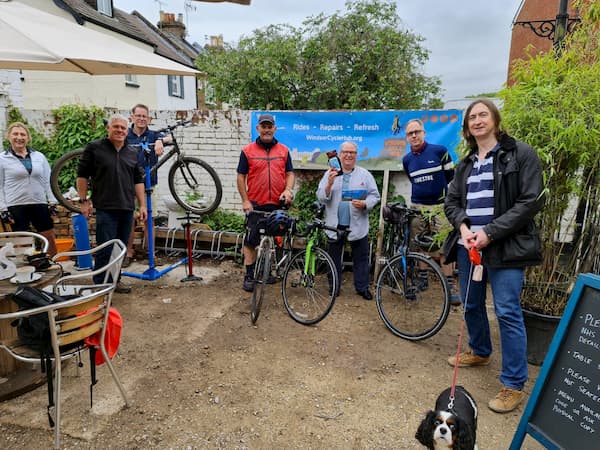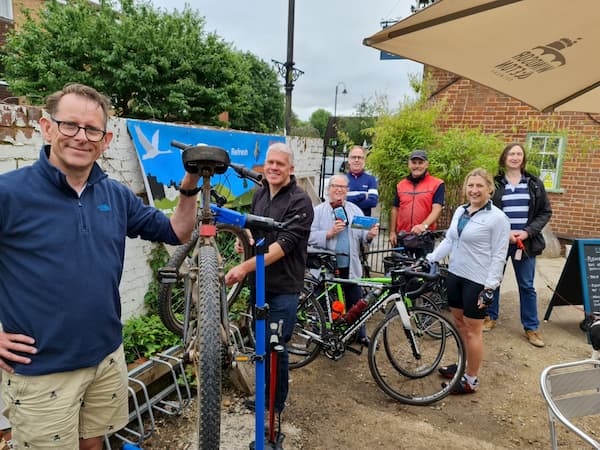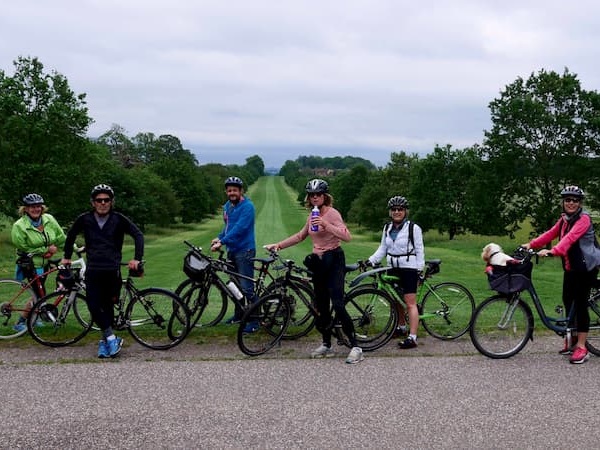 These are some photos taken on April 24th 2021 when the Group had their first informal get together. It was a 'word-of-mouth' event to test the water. It was a real success and now we have the Windsor Cycle Hub at The Swan.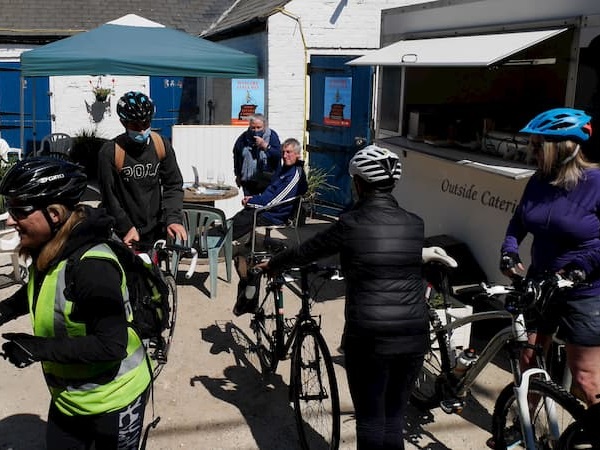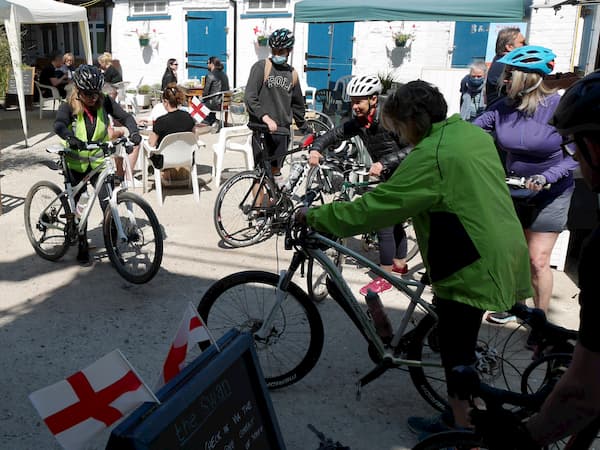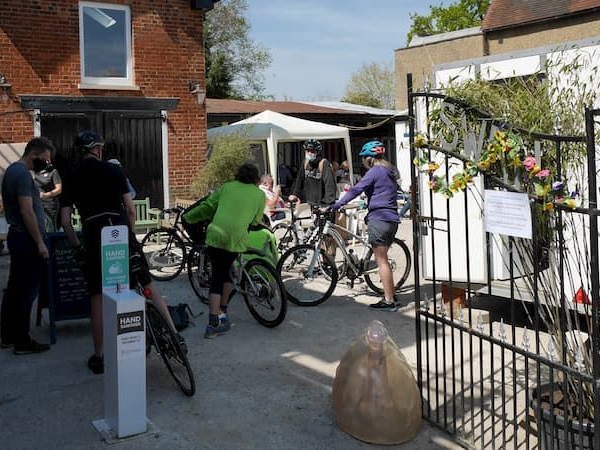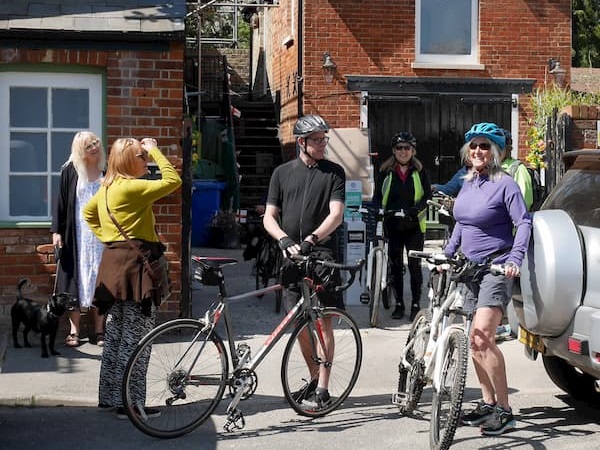 Launch Event
The official launch of the Windsor Cycle Hub coincided with the start of CyclingUK's national Bike Week on Sunday 30th May, 2021. The Courtyard and The Coach House were busy with locals who had come to enjoy the cycling fun and festivities!
The team at the Windsor Cycle Hub took some photos which can be found in our Events Diary entry.
The Silent Auction
Sincere thanks from the WCH organisers to everyone who purchased raffle tickets and took part in the Silent Auction. This generated crucial moral and fundraising support for the WCH in these inaugural events.
We are also especially indebted to the generous donors of the many exciting prizes which drew such interest and led to great ticket sales and bids! This included MCH, Chris H, David B and Simon at The Bike Company who provided such brilliant prizes for us.
Our warmest congratulations to the winners of the Silent Auction:
MCH Bike Voucher -- Julian Tisi
Cambridge Audio earphones -- Armelle Boisset
Nanoe Technology Hairdryer -- Hannah Shearer
FIAT Picnic Hamper -- Caroline Roberts
Top Tube Bike Bag -- Will Calvert
The Raffle and SA combined raised just under £500 -- a great "kick-off" for WCH fundraising! -- and we look forward to running similar events in future. Watch this space for further details!
Website
The Windsor Cycle Hub have their own dedicated website. This, like the hub, is it is infancy but we do recommend taking a few minutes out to check it out. This is sure to grow quickly as word spreads and there are more events.
Please visit the website regularly to see how the WCH grows.
Contact Us
The main ways to contact the WCH are:
Email: info@windsorcyclehub.org
Facebook: @WindsorCycleHub
Instagram: @windsorcyclehub
Twitter: @WindsorCycleHub