The Swan Bingo on the Internet
Online Bingo nights are now on holiday since the pub has re-opened on July, 4th. We are looking at ways of introducing Bingo and will update you soon.
We are now able to run a virtual bingo night – online via the internet - on a fortnightly basis. So, get your dabbers ready and come join in. Our Host and Bingo Caller is Richard Allen. Eyes down! ....
How do I participate?
We require all players to pre-register for security and administrative purposes. You will be emailed your unique card(s) and joining instructions at 7pm on the night. We hope you enjoy the session.
Registration is currently closed.
Please make sure that you enter your email address carefully to avoid mistakes. Please take a few seconds to double check it as it will save time later.
Note we will send you an acknowledgement of your registration within a few minutes - please check for it. If you do not receive it, please email us at bingo@theswanwindsor.co.uk and we will try to correct it.
Does it cost me to play?
NO! There is no charge for taking part in The Swan Bingo.
However we are asking for donations to The Swan. As you know we have zero cash coming in at this time but we still have significant outgoings. Triodos have graciously given us a mortgage holiday but we still have the interest to pay. Likewise, we have payments for water, electricity, RBWM, et al that don't go away.
If you can, we would be extremely obliged if you could make a small donation to The Swan funds securely via PayPal. This will be used to protect the pub so that we have a greater chance of coming out of this whenever the Government decides that pubs can re-open. Any donation small or large is appreciated.
Our Game
We are going to play three games – all using the same bingo card.
GAME 1 – will use the first grid on your card – at the top.
GAME 2 – will use the next two grids on your card.
GAME 3 – will use the bottom three grids on your card.
For each game we will start by looking for a "LINE". The winner will be the first person to get all five numbers along one single horizontal line. After this we will go on to "FULL HOUSE". The winner will be the first person to get all fifteen of the numbers on a single grid. In games 2 and 3, this can be any of the grids being played, but you only need one grid to meet the winning criteria.
If you think you have won shout BINGO! as loud as you can!
We will then ask you for the number of your card and to call out the numbers on your card for checking. If you have them all correctly marked you will be declared the winner! If multiple people call at the same time, we will go with the one that we heard first.
Remember if you have put yourself on mute, you will need to take it off first, although we will watch out for anyone jumping around crazily and waving their paper!!
Don't worry if this seems like a lot to remember, our Bingo Caller will guide you through everything live on the night! For those more familiar with the game, we won't be doing four corners or two lines at this time.
Previous Online Bingo Events
Some photos and names of our previous winners can be found on our Online Events page.
Zoom FAQs
We will be using Zoom to host the game, which means that we can have two way interaction with video and sound! If you have broadband or WiFi, it is best to use this as a mobile connection may not be fast enough and/or may use quite a lot of your personal mobile data.
Whatever device you are using, please make sure you have a lot of battery or the charger is plugged in – we don't want to lose you just as your 'bingo' comes up!
If you don't already have Zoom, it may ask you to install a small add on for your PC, tablet or phone. It is not strictly necessary to do this, as you can use a web-based version, but we would definitely recommend it! Don't worry it is very easy and completely safe!
| Question | Answer |
| --- | --- |
| Zoom PC Desktop Client | The web browser client will download automatically when you start or join your first Zoom meeting. Itis also available for manual download here: https://zoom.us/download2/win/latest/ZoomInstaller.exe |
| Apple (iOS) application | Download in the Apple Store here: https://apps.apple.com/us/app/id546505307 |
| Google application | Download from the Google Play store here: https://play.google.com/store/apps/details?id=us.zoom.videomeetings |
| Question | Answer |
| --- | --- |
| Do you need an account to use Zoom? | You do not need a Zoom account to participate as a player. |
| How do I sign-up for Zoom? | If you really want to, you can sign-up for a free Zoom account at: https://zoom.us/signup |
| How much does Zoom cost? | A basic Zoom license is free. You won't have to worry about this for The Swan Bingo. |
| Question | Answer |
| --- | --- |
| How do I join The Swan Bingo? | You can join The Swan Bingo by clicking on the "Join The Bingo Game" button in the email provided or going to join.zoom.us and entering in the meeting ID. |
| How do I join computer/device audio? | On most devices, you can join computer/device audio by clicking Join Audio, Join with Computer Audio, or Audio to access the audio settings. More detailed info can be at: https://support.zoom.us/hc/en-us/articles/201362283-How-Do-I-Join-or-Test-My-Computer-Audio- |
| Do I have to have a camera to join on Zoom? | While you are not required to have a camera to join,, you will not be able to transmit video of yourself. You will continue to be able to listen and speak and view the video of other players. |
| Question | Answer |
| --- | --- |
| My video/camera isn't working. | If your camera is not showing up in the Zoom Settings or it is selected and not showing any video, you can troubleshoot why it is not working via the tips here: https://support.zoom.us/hc/en-us/articles/202952568-My-Video-Camera-Isn-t-Working |
| There is an echo. | Echo can be caused by many things, such as players connected to the meeting audio on multiple devices or two players who have joined in from the same local. The source of echo can also be from: speakers (such as TV or soundbar) that are too loud, echo cancellation has failed (device or performance issue), or a bad microphone. |
| Audio isn't working on my mobile device. | Try the following troubleshooting steps if you have microphone or speaker issues after joining The Swan Bingo on the Zoom mobile app for iOS or Android: https://support.zoom.us/hc/en-us/articles/204484835-My-Audio-is-Not-Working-on-iOS-or-Android |
Bingo Cards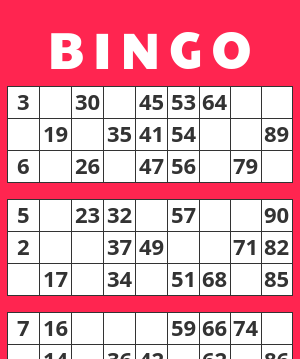 We are using myfreebingocards.com to generate the Bingo Cards. These are geniune 1-90 number UK bingo cards which are totally randomized, exactly as you would find them in a bingo hall. All cards are unique.
The 90-ball version of bingo is played with tickets which are ruled in a 3 by 9 grid, with 15 numbers in total, five numbers and four empty boxes per row. On the full sheet (also called a strip and sometimes a card), there are a total of six unique grids. One full sheet shows the total of the numbers 1-90 spread around the six tickets
On downloading or playing the card online, myfreebingo.com will use Google Analytics to generate reports on their website trends without identifying individual visitors. All information is collected anonymously.
Tips
On the full sheet, look down the nine columns. You will see that column 1 are the numbers 1-9, column 2 has 10-19, column 3 had 20-29, and so forth until the last column has 80-90. Understanding this means it is easier to scane down multiple grids to find a called number.
The internet isn't always perfect, and we understand that sometimes your connection can be lost whilst you are playing a game. Don't worry if you are playing online! If this happens, the system will remember any numbers that you have crossed off. To see any numbers that you have missed, check the "chat box" on Zoom where we will be posting all the called numbers in order. Please note that we cannot pause a game for a few people dropping off, apologies.
Two tips on Zoom. Firstly there is a Mute/Unmute feature - if you don't mute, we CAN hear what you are saying! Secondly if you are using multiple devices, then please mute all bar one otherwise we will get feedback. Thank you in advance.
Bingo Calling
We are using an application called "Bingo Number Generator" to generate the calls. This is freely available on Google Play or the Apple Apps Store.
Where does Bingo come from?
90-ball bingo is also called "House" bingo, and it is very popular all over the world. It goes back all the way to sixteenth century Italy, where it was played on Saturdays. Unlike many other chance-based games, bingo was considered a respectable game suitable to be played by the whole family.
The modern bingo card was invented by Edwin S. Lowe in 1929 – and he even hired a maths professor to optimise the possible number of combinations on the cards, until he had 6000 different cards on the go.