---
Our next Bingo Night is on Thursday 16th November at 7.30pm. Eyes down!
---
Our regular Bingo Caller is Richard Allen who has plethora of sessions both online and face-to-face. Rules are further down this page. Bingo nights occur once a month, usually on the third Thursday of the month. Tables can be pre-booked via the Bar Staff using the email address pub.manager@theswanwindsor.co.uk
Eyes Down!
Bingo In The Pub
21st September, 2023
Bingo was back after its summer holiday and we had a packed coach house. Our regular Bingo Caller was back too to lead us through a maze of games. See more in our September, 2023 Events Diary and also a list of the winners on the night.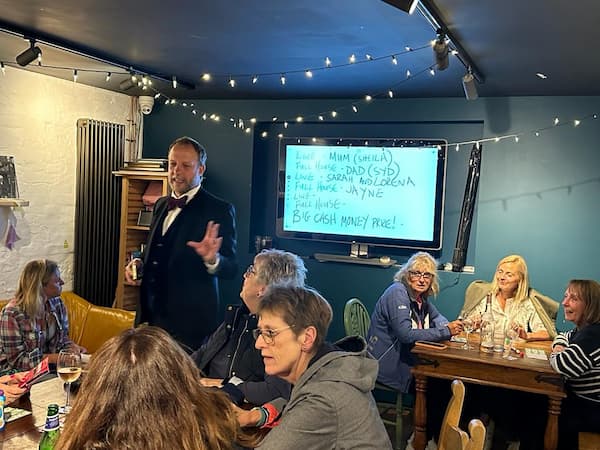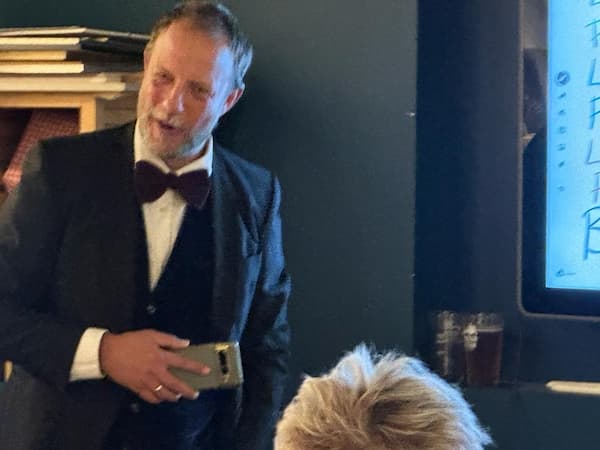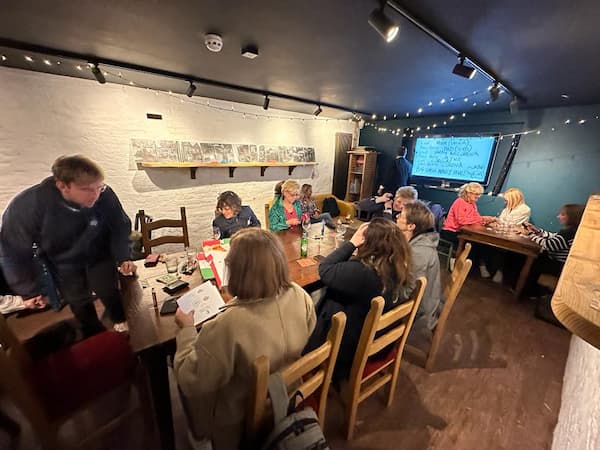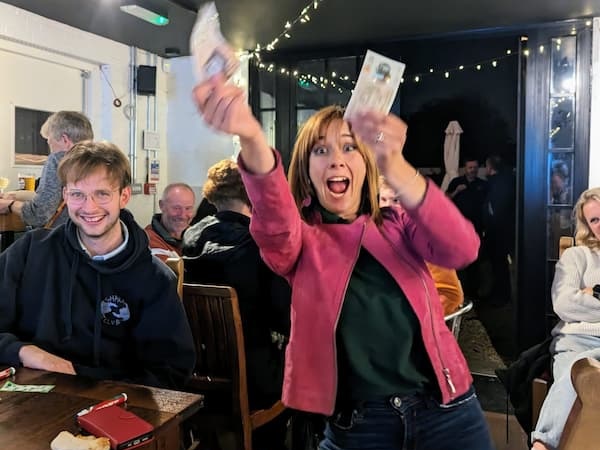 20th April, 2023
We saw the Coach House packed for another feast of Bingo. Under the watchful eye of Richard Allen there were many winners, too many to list here but a special shout out to Mary who won the line jackpot in The Big Cash Game. But there is a wee picture with all the winners listed - you know who you are! See more in our April, 2023 Events Diary.
30th March, 2023
Another bingo night was well attended in The Coach House with some new players joining the regulars. First time Jacob won both the line and full house for the first and second games! Only in the last regular game was the spell broken by Louise (line) and Cristina (fh). The last game was a cash prize game with Emma winning £5 and Cristina £10. As you can, our bingo master - Richard Allen - was appropriately attired for the evening!
23rd February, 2023
At the welcome return of our popular bingo, a packed Coach House were poised with their dabbers. The usual format with a fab atmosphere. A great night was had by all attending. Tap on the image to see more photos.
17th March, 2022
Congratulations to our St Patrick's Bingo winner Trudy Lowe who won the bottle of Moët for the flier round. Another great evening with plenty of green outfits in recognition of the date. Thanks to Richard Allen for his continued his role as bingo caller with some new Irish themed calls.
17th February, 2022
We had a busy bar for the bingo, even those in for a quick drink got roped in along with the bar staff too.
20th January, 2022
A packed house greeted the return of Bingo to The Swan. With Richard Allen calling the numbers in his inimitable style a good time was had by all, especially the winners. A new 'bonus' round had players competing for the Golden Ticket (aka flier).
1st: line and full house - Jen McGeachie.
2nd: line - Jen; full house - Joanne Decoutho.
3rd: line - Sarah Drake and Johnny; full house - Nicole Caton.
4th (Golden Ticket): line (£4) - Lexie Sparks; full house (£20) - Connor Lindop.
15th January, 2022
This was a special event by invitation only. For those who had participated in our online bingo nights, it would instantly known. It was our virtual cruise night for our bingo winners. They came appropriately dressed for the event which was held in The Coach House, which volunteers had dressed up too (huge thanks!).
14th October, 2020
We were happy to welcome lots of new players that filled The pub. Richard Allen was our host. Winners on the night were:
1st game: line - Stephanie; full house - Stephanie, Sandro, Mark.
2nd game: line - Nu; full house - Peter.
3rd game: line - Kat; full house - Louise.
23rd September, 2020
A big thank you to the intrepid Bingo players who made their way to The Swan despite the bad weather on Wednesday. Thank you also to Rachel (not only the star of Rachel Reads) who deputised as caller when our usual host was unavailable.
Congratulations to all our winners but especially to Tony Cross who won the final full house. Watch this space for detail of the next Bingo evening.
9th September, 2020
A return of Bingo to The Swan saw our first simultaneous live and virtual event. Richard Allen, our resident bingo caller delivered to players in the pub and those who stayed within the comfort of their own home. Once a few IT issues had been resolved the games began with many winners on the night including Vernon, Amjad, Erin, Trudy, Louise, Jane and Tony. The winner of the full house in our final game was Katie Eleftheriou who was presented with a beautiful swan motif notebook.
Rules For Playing In The Pub
The rules are pretty simple yet traditional when we are playing face-to-face in the pub:
It is a 90-ball game.
We have 3-game bingo books.
It's 75p a card, so £2.25 for the three games.
Players can choose to play anything between 1 and 6 cards, that's what they will play for the night.
Maximum is £9 for 6-cards in a game.
We play three games and then a special one at the end.
Each game we will play for a line and then for the house.
Winners of each will receive a prize.
The last game is "The Big Cash Game' which costs £1, one card only.
The Bingo Caller's decision is final.
Card payment is preferred although we will take cash.
Dobbers will be available on loan.
Any proceeds remaining from playing will go to the restoration funds for The Swan.
There will be a short break between games to allow you to recharge your glass.
If you are coming along, please can you familiarise yourself with our covid guidelines - thank you.
Online Bingo
During the various Covid Lockdown periods during 2020 and 21, we started Online Bingo which proved to be very popular. We very quickly built a group of regular players. Every second Wednesday they would joing us on Zoom and play. Our compere was Richard Allen who quickly built up a reputation as an excellent caller.
Each night we plaid for a line or a grid/card, slowly building it up to two and then three cards. Winning meant inclusion on The Swan cruise, which so far still hasn't departed still due to Covid restrictions. Games were free but we did encourage a small donation to help pay the bills and keep renovation work going whilst the pub was physically shut. A huge thanks to all those who donated, very much appreciated.
Photos and names of our online winners can be found on our Online Events page.These took place during the various lockdowns that we found ourselves placed under to try and control Covid. In all we had seventeen online games spanning almost a year. We thank The Friends of The Swan who organised and supported this activity.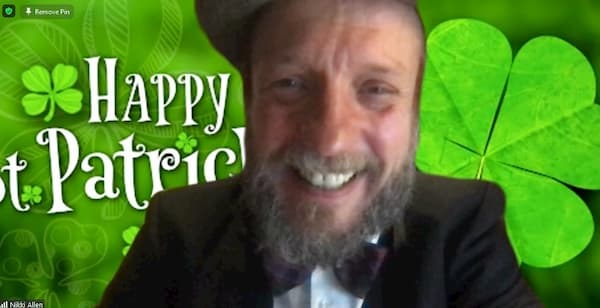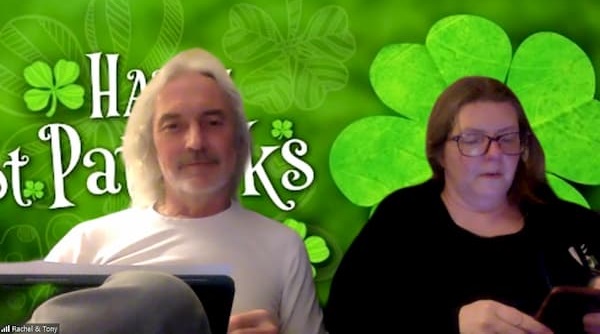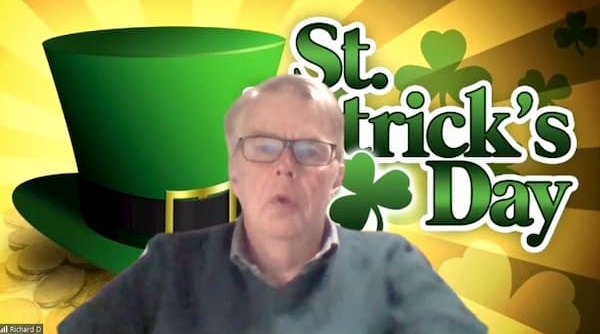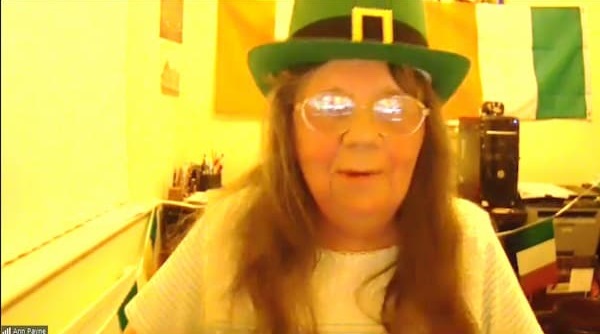 The Swan got an excellent reputation from this activity such that we hired Richard out to companies who were doing team building excercises to keep morale up during Lockdown. Please note that we have left the instructions to hold an online bingo event below. We can furnish more information should you wish to hold one yourself or need our assistance. Good luck!