Our Bingo Nights are taking a well deserved rest over the summer and will be returning in September.
Our Bingo Caller will be Richard Allen who has compered the majority of our online and face-to-face bingo events. Rules are further down this page. Bingo nights occur once a month, usually on the third Thursday of the month. Tables can be pre-booked via the Bar Staff using the email address pub.manager@theswanwindsor.co.uk Eyes Down!
Bingo In The Pub
17th March, 2022
Congratulations to our St Patrick's Bingo winner Trudy Lowe who won the bottle of Moët for the flier round. Another great evening with plenty of green outfits in recognition of the date. Thanks to Richard Allen for his continued his role as bingo caller with some new Irish themed calls. Bingo will be back in April.
17th February, 2022
We had a busy bar for the bingo, even those in for a quick drink got roped in along with the bar staff too.
20th January, 2022
A packed house greeted the return of Bingo to The Swan. With Richard Allen calling the numbers in his inimitable style a good time was had by all, especially the winners. A new 'bonus' round had players competing for the Golden Ticket (aka flier).
1st: line and full house - Jen McGeachie.
2nd: line - Jen; full house - Joanne Decoutho.
3rd: line - Sarah Drake and Johnny; full house - Nicole Caton.
4th (Golden Ticket): line (£4) - Lexie Sparks; full house (£20) - Connor Lindop.
15th January, 2022
This was a special event by invitation only. For those who had participated in our online bingo nights, it would instantly known. It was our virtual cruise night for our bingo winners. They came appropriately dressed for the event which was held in The Coach House, which volunteers had dressed up too (huge thanks!).
14th October, 2020
We were happy to welcome lots of new players that filled The pub. Richard Allen was our host. Winners on the night were:
1st game: line - Stephanie; full house - Stephanie, Sandro, Mark.
2nd game: line - Nu; full house - Peter.
3rd game: line - Kat; full house - Louise.
23rd September, 2020
A big thank you to the intrepid Bingo players who made their way to The Swan despite the bad weather on Wednesday. Thank you also to Rachel (not only the star of Rachel Reads) who deputised as caller when our usual host was unavailable.
Congratulations to all our winners but especially to Tony Cross who won the final full house. Watch this space for detail of the next Bingo evening.
9th September, 2020
A return of Bingo to The Swan saw our first simultaneous live and virtual event. Richard Allen, our resident bingo caller delivered to players in the pub and those who stayed within the comfort of their own home. Once a few IT issues had been resolved the games began with many winners on the night including Vernon, Amjad, Erin, Trudy, Louise, Jane and Tony. The winner of the full house in our final game was Katie Eleftheriou who was presented with a beautiful swan motif notebook.
Rules For Playing In The Pub
The rules are pretty simple yet traditional when we are playing face-to-face in the pub:
It is a 90-ball game.
50p a ticket, £3 for a strip of six; your call how many you play at a time.
Card payment is preferred although we will take cash on this occasion.
We will be playing three to four games depending upon time and demand.
Each game we will play for a line and then for the house.
Winners of each will receive a prize.
The Bingo Caller's decision is final.
Dobbers will be available on loan.
Any proceeds remaining from playing will go to the restoration funds for The Swan.
There will be a short break between games to allow you to recharge your glass.
If you are coming along, please can you familiarise yourself with our covid guidelines - thank you.
Online Bingo
During the various Covid Lockdown periods during 2020 and 21, we started Online Bingo which proved to be very popular. We very quickly built a group of regular players. Every second Wednesday they would joing us on Zoom and play. Our compere was Richard Allen who quickly built up a reputation as an excellent caller.
Each night we plaid for a line or a grid/card, slowly building it up to two and then three cards. Winning meant inclusion on The Swan cruise, which so far still hasn't departed still due to Covid restrictions. Games were free but we did encourage a small donation to help pay the bills and keep renovation work going whilst the pub was physically shut. A huge thanks to all those who donated, very much appreciated.
Photos and names of our online winners can be found on our Online Events page.These took place during the various lockdowns that we found ourselves placed under to try and control Covid. In all we had seventeen online games spanning almost a year. We thank The Friends of The Swan who organised and supported this activity.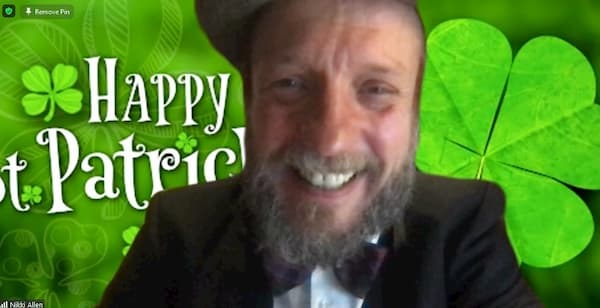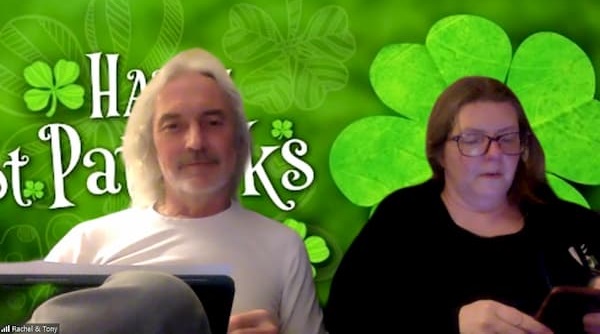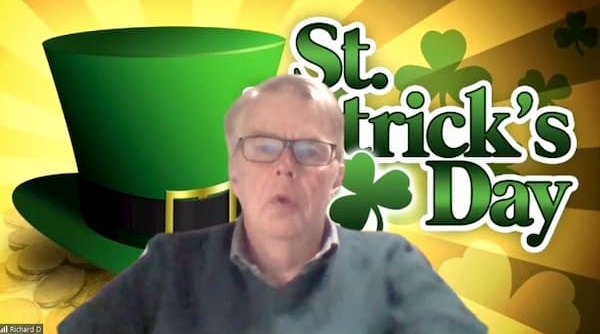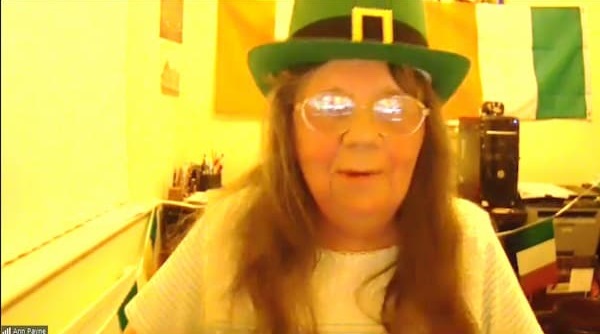 The Swan got an excellent reputation from this activity such that we hired Richard out to companies who were doing team building excercises to keep morale up during Lockdown. Please note that we have left the instructions to hold an online bingo event below. We can furnish more information should you wish to hold one yourself or need our assistance. Good luck!
Online Bingo Explained
Online Bingo is taking a rest for now as the pub has fully re-opened after lockdown. To all those who participated and donated, a huge thank you from all at The Swan - you helped us keep paying the bills and kept work in The Kitchen going!
How do I participate?
The format is pretty much the standard that we all love to play. Our Host and Bingo Caller is usually Richard Allen. Eyes down is at 8pm! And given it's St Paddy's Day, we might throw in a few surprises too. We require all online players to pre-register so that we can send you your unique card(s) and joining instructions. We will email you approximately one hour before Eyes Down!
Please make sure that you enter your email address carefully to avoid mistakes. Please take a few seconds to double check it as it will save time later. Note we will send you an acknowledgement of your registration within a few minutes - please check for it. If you do not receive it, please email us at bingo@theswanwindsor.co.uk and we will try to correct it.
Please note that you will need to be admitted to the video call by our host (who also has the ability to mute or even eject people). Also note that we have an online etiquette policy to enable people to enjoy our online entertainment safely.
We do suggest joining a few minutes before to make sure the technology all works. Note that we are limited to 100 Bingo cards and 100 Zoom connections on the night (this is a technology thing). When you are getting ready, please can you make sure that you set-up your screen name; you may also want to change your background too.
Does it cost me to play?
NO! There is no charge for taking part in The Swan Bingo online. However we are asking for donations to The Swan to help us maintain the pub during the lockdown.
If you can, we would be extremely obliged if you could make a small donation to The Swan funds securely via PayPal. This will be used to protect the pub so that we have a greater chance of coming out of this whenever the Government decides that pubs can fully re-open without covid-19 rules. Any donation small or large is appreciated.
How Do We Play Bingo
We are going to play three games – all using the same bingo card.
GAME 1 – will use the first grid on your card – at the top.
GAME 2 – will use the next two grids on your card.
GAME 3 – will use the bottom three grids on your card.
For each game we will start by looking for a "LINE". The winner will be the first person to get all five numbers along one single horizontal line. After this we will go on to "FULL HOUSE". The winner will be the first person to get all fifteen of the numbers on a single grid. In games 2 and 3, this can be any of the grids being plaid, but you only need one grid to meet the winning criteria.
If you think you have won shout BINGO! as loud as you can!
We will then ask you for the number of your card and to call out the numbers on your card for checking. If you have them all correctly marked you will be declared the winner! If multiple people call at the same time, we will go with the one that we heard first.
Remember if you have put yourself on mute, you will need to take it off first, although we will watch out for anyone jumping around crazily and waving their paper!!
Don't worry if this seems like a lot to remember, our Bingo Caller will guide you through everything live on the night! For those more familiar with the game, we won't be doing four corners or two lines at this time.
Bingo Cards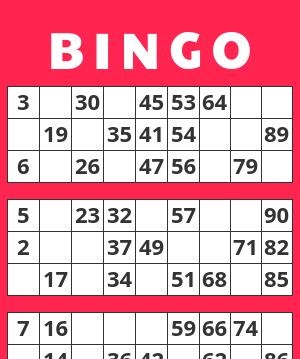 We are using myfreebingocards.com to generate the Bingo Cards. These are geniune 1-90 number UK bingo cards which are totally randomized, exactly as you would find them in a bingo hall. All cards are unique.
The 90-ball version of bingo is plaid with tickets which are ruled in a 3 by 9 grid, with 15 numbers in total, five numbers and four empty boxes per row. On the full sheet (also called a strip and sometimes a card), there are a total of six unique grids. One full sheet shows the total of the numbers 1-90 spread around the six tickets
On downloading or playing the card online, myfreebingo.com will use Google Analytics to generate reports on their website trends without identifying individual visitors. All information is collected anonymously.
Tips
On the full sheet, look down the nine columns. You will see that column 1 are the numbers 1-9, column 2 has 10-19, column 3 had 20-29, and so forth until the last column has 80-90. Understanding this means it is easier to scane down multiple grids to find a called number.
The internet isn't always perfect, and we understand that sometimes your connection can be lost whilst you are playing a game. Don't worry if you are playing online! If this happens, the system will remember any numbers that you have crossed off. To see any numbers that you have missed, check the "chat box" on Zoom where we will be posting all the called numbers in order. Please note that we cannot pause a game for a few people dropping off, apologies.
Two tips on Zoom. Firstly there is a Mute/Unmute feature - if you don't mute, we CAN hear what you are saying! Secondly if you are using multiple devices, then please mute all bar one otherwise we will get feedback. Thank you in advance.
Bingo Calling
We are using an application called "Bingo Number Generator" to generate the calls. This is freely available on Google Play or the Apple Apps Store.
Where does Bingo come from?
90-ball bingo is also called "House" bingo, and it is very popular all over the world. It goes back all the way to sixteenth century Italy, where it was plaid on Saturdays. Unlike many other chance-based games, bingo was considered a respectable game suitable to be plaid by the whole family.
The modern bingo card was invented by Edwin S. Lowe in 1929 – and he even hired a maths professor to optimise the possible number of combinations on the cards, until he had 6000 different cards on the go.
Zoom FAQs
We will be using Zoom to host the game, which means that we can have two way interaction with video and sound! If you have broadband or WiFi, it is best to use this as a mobile connection may not be fast enough and/or may use quite a lot of your personal mobile data.
Whatever device you are using, please make sure you have a lot of battery or the charger is plugged in – we don't want to lose you just as your 'bingo' comes up!
If you don't already have Zoom, it may ask you to install a small add on for your PC, tablet or phone. It is not strictly necessary to do this, as you can use a web-based version, but we would definitely recommend it! Don't worry it is very easy and completely safe!
| Question | Answer |
| --- | --- |
| Zoom PC Desktop Client | The web browser client will download automatically when you start or join your first Zoom meeting. Itis also available for manual download here: https://zoom.us/client/latest/ZoomInstaller.exe |
| Apple (iOS) application | Download in the Apple Store here: https://apps.apple.com/us/app/id546505307 |
| Google application | Download from the Google Play store here: https://play.google.com/store/apps/details?id=us.zoom.videomeetings |
| Question | Answer |
| --- | --- |
| Do you need an account to use Zoom? | You do not need a Zoom account to participate as a player. |
| How do I sign-up for Zoom? | If you really want to, you can sign-up for a free Zoom account at: https://zoom.us/signup |
| How much does Zoom cost? | A basic Zoom license is free. You won't have to worry about this for The Swan Bingo. |
| Question | Answer |
| --- | --- |
| How do I join The Swan Bingo? | You can join The Swan Bingo by clicking on the "Join The Bingo Game" button in the email provided or going to join.zoom.us and entering in the meeting ID. |
| How do I join computer/device audio? | On most devices, you can join computer/device audio by clicking Join Audio, Join with Computer Audio, or Audio to access the audio settings. More detailed info can be at: https://support.zoom.us/hc/en-us/articles/201362283-How-Do-I-Join-or-Test-My-Computer-Audio- |
| Do I have to have a camera to join on Zoom? | While you are not required to have a camera to join,, you will not be able to transmit video of yourself. You will continue to be able to listen and speak and view the video of other players. |
| Question | Answer |
| --- | --- |
| My video/camera isn't working. | If your camera is not showing up in the Zoom Settings or it is selected and not showing any video, you can troubleshoot why it is not working via the tips here: https://support.zoom.us/hc/en-us/articles/202952568-My-Video-Camera-Isn-t-Working |
| There is an echo. | Echo can be caused by many things, such as players connected to the meeting audio on multiple devices or two players who have joined in from the same local. The source of echo can also be from: speakers (such as TV or soundbar) that are too loud, echo cancellation has failed (device or performance issue), or a bad microphone. |
| Audio isn't working on my mobile device. | Try the following troubleshooting steps if you have microphone or speaker issues after joining The Swan Bingo on the Zoom mobile app for iOS or Android: https://support.zoom.us/hc/en-us/articles/204484835-My-Audio-is-Not-Working-on-iOS-or-Android |