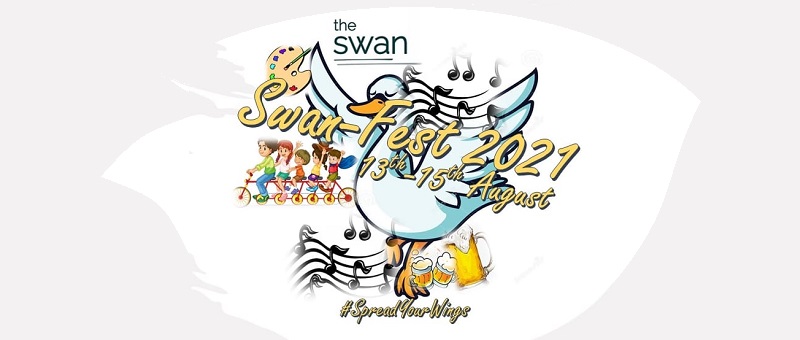 SwanFest 2021
Running from Friday 13th until Sunday 15th August, we were open from 10am until 11pm each of the three days of SwanFest. All were welcome and as a bonus, there was no entrance charge. We had an excellent range of activities for all ages including, but not limited to:
Family fun including face painting, games and crafts.
A beer festival with a wide range of excellent ales, lagers and ciders.
Music each evening with different bands each night.
And our famous BBQ each day.
Photos
Timetable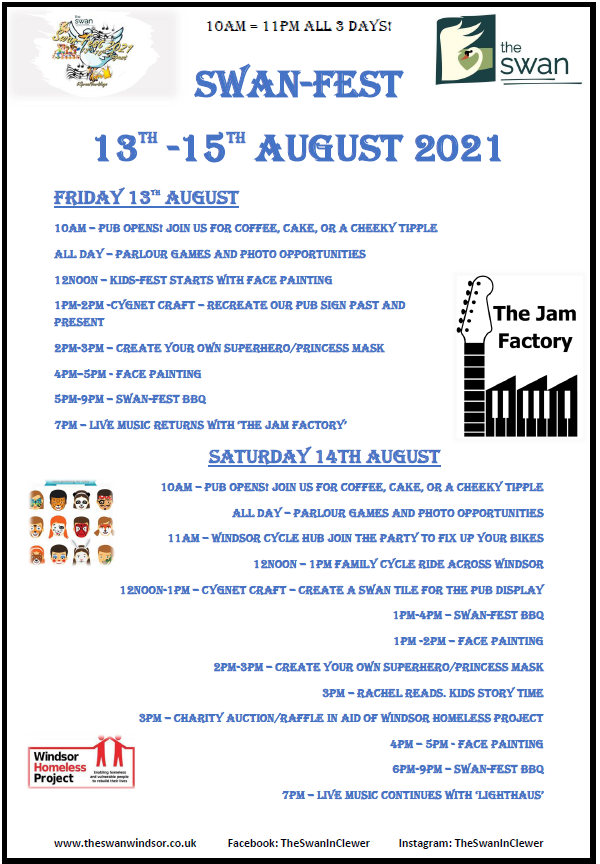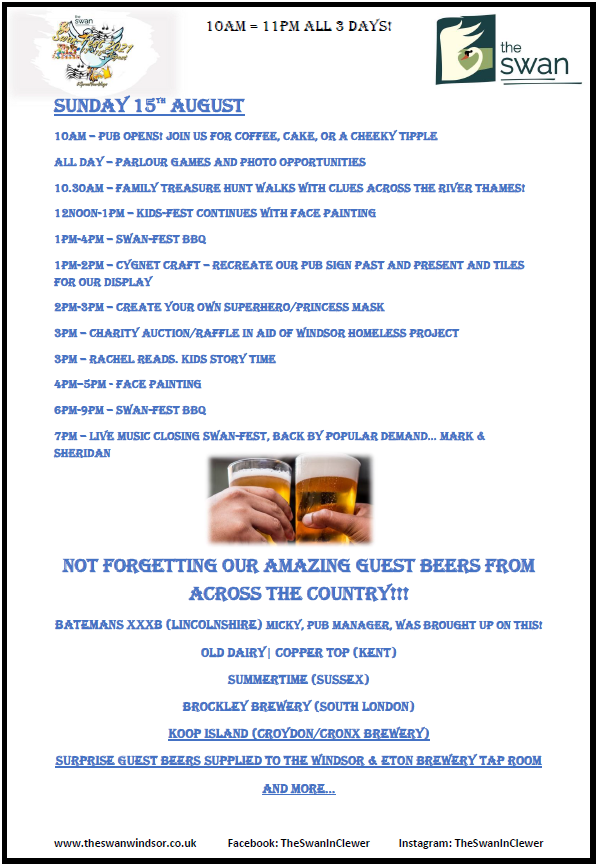 Guest Beers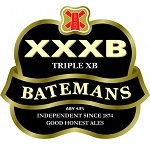 Batemans Triple XB
Batemans Brewery
A malty multiple-winner of CAMRA's Champion Premium Beer of Britain, our much loved XXXB is what you'd call an English tawny beer. Just like the first batch they crafted in 1978, it's brewed with four malts and three varieties of hops, for a deliciously spicy, fruity and biscuity flavour. (4.8% ABV)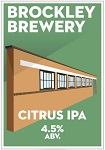 Citrus IPA
Brockley Brewery
This beautiful IPA is perfectly balanced and gently bittered using Mandarina Bavaria hops, imbuing the beer with delicate flavours of tangerine and mandarin together with a gorgeously soft citrus aroma. (4.5% ABV)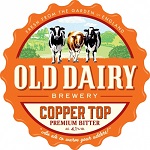 Copper Top
Old Dairy Brewery
Rich dark premium bitter has a delicious toffee caramel body with chocolate undertones from the Maris Otter, Crystal and Chocolate malts. Balanced with a spicy and fruity bite from the Bramling Cross and Challenger hops, this is truly an ale to savour. (4.1% ABV)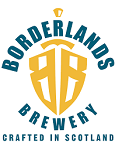 Esk Blonde
Borderlands, Scotland
Esk Blonde is a delicious beer, golden and refreshing. Easy drinking, abundant hoppiness with a crisp citrus and floral taste. Brewed with passion by Stuart Campbell at this excellent new artisan brewery, located in Langholm, Scottish Borders. (4.5% ABV)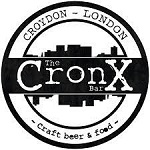 Koop Island
Cronx Brewery
Summer tropical vibes. Koop Island is a generously hopped and dry hopped session pale, bursting with notes of passionfruit and pineapple. Best enjoyed in the sun on a tropical island, or, if that's not possible down at The Swan, imagination works too! (4.0% ABV)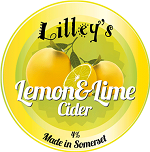 Lemon and Lime Cider
Lilley's Cider
A refreshing blend of tangy citrus fruits and crisp Somerset cider to awaken your taste buds. A real taste of Summer. (4.0% ABV)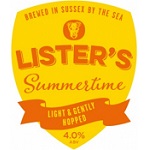 Summertime
Lister Brewery
Is a light, hoppy ale, pale ochre in colour and perfectly refreshing for the summer months. Available during July and August. (4.0% ABV)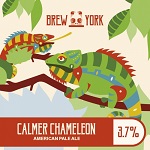 Calmer Chameleon
Brew York
American Pale Ale. The green dream of hyper juicy and resinous hops Columbus, Mosaic, Simcoe and Idaho 7 uniting in a super smashable pale ale. (3.7% ABV)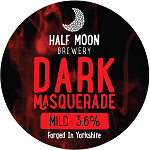 Dark Masquerade
Half Moon Brewery
Ruby/brown ale which is packed with dark chocolate and liquorice flavours. Unfined and vegan friendly (3.6% ABV)
For the beer officiandos, this is the first time Koop Island will be available on draught. Until now it has only been available in cans.
Live Music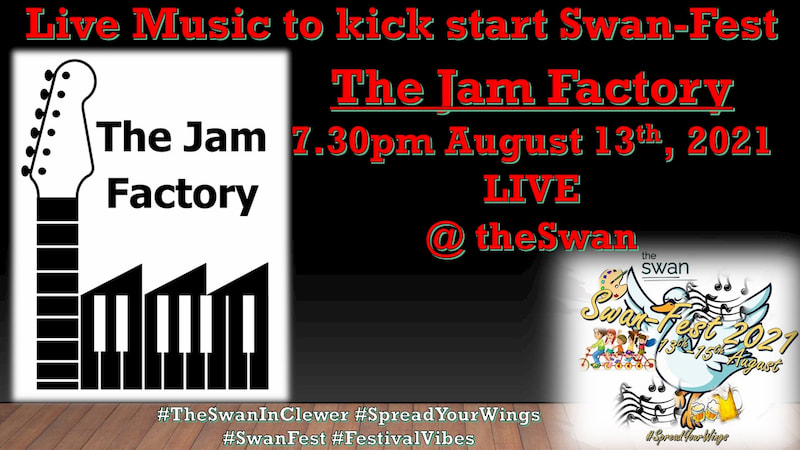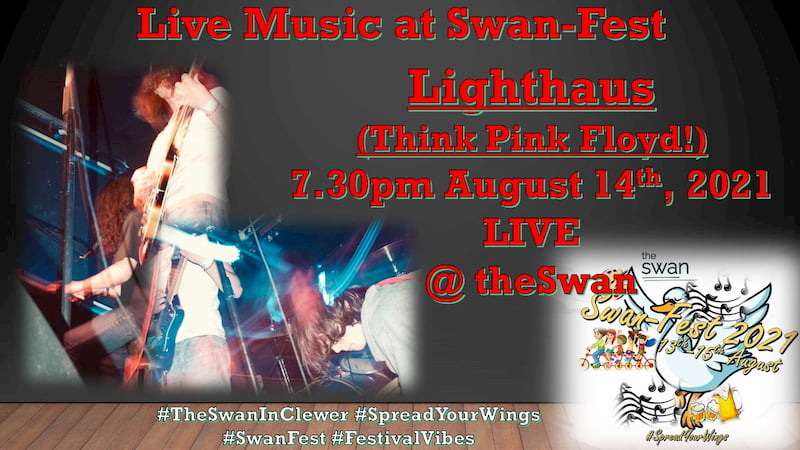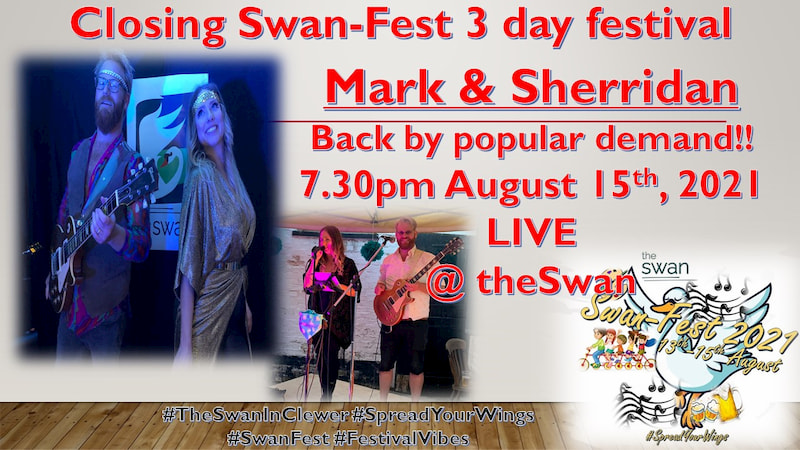 For Kids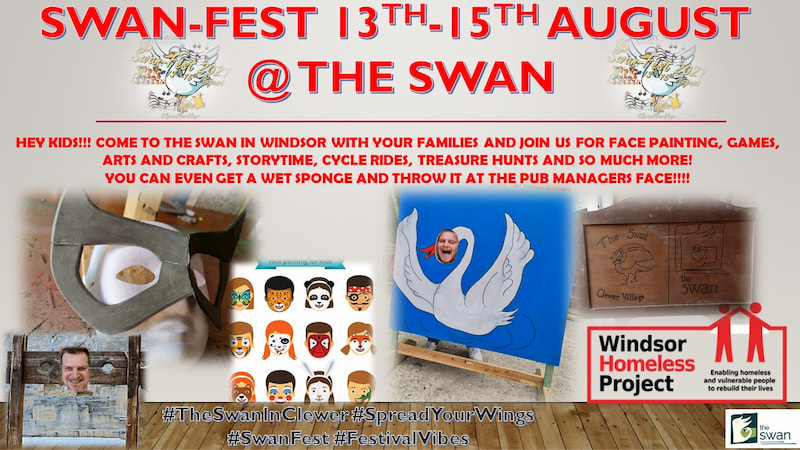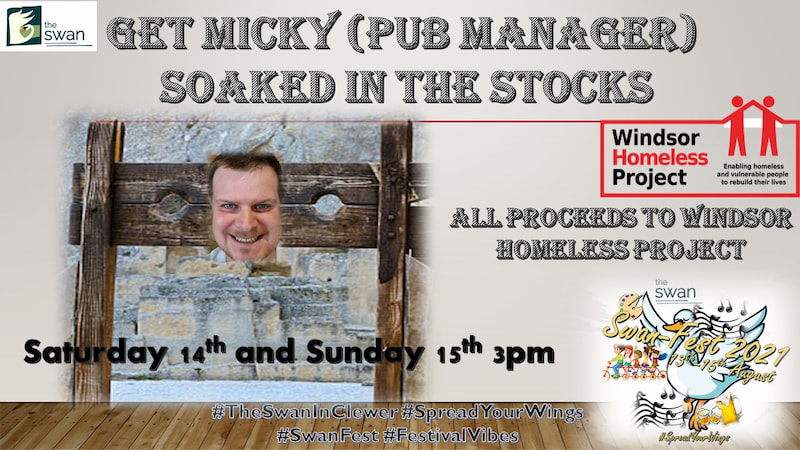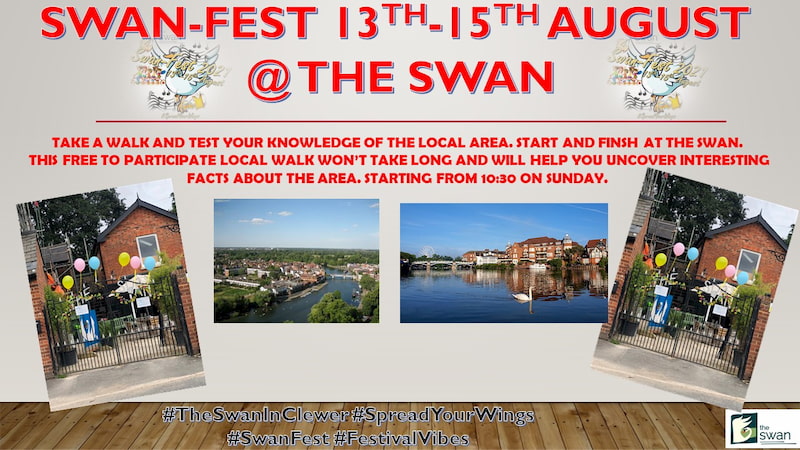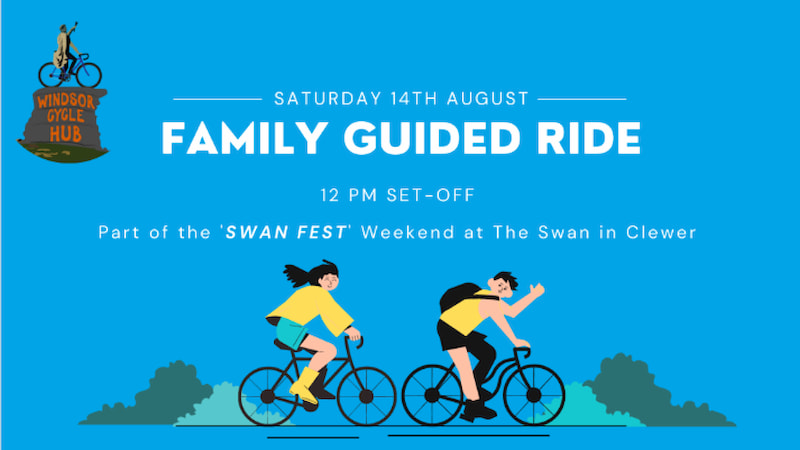 In The Press
Afternoon on BBC Radio Berkshire - SwanFest
Presented by Michelle Jordan on Friday 13th August, 2021.
By Adrian Williams, Windsor Express on Friday 13th August, 2021.
The BBQ Menus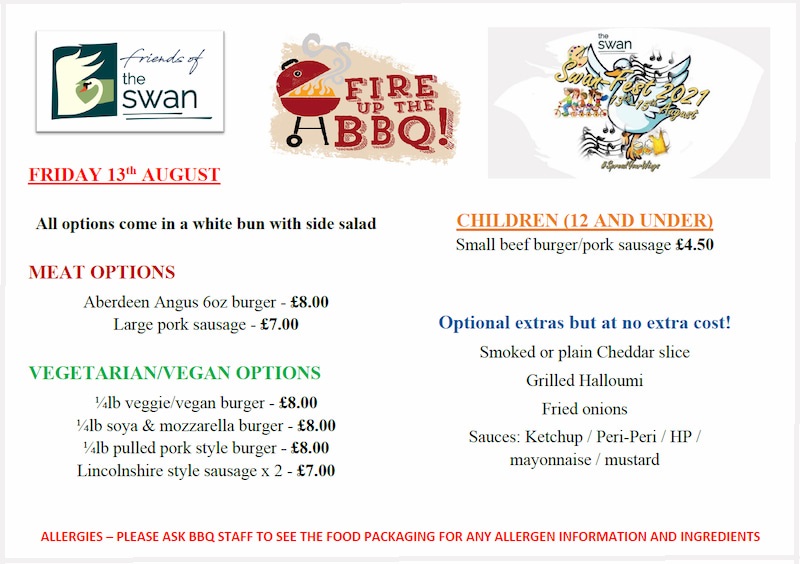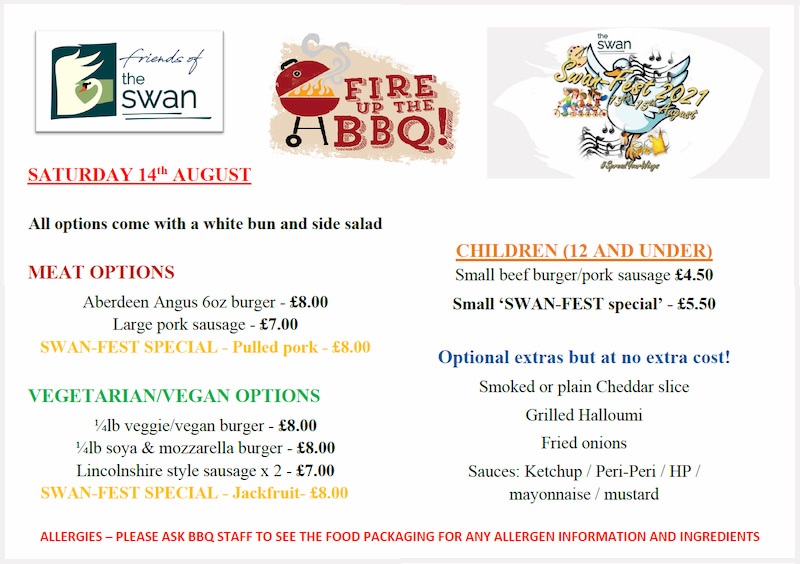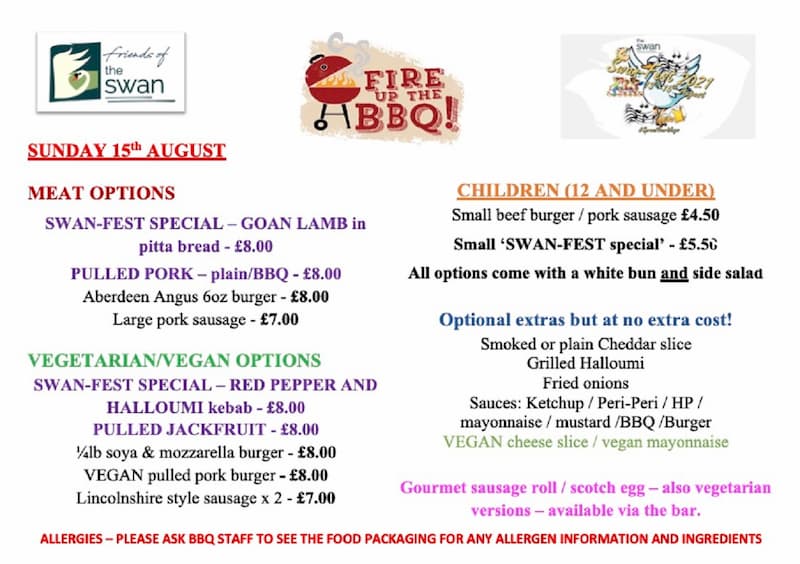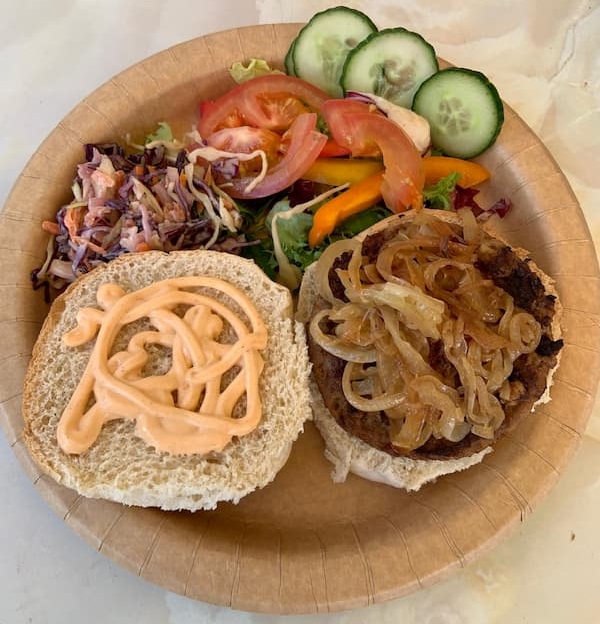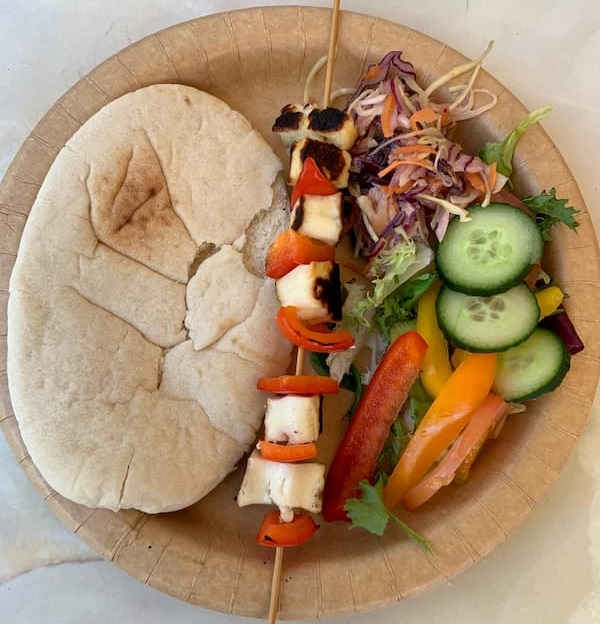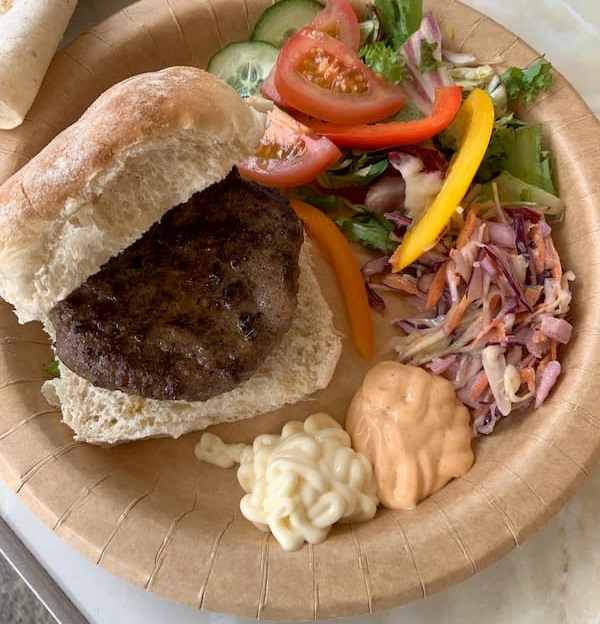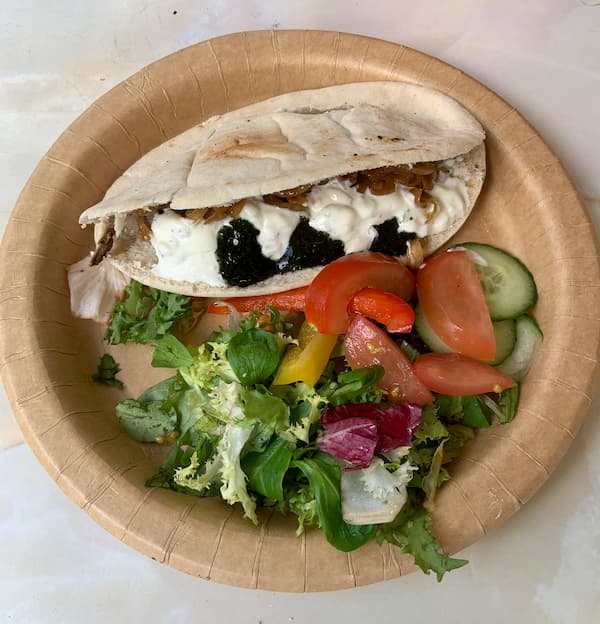 The Raffle
During SwanFest there was a raffle on behalf of our chosen local charity, the Windsor Homeless Project. We had a number of company and private donations for this so the prizes look fantastic. You will have been contacted if you won a prize. On Sunday, the raffle was announced by Nicky of the Windsor Homeless Project with the help of all the kids that were in The Courtyard.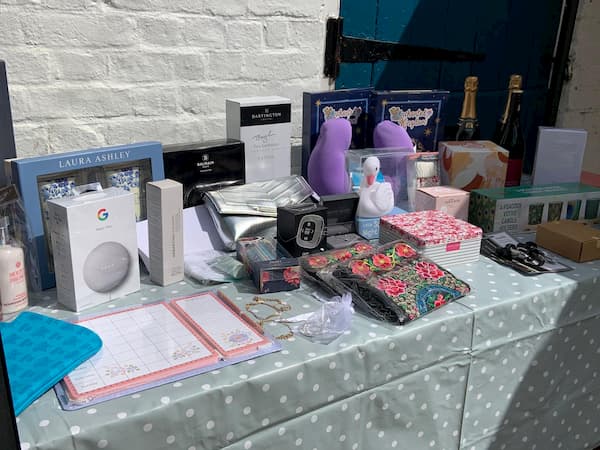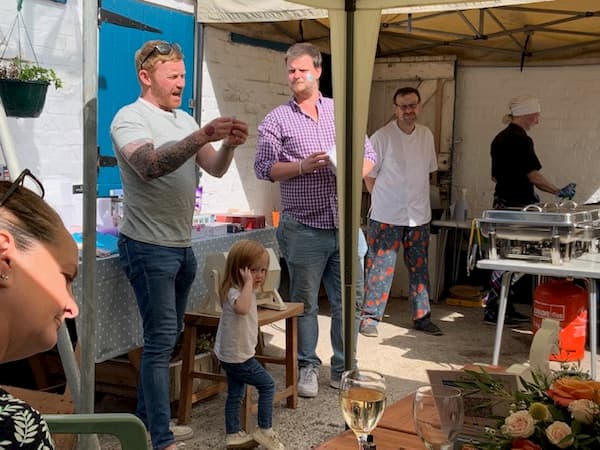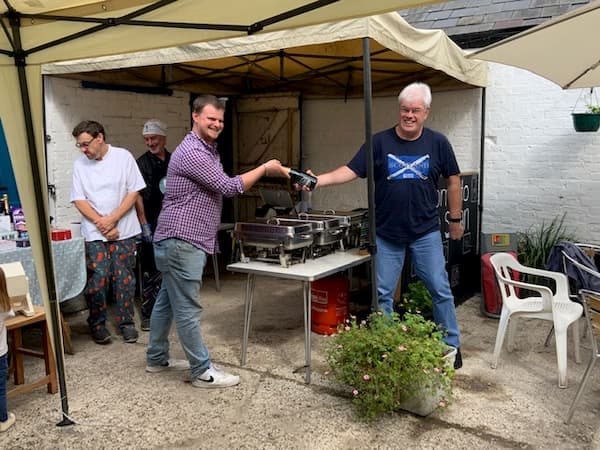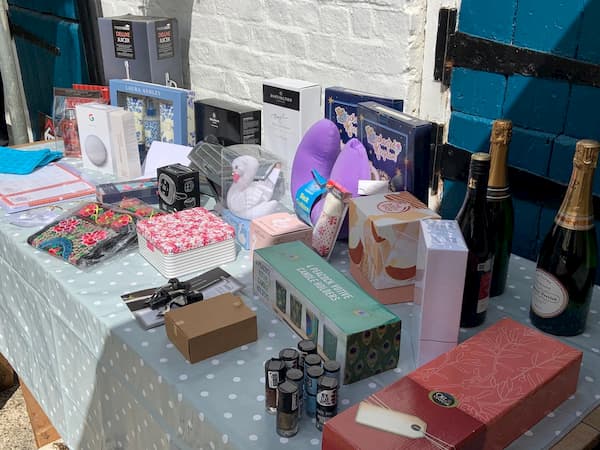 The prizes available were:
Smith & Cullen £50 voucher
Earrings
Necklace
Bracelet
Sterling Silver ladies necklace
£20 Swan Bar Tab voucher
Travel More Neck Cushion
Pocket Hotties Hand Warmer
Bottle of Champagne
Balmain Paris Hair Couture
Molton Brown hand wash & hand cream set
White Company hand wash & hand cream set
Joules Hand Cream, Exfoliator, Body Wash & Scrub
Liz Earle cleanser & cloth set
Assorted nails & Rimmel nail polishes
Laura Ashley Toiletries Set
Body Shop Shea Essential Collection
Swan Lights
Google Nest Mini
Peacock set of candles
Anna Sui Make Up bag x 2
Cake Boss cookie cutters
Joules ballpoint pen and pouch set
Juicer
Oil & Vinegar glass dips tray
Darlington Crystal Champagne Flutes x 2
Organiser board