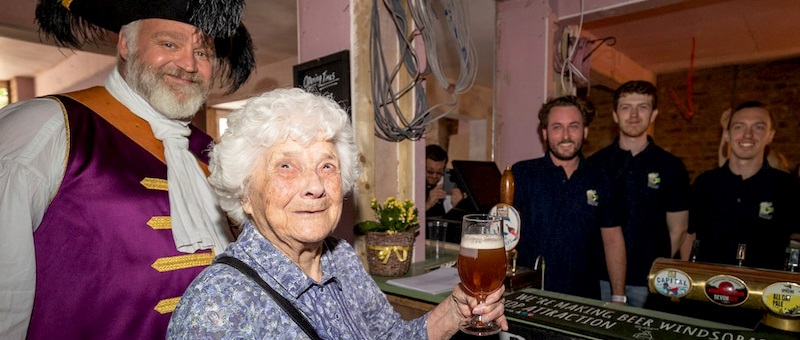 Events Diary for 2019
T'was the year two thousand and nineteen, AD and The Swan rose from the grave. It had been derelict for over three years and was in a bit of state having been totally sealed and having no maintenance. See our journey this year from receiving the keys back in February, to actually opening as a bar in July, through to having a Hogmanay Party to celebrate 2019 and welcome in the New Year of 2020.
The Events Diary contains all the entries for organised events down at The Swan. During this year we have had many volunteering days to work on the pub, and as work has progressed we have started having more socially focussed events such as music and fairs.
To say that 2019 was an interesting year is an understatement. Just have a look at what we did and achiever. Click on the links to get more information, photos and the likes. Best getting a cuppa and seat as this is going to be fun!
HOGMANAY PARTY

Many joined us throughout Hogmanay to celebrate and bring in of the bells. Music was provided by Astronought. The Italian Street Food van was there too for pizza and pasta.

A photo and video gallery is available. Please send us your photos so we can add them!

HOGMANAY PARTY

Tuesday 31st December

THE SOUL WORKS DUO

Update in progress.

Lassen and Zoe returned to The Swan for an evening of acoustic music. Back in August they entertained us in The Courtyard and were very popular. So we are really pleased to welcome them back.

More information about them can be found on the Soul Works Duo Facebook page.

THE SOUL WORKS DUO

Sunday 22nd December

PADDY'S XMAS PUB CRAWL

Update in progress.

W&E Brewery ran their annual "Paddy's Christmas Pub Crawl".

The crawl started at The Swan at 5pm and then moved on to the Brewery and nine other locations before it finished at The George just in time for last orders.

More info at the W&E Brewery Facebook page.

PADDY'S PUB CRAWL

Friday 20th December

LIVE MUSIC: AMP CATS

Update in progress.

Acoustic electric duo plaid a fun mix of covers. See the Amp Cats Facebook page.

LIVE MUSIC: AMP CATS

Thursday 19th December

DATCHET MORRIS DANCERS

The Datchet Border Morris are an all male Border Morris side with a mixed band. They perform dances in the English border Morris style. As well as this, they will be performing a traditional Mummers Play, something not to be missed!

For more videos and photos please go to our Datchet Morris gallery.

DATCHET MORRIS

Monday 16th December

ST ANDREWS' POSADA

St Andrew's Church Nativity visited The Swan for a day. The next day it continued onwards to Clewer Green School. This is known as the Posada.

See some photos of theSt Andrews Posada at The Swan.

ST ANDREWS' POSADA

Sunday 15th December

CHRISTMAS CAROLS

Christmas carols at The Swan in the rain, what's not to love? Performed by members of St Andrew's Church and the Broom Farm Ensemble, plus members of the community joining in. The singing, fueled with some special mulled wine, was superb. See and hear the Christmas Carols.

CHRISTMAS CAROLS

Tuesday 10th December

WINTER FAYRE

The Green Room School's annual Winter Fayre and Christmas Market had been running for 4 years now, and has grown to become one of the highlights of their school calendar. This year they took over the Swan's courtyard and outbuildings to create a memorable event.

From mulled cider, to Sata's Grotto, to whisky and cheese tasting, etc ... there were actually too many stalls to mention. A fantastic day was had by all.

The GRS Winter Fayre 2019 can be seen here.

WINTER FAYRE

Friday 6th December

WINDSOR ADVENT CALENDAR

In its 7th successive season, this family favourite has become a must for local Windsorians. The Courtyard was absolutely packed with young and old to watch the team from The Green Room School perform their mini version of A Christmas Carol.

The Windsor Advent Calendar festivites can be seen through videos and photos.

WINDSOR ADVENT

Friday 6th December

CHRISTMAS DECORATIONS

Rachel Cross had baked salt dough Christmas decorations that we invited the kids to paint and hang. There was a multitude of shapes and the kids did us proud!

It was also an afternoon for playing boardgames inside the pub. We have been donated popular board games by Swan Supporters and the kids really enjoyed trying them out. If you have unwanted games, please bring them down and we will put them to good use.

We have some photos of the making of the Christmas decorations.

XMAS DECORATIONS

Sunday 1st December

BONFIRE NIGHT

Well what a night for young and old! The courtyard was full of revellers enjoying the bonfire, sparklers, popcorn, toffee apples and the BBQ. We managed to clear the courtyard just in time for the fund to start. And with that good luck, the weather wasn't too bad either.

The highlight of the night was the burning of our guy. We weren't 100% sure what was going to happen to it when it went in the brazier, but were pleasantly surprised by the outcome. See the video for yourself.

A photo and video gallery is available, please send us your photos so we can add them!

BONFIRE NIGHT

Tuesday 5th November

MACMILLAN COFFEE MORNING

We had quite a few people who came down for the excellent coffee and delicious cake. We made £76 from it and have donated that to Macmillan. The basic craic was that people bought a coffee and cake for £5, of which £2 was donated to Macmillan. Folk chatted with friends & family in a relaxed and cosy environment.

Thanks to all who participated! Unfortunately we only have a couple of the Macmillan Coffee Morning 2019

MACMILLAN COFFEE AM

Monday 4th November

PUMPKINS, PIZZA & PROSECCO

Remember we had Italian Street Food in the courtyard for our opening day? They were back for Halloween. Mny took advantage of having a Thursday half price prosecco with their pizza and pasta. And there was a number of carvers who took on the pumpkin challenge and created some fantastic art.

A photo gallery is available, please send us your photos so we can add them!

THE 3 P'S

Thursday 31st October

ACOUSTIC SUNDAY

TJ and friends are returning to The Swan to play a mixture of original and covers to entertain you. A perfect way to relax on a Sunday afternoon, especially when your team has won at the rugby.

Here is a small photo gallery.

ACOUSTIC SUNDAY

Sunday 27th October

LIVE MUSIC - ASTRONOUGHT

Astronought are an acoustic rock group with an excellent selection of tracks such as Budapest, Stuck in the Middle and The Walk Of Life. They filled the pub and plaid for almost three hours with sa few short breaks. They even got the pub singing along - a great night was had by all!

A small photo gallery is available.

ASTRONOUGHT

Tuesday 22nd October

RADIO BERKSHIRE'S DRIVETIME

BBC Radio Berkshire's Drivetime show came for a live outside broadcast! The full two hour show came from the main bar and included interviews with directors, staff and volunteers. It was a packed afternoon that included Kelly teaching Phil the presenter how to pour a pint – all captured on Facebook Live!

Find photos and audio snippets here.

DRIVETIME AT THE SWAN

Friday 11th October

WINDSOR FRINGE

Four artists from Windsor Artists presented their excellent works.

Original paintings and some prints adorned the coach house and under the covering in the courtyard. The event was well attended by those following The Fringe Trail and regulars coming for the Saturday BBQ and Sunday Brunch.

Photos can be found in the photo gallery.

WINDSOR FRINGE

28th and 29th September

THE SUMMER CLOTHES SWAP

It was nearly Autumn and was time to pack away the summer clothes and accessories. Many came down to The Swan and swapped them instead. For five pounds and a bag of clothes, people swapped their summer stuff with other like minded people. The quality was excellent. There was cake too :)

Photos can be found in the photo gallery.

SUMMER CLOTHES SWAP

Sunday 15th September

THE FIRST SWAN QUIZ NIGHT

The Quiz Night was a roaring success! Thanks to the 100+ people who participated, both inside and in the courtyard. We do hope that you enjoyed the evening. We are now planning more events like this.

A huge thanks to our neighbours who put up with the external PA system.

Photos can be found in the photo gallery.

We are also remembering all our quiz night winners here.

FIRST QUIZ NIGHT

Wednesday 11th September

AN EVENING OF STRIPPING

The stripping crew came down to The Swan and stripped in the courtyard. As usual lots of chat and discussion, some stripping and a a few drinkies too. The team stayed to closing time ... yes, closing time. You can't get in the way of the wire strippers!

Some photos can be found in the photo gallery.

STRIPPING

Tuesday 10th September

ALEX LOVELESS

Alex successfully tool on Day 2 of The Thames Path Challenge on behalf of The Swan via The Green Room charity. This was a sponsored 50 km (31 mile!) race along the Thames tow path from Runnymede to Henley. He raised over £800. He has a Just Giving page if you are interesteded in donating.

ALEX LOVELESS

Sunday 8th September

BBQs IN AUGUST

We have held five evening BBQs and a brunch. We are still making the final calculations on funds raised, this will be published soon.

Photos will be added shorty. If you have any, please send them in.

Some photos can be found in the photo gallery.

BBQs IN AUGUST

Every Saturday in August

MONDAY BRUNCH

The pub was open from 11am on Bank Holiday Monday. To celebrate that, and the gorgeous weather, we held a brunch cooked on the BBQ.

Optons included pork sausage, bacon, Linda McCartney plain sausage, fried egg, mushrooms, diced potatoes, baked beans, and a baguette/roll.

Some photos can be found in the photo gallery.

MONDAY BRUNCH

Monday 26th August

THE FIRST SWAN BOOK CLUB

About twenty people attended the inaugral book club evening. Wrapped up warmly for the courtyard, it was Informal and relaxed. Basically people sharing an interest in books.

There was no set book to read but folk brought one along. Some shared stories about their book, why they chose it and what they liked about it.

It was run by Theresa Rooney, one of our volunteers.

Photos can be found in the photo gallery.

FIRST BOOK CLUB

Tuesday 20th August

VOLUNTEERING MORNING

Painting, painting and more painting.

The team also found the time to do more plastering, preparing a chimney breast for pointing, taking down the roof in the hall and stock room, and of course - wire stripping.

Preparations were also made for the BBQ and music that night.

Photos can be found in the photo gallery for the morning.

VOLUNTEERING AM

Saturday 17th August

VOLUNTEERING MORNING

The wind and rain kept the number of volunteers down a bit. But we still achieved a lot! From pulling down another ceiling in the hall area, to starting to clean of The Kitchen ceiling, actually painting the bar ceiling, more localised stripping of the bar windows, to wire stripping. And tidying out the stables too!

Photos can be found in the photo gallery for the morning.

VOLUNTEERING AM

Saturday 10th August

VOLUNTEERING MORNING

Our first volunteers event after the pub has opened. Over twenty supporters came along to help keep the momentum going. Although we are now serving, there is still lots to do to finish the pub.

Lots!

The bar itself had a lot of work done, the school room too. And we had our usual contingent of strippers!

Photos can be found in the photo gallery for the day.

VOLUNTEERING AM

27th July

OPENING DAY

Many hundreds attended the Opening Weekend. We had a lucky break with the weather that unexpectedly cleared up for us.

It was a busy day. The W&E Dray delivered ceremonial beer barrels that were shared round. The town cryer read a very funny poem. Some speeches from the management team. The unveiling of the new pub sign. Singing and dancing into the night. Food from the Italian Street Food van. Oh, and some drinking was done too.

A fuller report can be found in the photo gallery for the day.

OPENING DAY

20th July

VOLUNTEERING DAY

Over thirty volunteers came to help prepare The Swan for the impending opening. They took on a range of tasks from plasterboarding, to sanding, to cleaning to wire stripping. There were a lot of other tasks achieved too. A great community effort.

See the photo gallery for the day.

VOLUNTEERING DAY

13th July

VOLUNTEERING DAY

Another successful vounteers day with lots achieved. Highlights must include the creation of a temporary bar, the removal of the old signage and of course wire stripping. Lots more was achieved.

A fuller report can be found in the photo gallery for the day.

VOLUNTEERING DAY

6th July

INFORMAL VOLUNTEERING DAY

We had a pop-in day from 11am to 5pm. Fifteen hardened souls came down to help with tasks such as laying insulaton to wire stripping.

VOLUNTEERING DAY

30th June

W&&E Rotary Summer Fayre

Going on for over forty years, this has become a must for Windsorians. It has a mixture of community and commercial stalls, as well as an arena for performances from local acts and schools.

It was the hottest day of the summer and many stayed away due to the heat. However, we had a lot of interest and raised some more money for the renovation activities.

W&E ROTARY FAYRE

Saturday 29th June

INFORMAL VOLUNTEERING DAY

We had a pop-in day from 9am til 5pm. Over twenty five happy volunteers got stuck in and covered a wide variety of tasks. In fact, we achieved all our goals for the day. Huge thanks to all.

VOLUNTEERING DAY

22nd June

The Swan Lifeline Open Day

The Swan Lifeline invited us to their annual event for the local community. We attended and had a stall. We spread the word about The Swan and raised some money at the same time.

SWAN LIFELINE

Saturday 22nd June

SNEAKY BEAK 2 BBQ

What a great evening was had by all. The weather continued to hold which brought a lot more people through the gates than we were expecting but we had emore than enough food and drink to go around for the 200+ people.

he band – Mark and Sherridan – provided fantastic music entertainment and had people not only singing along but up on their feet dancing the evening away.

SNEAKY BEAK 2 BBQ

8th June

VOLUNTEERING MORNING

Another fabulous turn-out for our volunteer's morning which was helped by the passing over of predicted rain clouds to be a fabulous, sunny day.

Tasks included cleaning brickwork in the bar, prepping the school room, cleaning the cellar, sorting out the courtyard, cleaning the upper floors and of course - stripping!

VOLUNTEERING AM

8th June

MOVIES AT THE SWAN

"The Widow"- a story of a woman left alone to raise her three children when her husband died of TB in Ireland, 1949. The set is was provided by several of the totally transformed bedrooms of The Swan.

One of our local community - Ailish Castillo - has written and producing this short film.

More information can be found at LionBear Films and at our our photo gallery.

MOVIES AT THE SWAN

18th & 19th May

PLANT SALE

Bedding Plants - Basket Plants - Hanging Baskets - Hardy Perennials

Richard and Pam Stockbridge had a sale for The Swan and raised over £516 which will be put towards the costs of the refurbishment.

We cannot thank them enough for their time and efforts to help us.

PLANT SALE

Wednesday 15th May

THE SNEAKY BEAK BBQ

The courtyard was packed on Saturday night, over 170 people came along. The beer was popular - we ran out three times! Same with the food - that ran our twice. There was some stonking entertainment. And then there was Willie & Richard singing "My Way". Tours were popular too.

Here is our photo gallery.

THE SNEAKY BEAK BBQ

Saturday 27th April

STRIPPING DAY

Another successful day. The main theme was stripping: paint, wallpaper and wire. We also did a lot of organising and clearing out of the garage and courtyard. And the Demolition Boys "cleared out" the toilet in the school room (hall).

The photo gallery is here.

STRIPPING DAY

Saturday 27th April

THE SKANGSTERS

Can be summed up as .... WOW!

Over 150 people went to the gig. They sang. They danced. They got hoarse. The Skangsters did not disappoint playing a wide range of ska with energy and gusto. An excellent night.

Thanks to the guys for contributing to the restoration funds.

THE SKANGSTERS

Saturday 30th March

CLEARING & SANDING DAY

The volunteers were out again on Saturday. They tackled a variety of tasks including sanding, sanding and more sanding. The gents toilet was also cleared along with lots of rubble from the main bar area.

CLEARING & SANDING

Saturday 30th March

DEMOLITION & STRIPPING DAY

Yet another outstanding turnout by the community. Much progress was made that allowed scaffolding to go up on Monday 4th.

The team tackled a multitude of tasks from wallpaper stripping in the B&B rooms, to lifing the lino in the kitchn, to removing the last of the plaster in the bar area.

Some photos about the day can be found in this Photo Gallery.

DEMOLITION & STRIPPING

Saturday 2nd March

SITE CLEARANCE WEEKEND

A huge thank you to everyone who came along for our site clearance weekend. We have exceeded our original plans and managed to start with some major internal work.

Our Photo Gallery for the Site Clearance Weekend has just started. We will be adding more photos very soon.

SITE CLEARANCE

9th & 10th February

CEREMONY OF THE KEYS

Nearly two hundred people joined us to celebrate completing the deal and collecting the keys. Will Cavert and Richard Allen talked about the next steps and overall plan. We also shared some beer, squash and cakes.

Our Photo Gallery

Please see Instagram, Facebook and Twitter too.

CEREMONY OF THE KEYS

Saturday 2nd February