August 2023
Here is a round-up of the events at The Swan during August, 2023.
2nd August: Chatter and Natter
August started with a bang with our biggest chatty café yet. We were so chuffed to see so many people turn out to come and have a wee natter over a coffee or other drink. It's a great excuse to catch up on the gossip, or have a little chit-chat, or just sit and listen. Those that attended varied how long they were staying, there was no rule! Come and join in!!!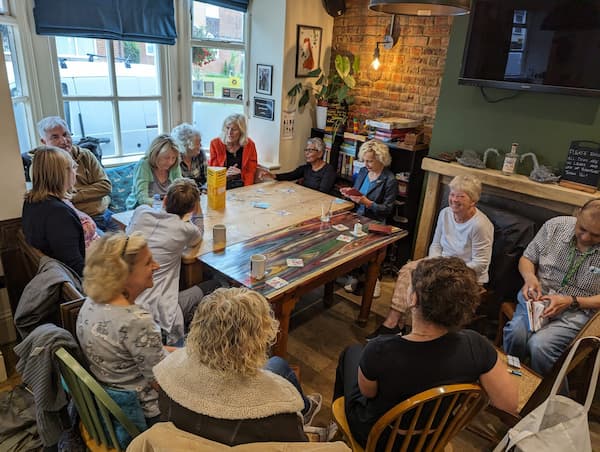 9th August: Quiz Night
Congratulations to our quiz winners, The Wine Swillers, who triumphed after a challenging set of questions to win a £25 bar tab. Roger Ellerker was the holder of the winning raffle ticket and won a packet of crisps. This means that the cash jackpot at the next quiz (24 Aug) will be £90. Book your table now as more and more happy quizzers are joining the fun - many thanks to quiz master Martin for devising and running the show.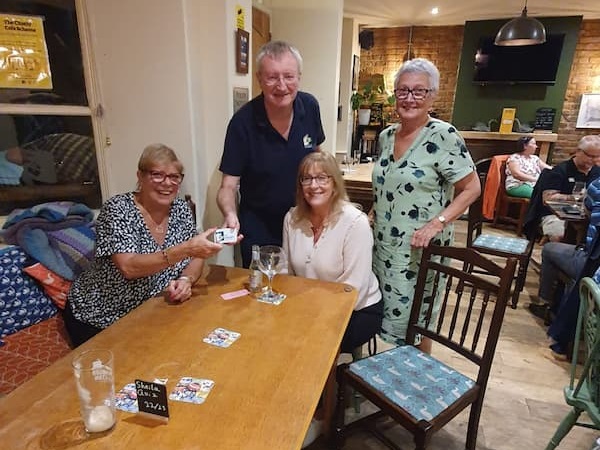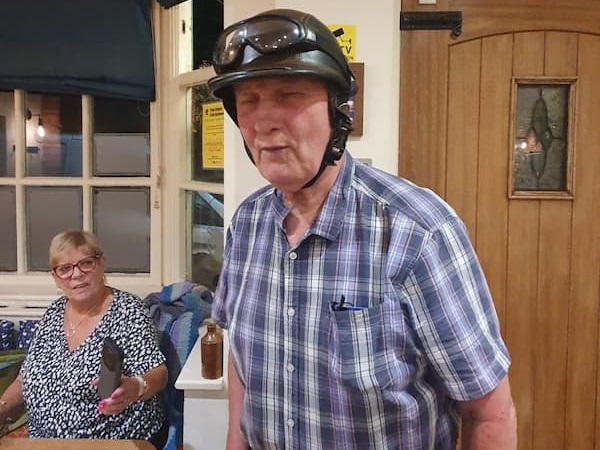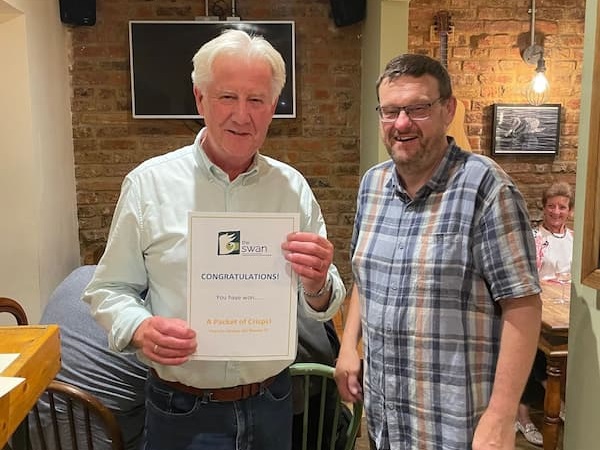 11-13th August: SwanFest
Beer festival and family fun. With live music, lots of guest beers, entertainment, food, world record attempts, et al. SwanFest is our annual bit of fun for the local community. See more in our dedicated SwanFest 2023 page. It has lots more photos and information about the whole weekend. It was a hoot!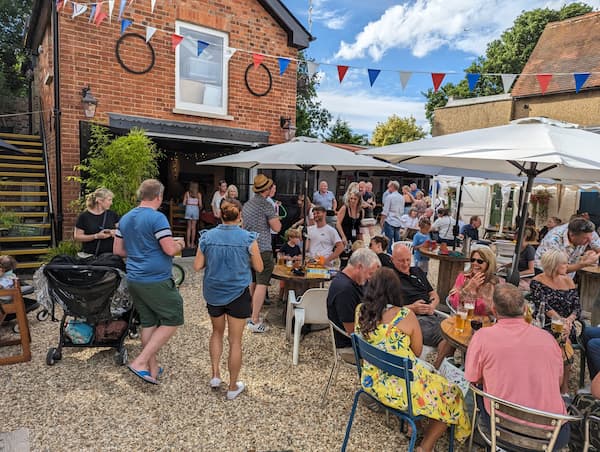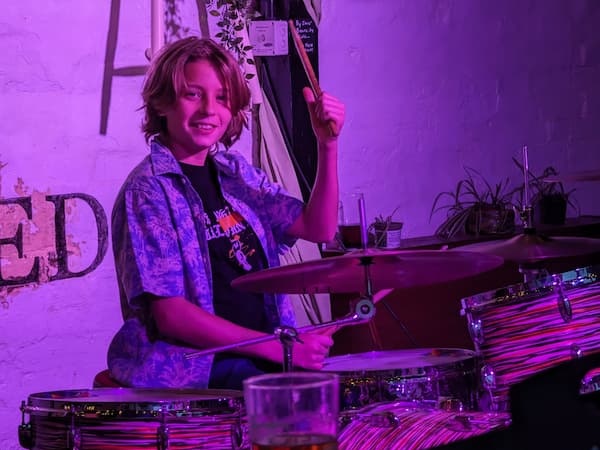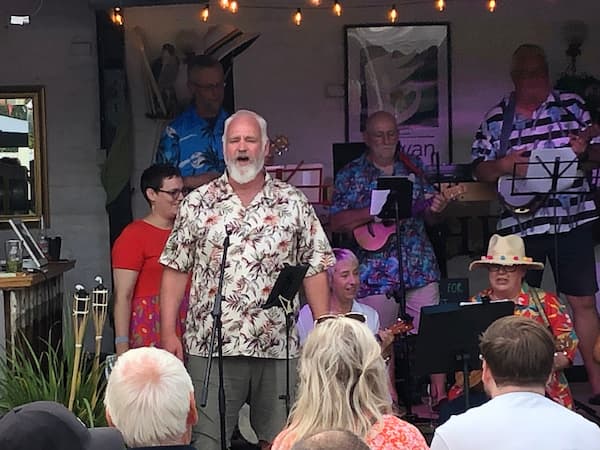 16th August: Chatty Café
It was great to see new and old faces at our regular chatter and natter session on Wednesday afternoon. A wide range of topics were discussed, some jokes made, and a thoroughly good time seem to be had by all. Why not pop down and see us?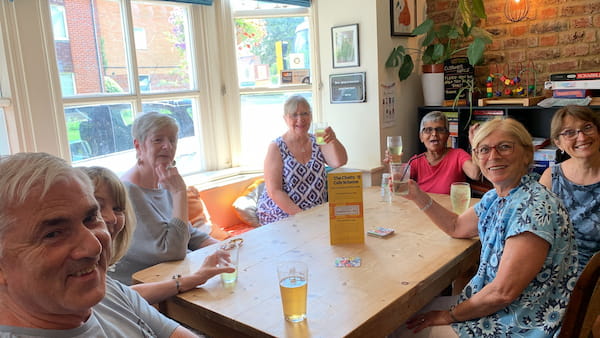 19th August: The Stitch Gang
New to The Swan was a new group called 'The Stitch Gang'. If you look closely in the photos, you will see cross-stitch, knitting, patch work, crochet and others too. This bunch of mixed skills and ages is relatively new and seems to be a hit. We beleive that their next visit to The Swan is September 12th. Watch out social media and weekly email for more information.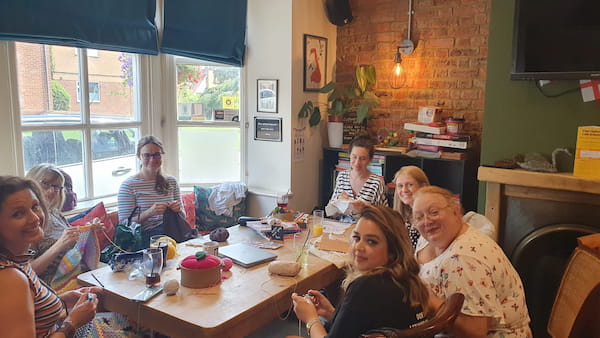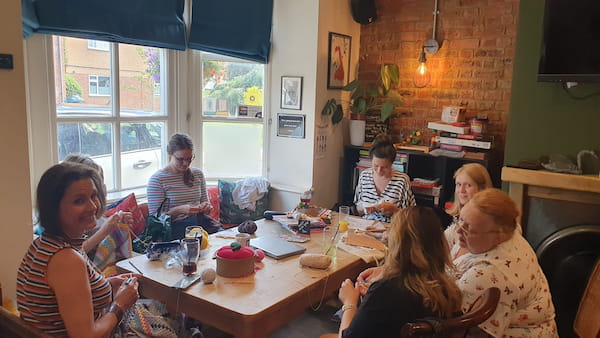 19th August: The Wedding
The Swan hosted its first full wedding when Rachael and David tied the knot on this very special Saturday. The weather held out and they had a magnificent affair out in The Courtyard and in The Coach House. Kieran had provided food which was very well presented. And with tradition, there was an excellent three layer cake and of course, dancing. We wish the happy couple all the very best for their lives together. As you can see, the bride was absolutely gorgeous!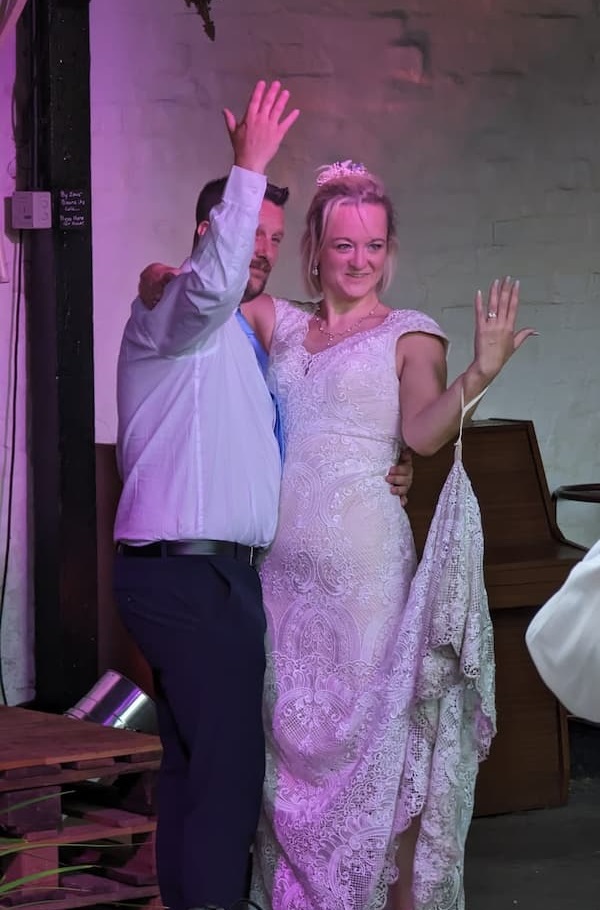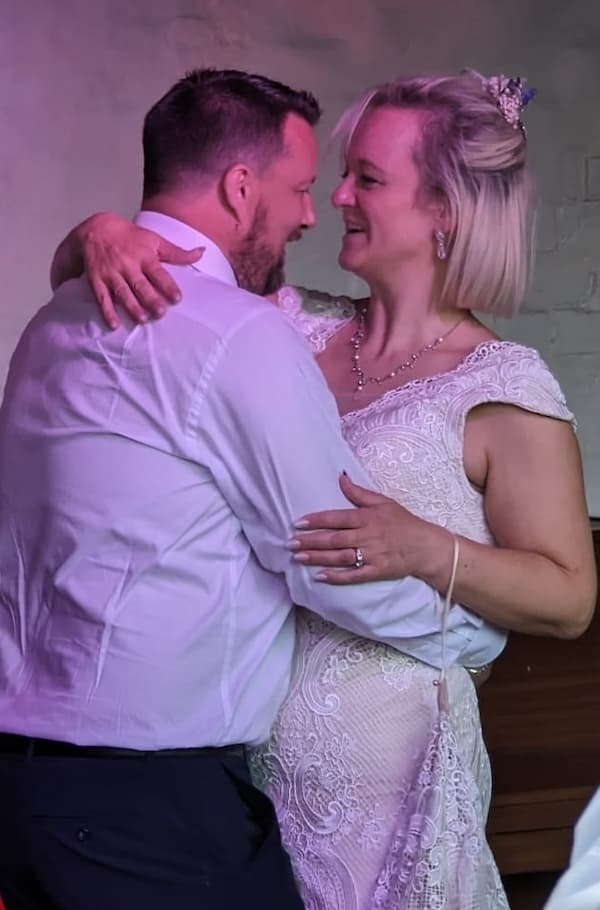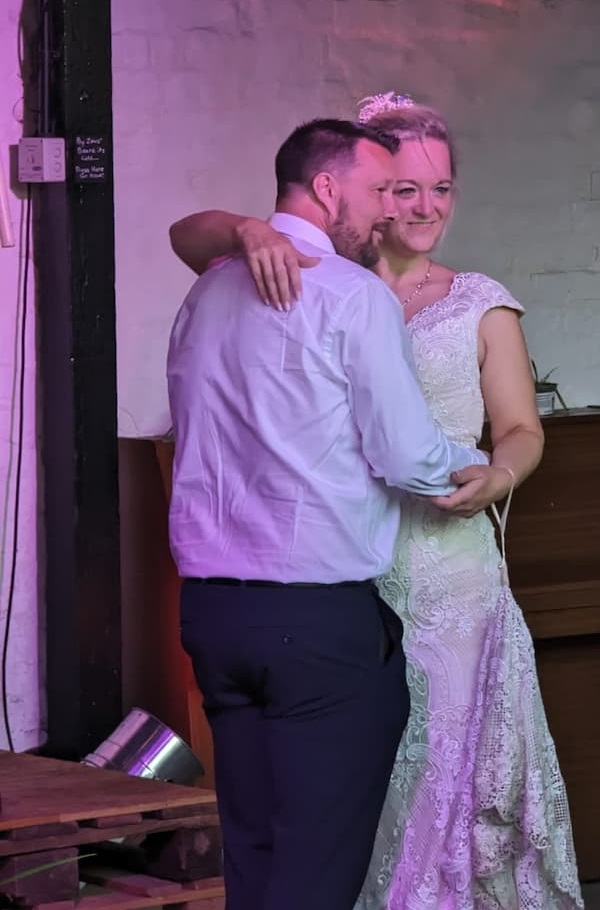 There was of course dancing with music being provided by the DJ, Simon Leigh. He had a fine selection of tunes for all ages to get the guests up and dancing. Photos of 'Dad Dancing' and the likes have been with held to protect the guilty.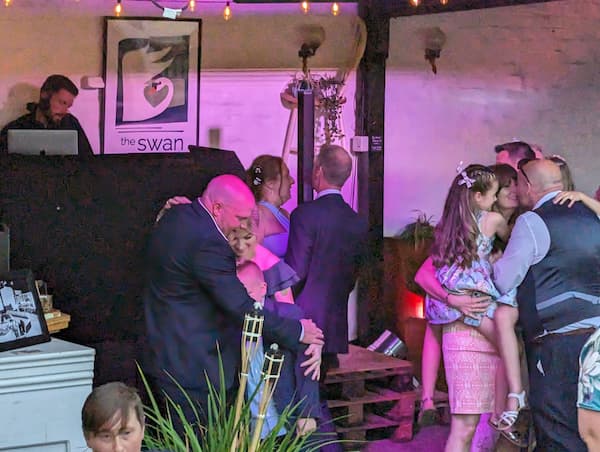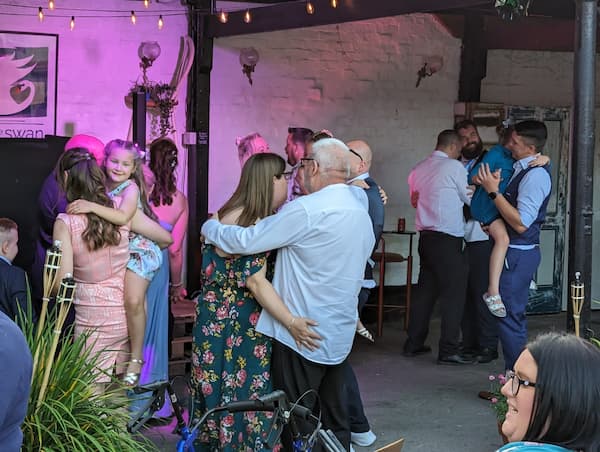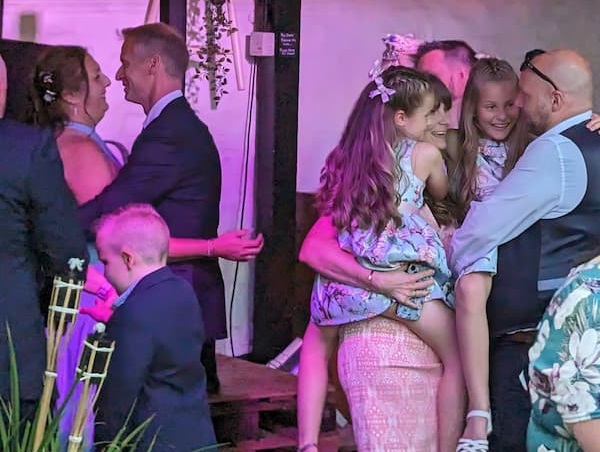 A cold buffet had been provided housed in The Coach House. With the help of Luke, Kieran had really shown us his presentation skills with a fine display of meats, quiches, salmon and a lot more that had the taste buds salivating.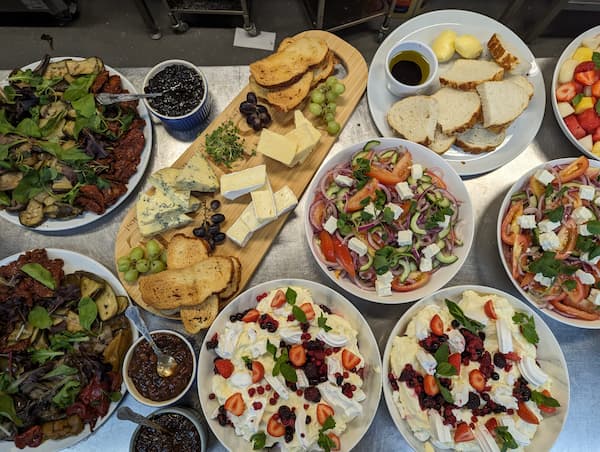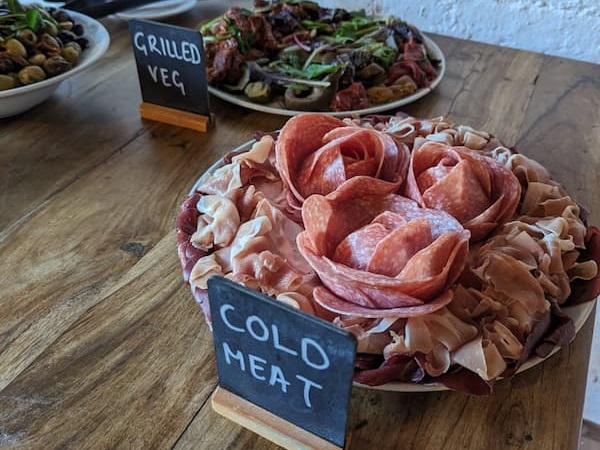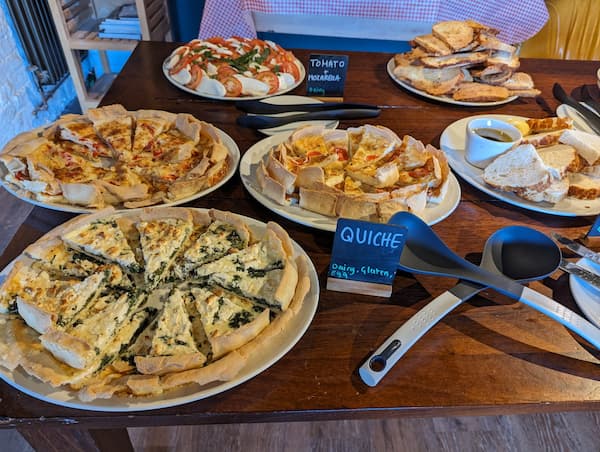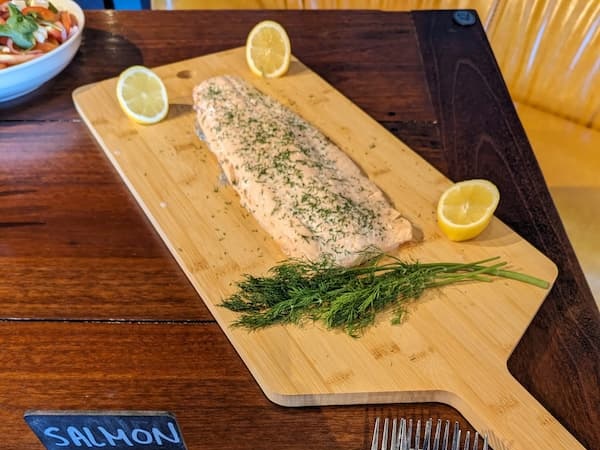 Micky and the team had transformed The Pub, The Coach House and The Courtyard for the wedding. In The Cow Shed a dance area had been created. The place looked terrific!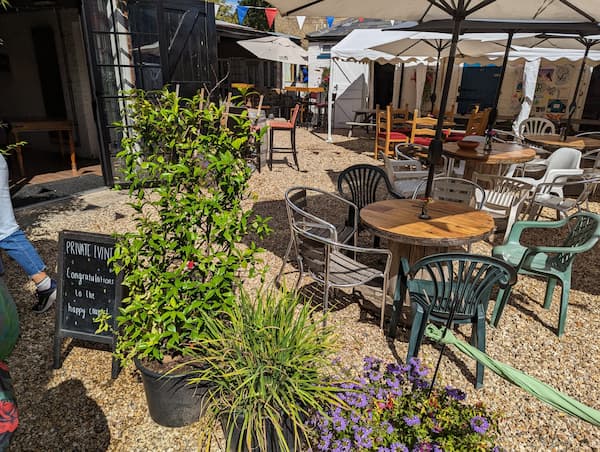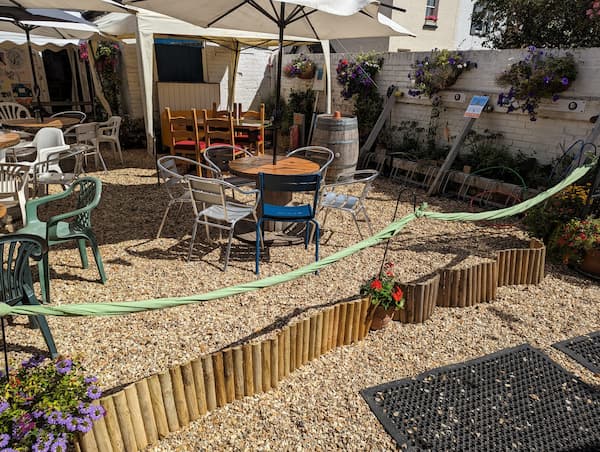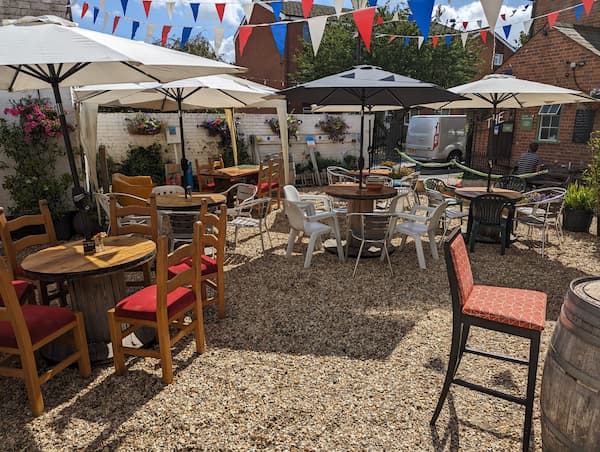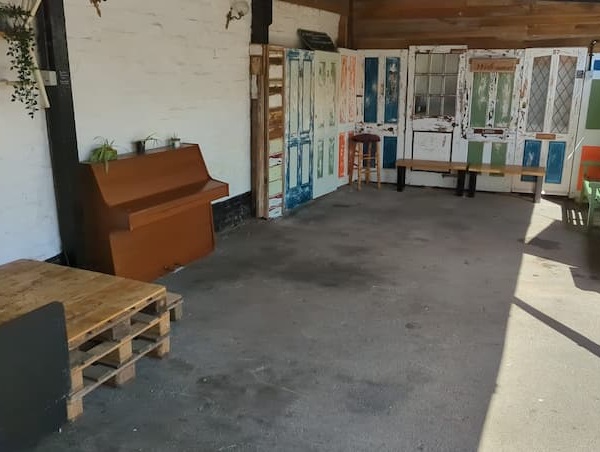 Rachael and her family are true Friends of The Swan. As well as being regulars, her Mum and Dad have been volunteers from getting the keys. Unfortunately her Dad - Adrian - is not with us now but he would definitely have been there in spirit.
20th August: The Lionesses
Early Sunday morning saw the Wonem's Football World Cup Final when England, the European Champions, took on Spain, the surprise of the tournament given their game had been in such disarray less than a year ago. In a tense final, it only took a single goal to win it - unfortunately that was for Spain. The Lionesses didn't manage to make a come back this time. It wasn' to be this time but given the squad, there is real promise for years to come.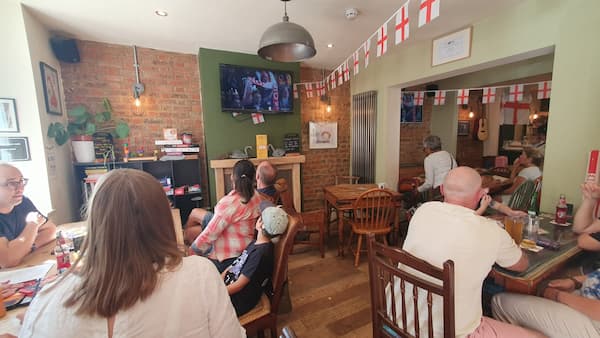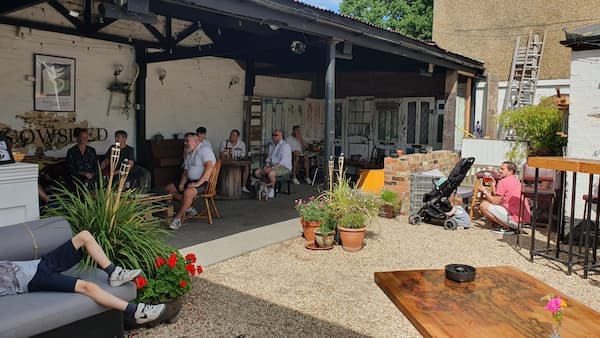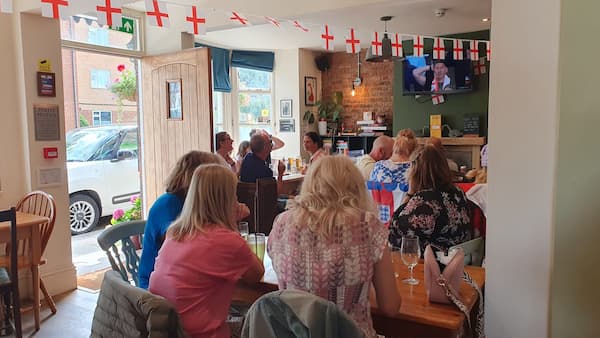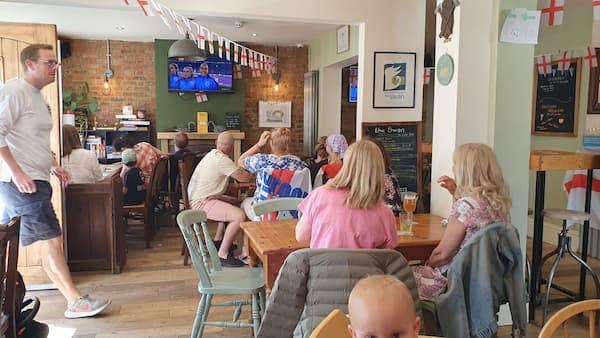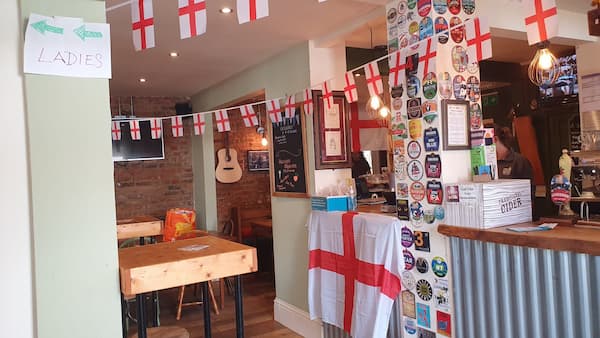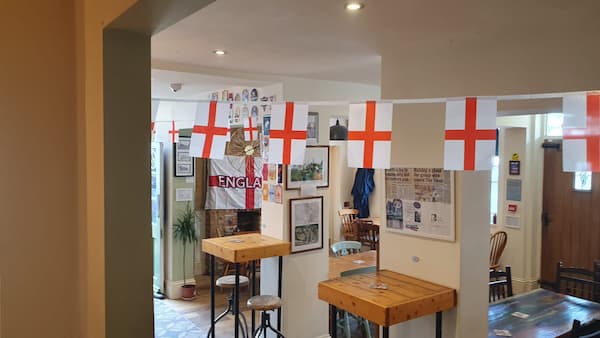 23rd August: Quiz Night
Congratulations to Hettie Heroes, worthy winners of the Swan quiz this week. They shared a £25 Bar Card enabling them to celebrate their win in style.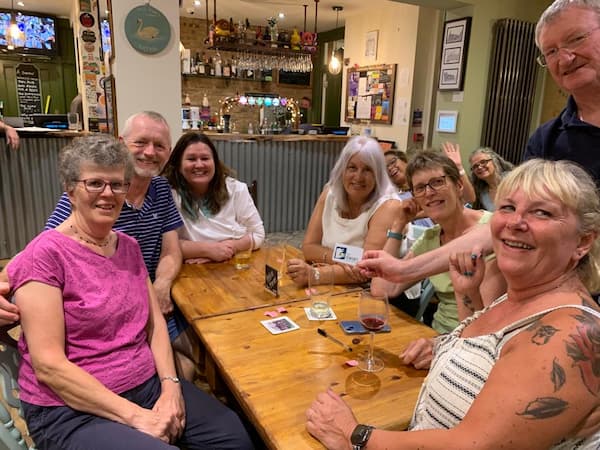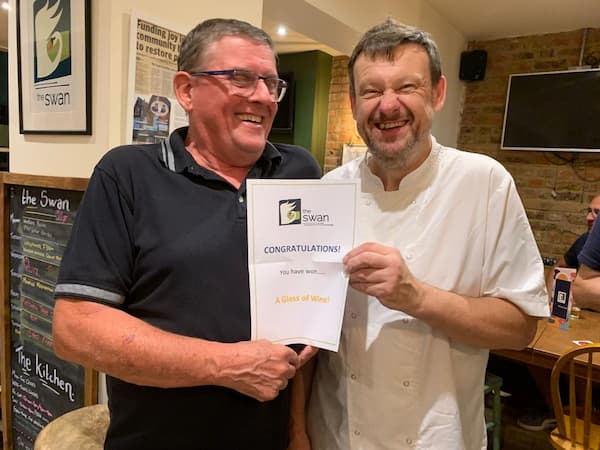 Do you know this man? The gentleman on the left of this photo was the lucky holder of the winning raffle ticket at the Swan Quiz this week. He scooped the wonderful prize of a glass of wine. Unfortunately the team of volunteers forgot to get his name! Can you help us find him? We need to congratulate him and thank him for not winning the cash jackpot which means at the next quiz, Wed 13 Sep, the jackpot will be a massive £100.
They also enjoyed food served for the first time at the quiz. Sincere thanks to Friends of The Swan Louise, Ian and Ben for making this happen. Same again next time!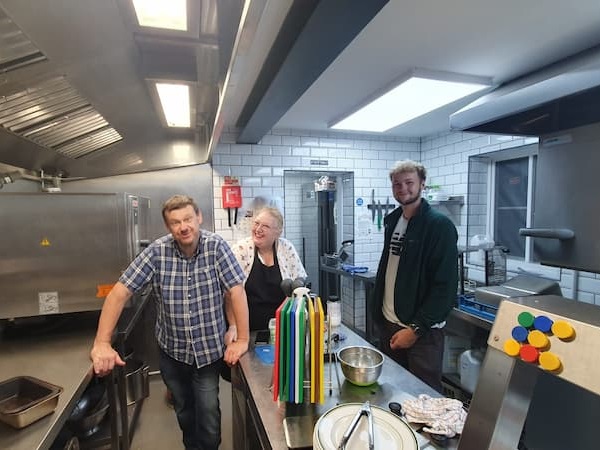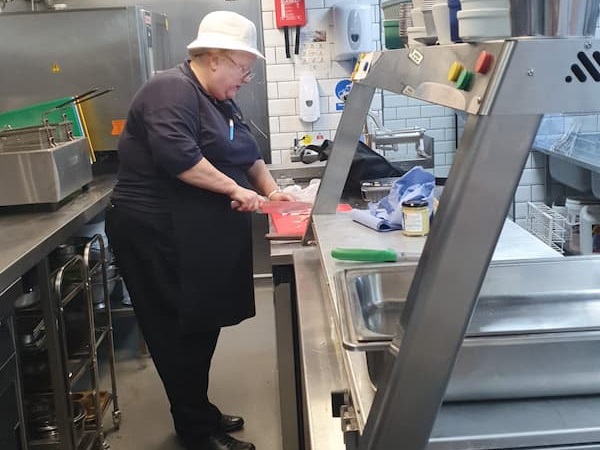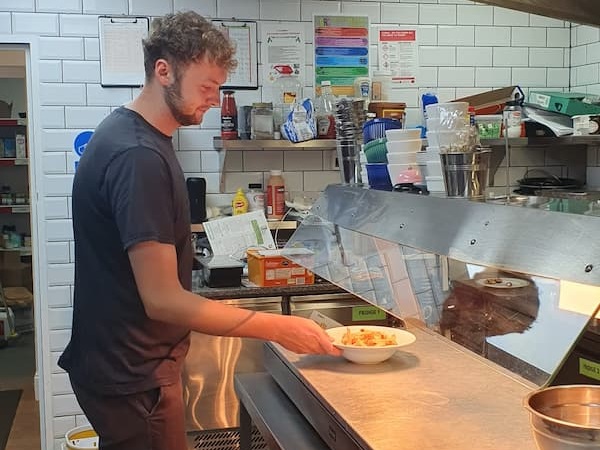 25th August: Charity Coffee Morning
Another successful coffee morning was held in aid of Swan Support. We would like to thank the regular volunteers and bakers for helping out to make this a success and raise valuable funds for our chosen local charity.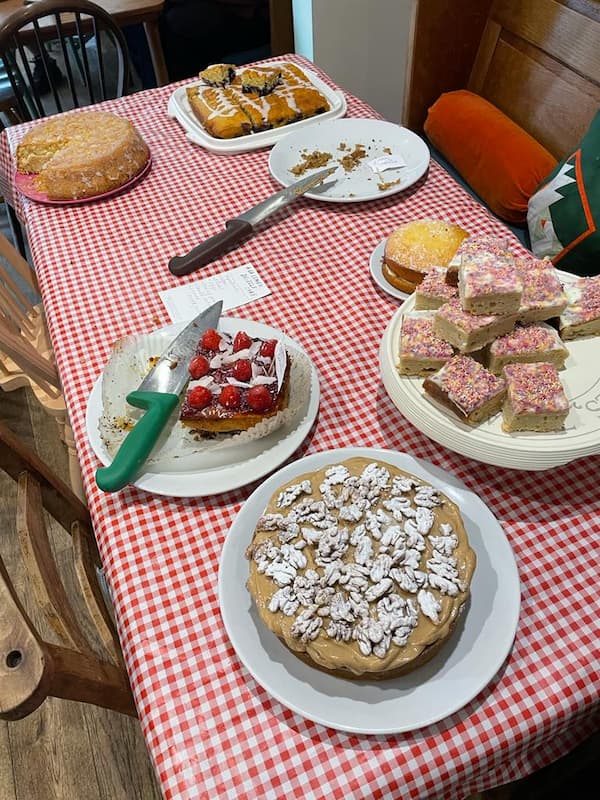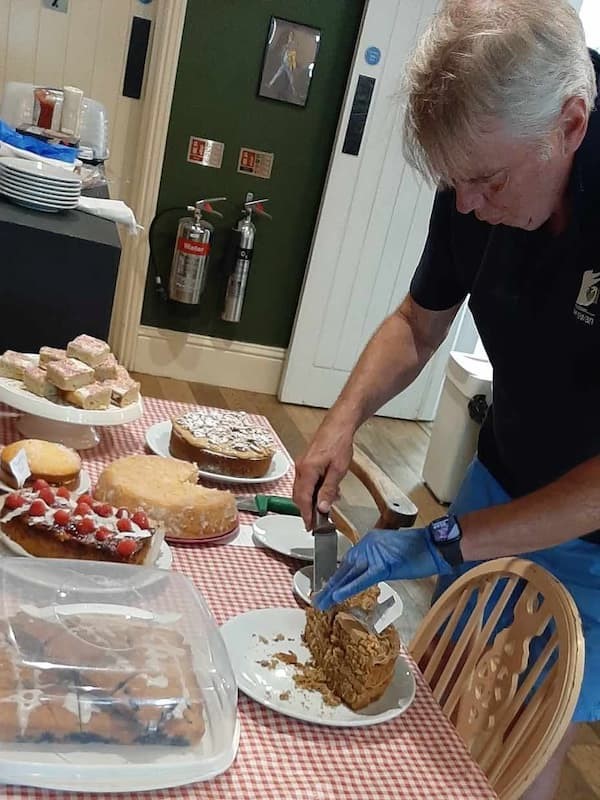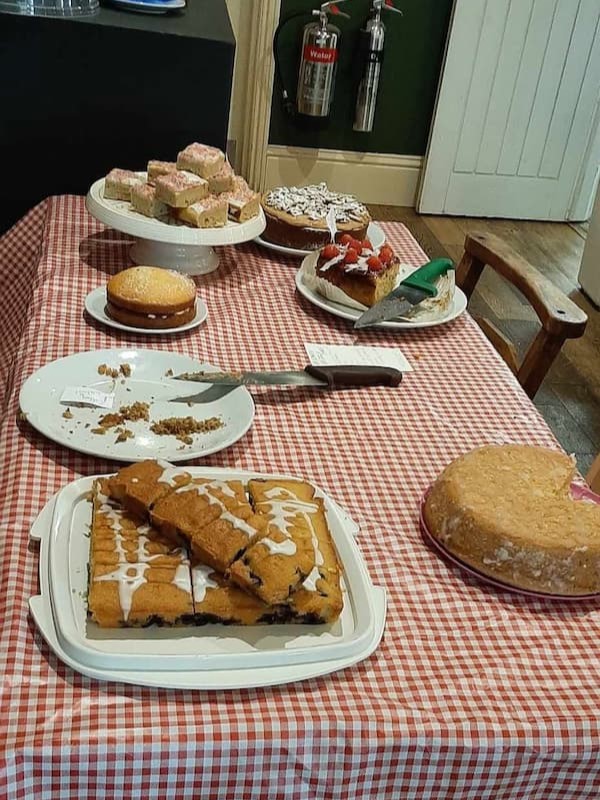 27th August: Courtyard Market
It was a bank holiday weekend, nice weather, and a Kitchen Takeover too. So we had a good turnout for our monthly Courtyard Market. There was a great variety of stalls, with their very knowledgeable owners, on stand for the afternoon. It's a great way to get some local produce or a fab birthday gift.