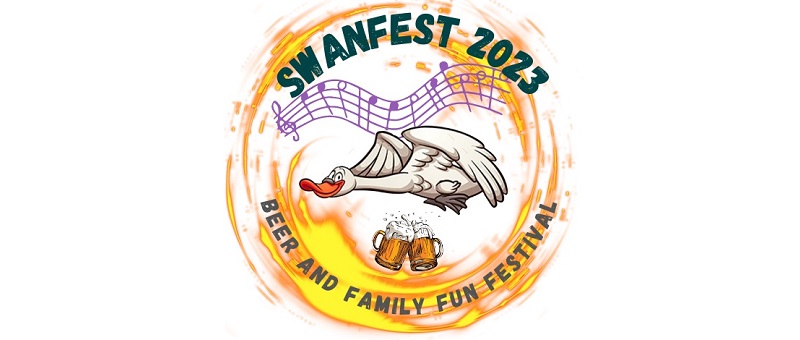 What is SwanFest?
Running for the full three days of Friday 11th to Sunday 13th. We were open from 10am until 11pm each of the three days of the party. All were welcome and as a bonus, there was no entrance charge. We had an excellent range of activities for all ages including:
A beer festival.
Live music to suit all tastes.
Guinness World Record attempts.
Children's activities including face painting and crafts.
A raffle with excellent prizes.
And our famous BBQ each day too.
A huge thank you must go to the staff, many doing extra shifts without taking a salary, to the tireless work of the volunteers without whom it wouldn't have been possible, and the various acts that were on over the weekend. And of course to Micky at the helm.
We also need to thank our neighbours without their patience and understanding SwanFest wouldn't be possible. We made sure that we were within sound limits and licence conditions at all times, but they have been absolute stars in supporting us.
SwanFest Diary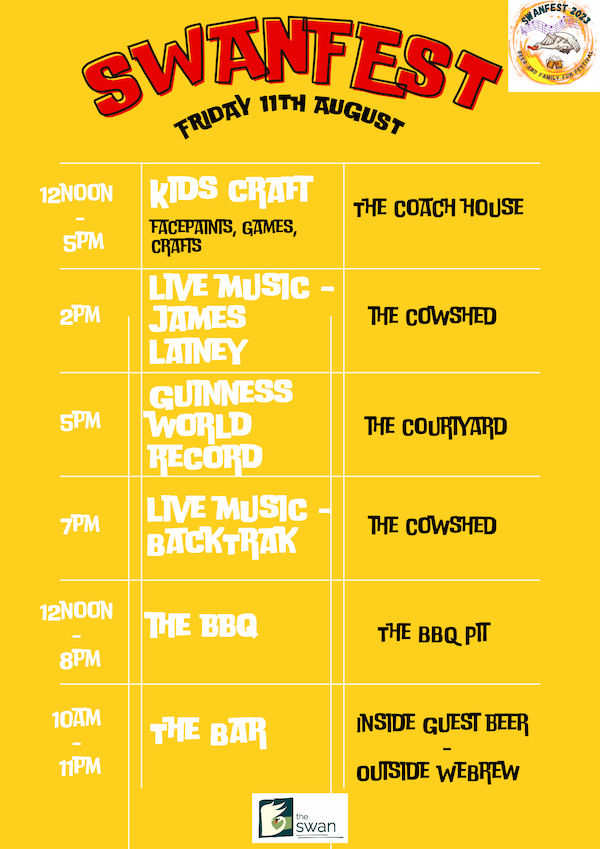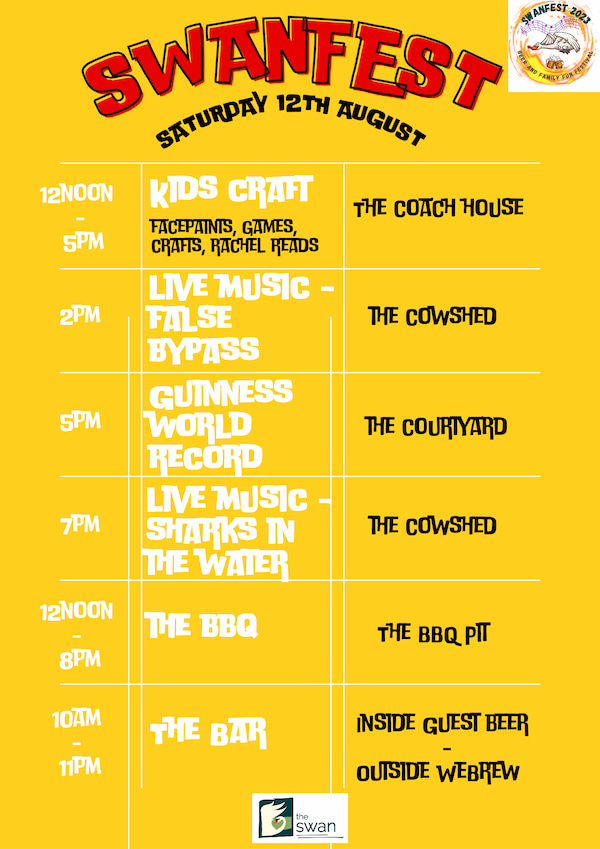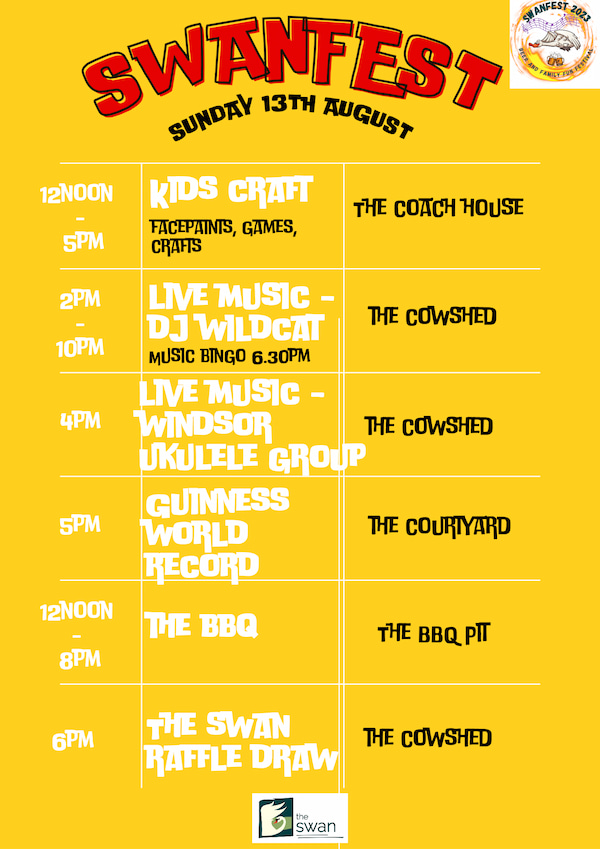 SwanFest Day 1 - Friday
A nice day had been forecast and that is what we got - warm with sunny periods - were perfect conditions for SwanFest Day 1. The live music kicked off at two with James Lainey, a firm Swan favourite. During the afternoon The Courtyard got busier and busier and by the time BackTrack came on at seven, it was full. There was dancing. There was singing. And one or two beers and burgers consumed - the German Keller Bier proving very popular indeed.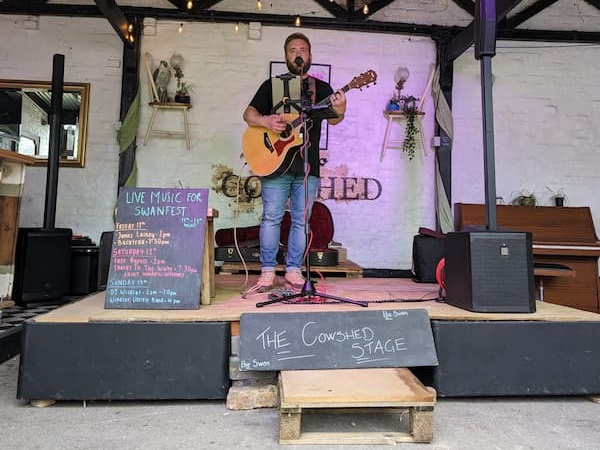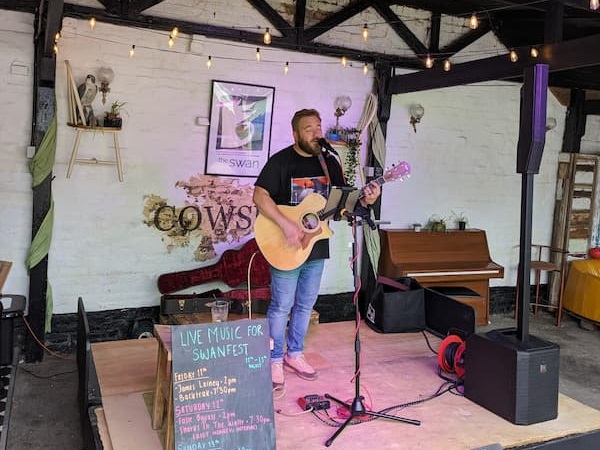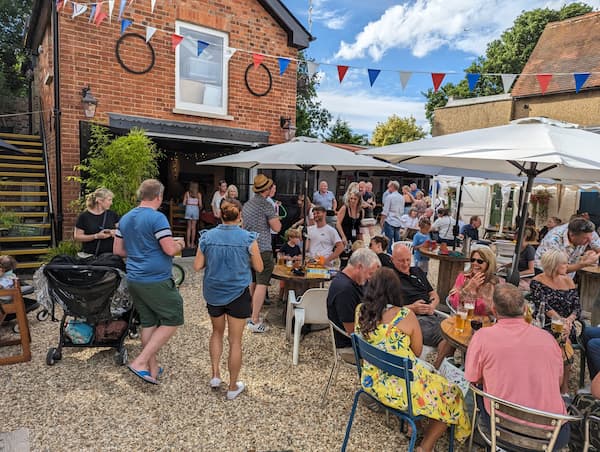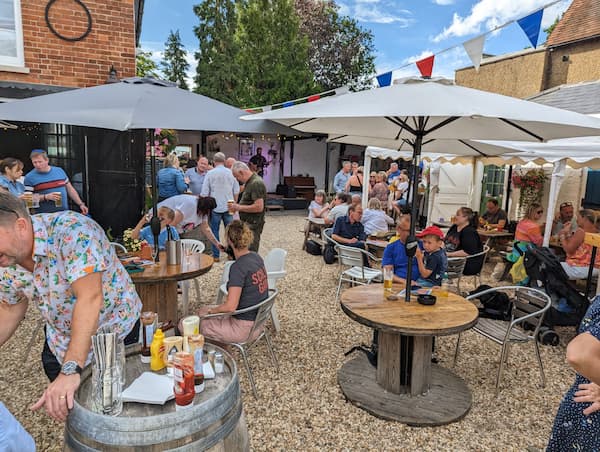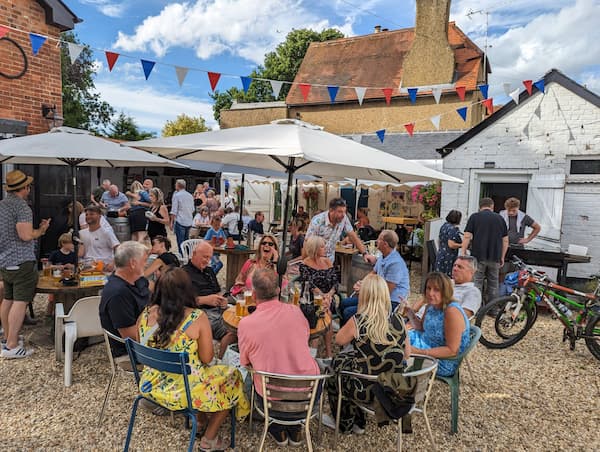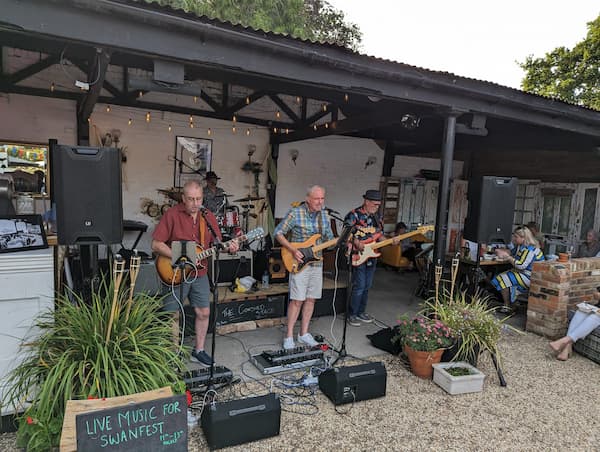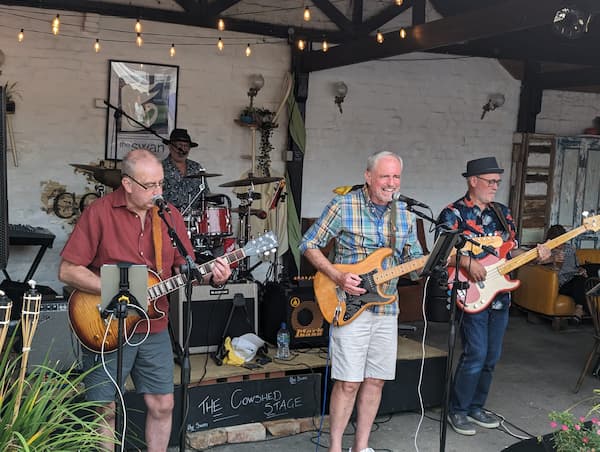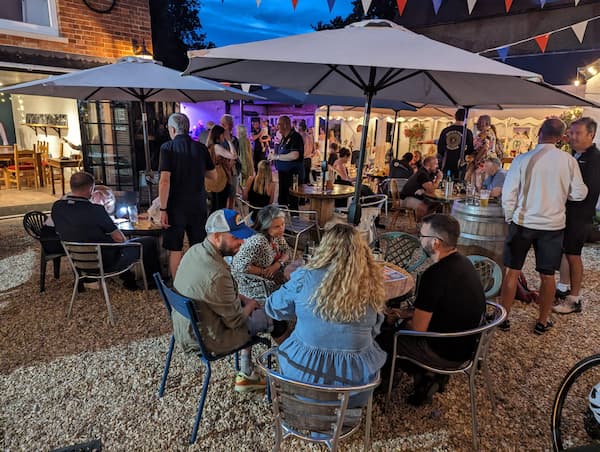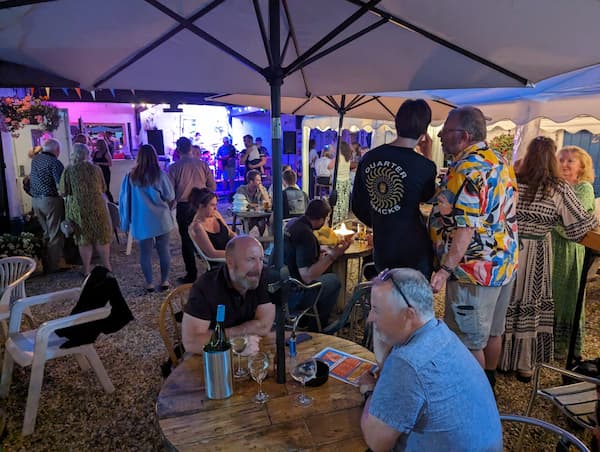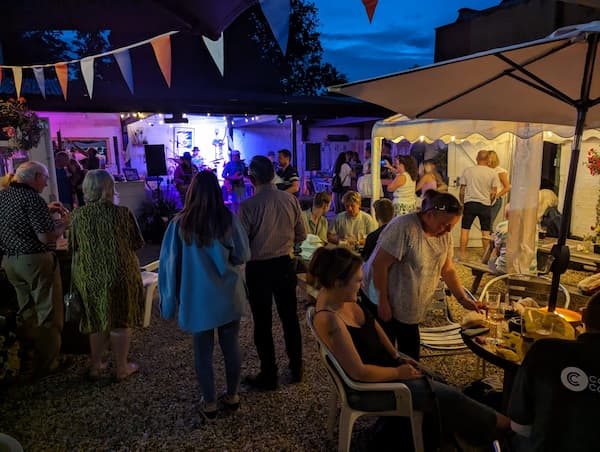 One of our Guinness World Record attempts with Micky at one end, and Alfie at the other. They managed 8m (26 feet) in this attempt. Maybe not a world record, but certainly a pub one! This video is already a classic. What will he think of next?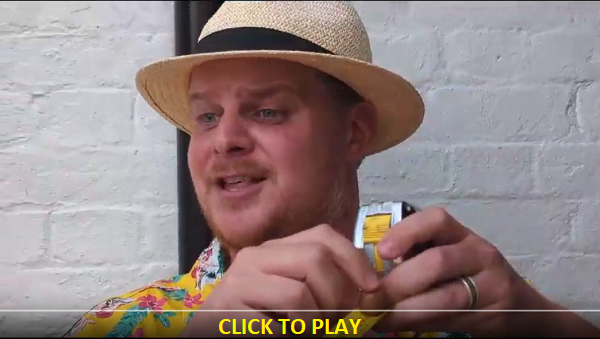 SwanFest Day 2 - Saturday
SwanFest Day 2 started nice and early - well for Micky anyway - at 7.55am when he was interviewed for BBC Radio Berkshire. You can listen to it here.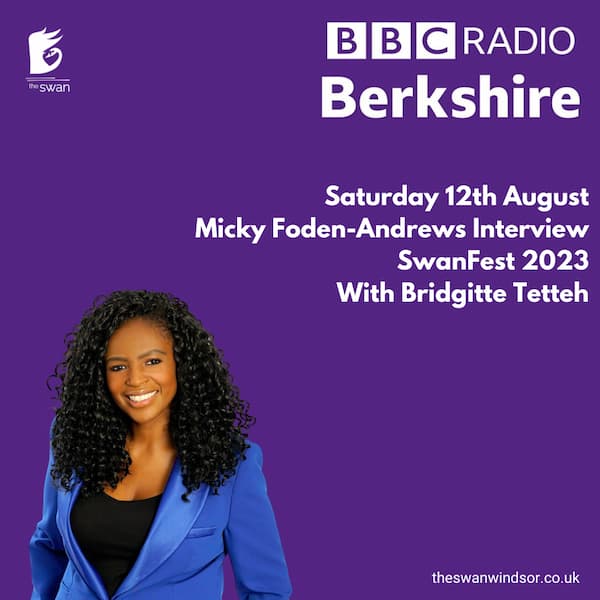 Bridgitte Tetteh's Saturday Morning Show, BBC Berkshire - SwanFest
Presented by Bridgitte Tetteh on Saturday 12th August, 2023.
The weather wasn't as good for day 2 but the heavens didn't open so that was good. Another busy day and we welcomed the guys from Camra who were having a fund day out. We also welcomed Sharon Adkins and Peter Allen all the way from Romford, and Pierre all the way from Canary Wharf. Music was provided by False Bypass in the afternoon, debutants Riot Monkeys who played a few, and the evening finished off by Sharks in the Water. There was also some time to try the Baked Bean Challenge.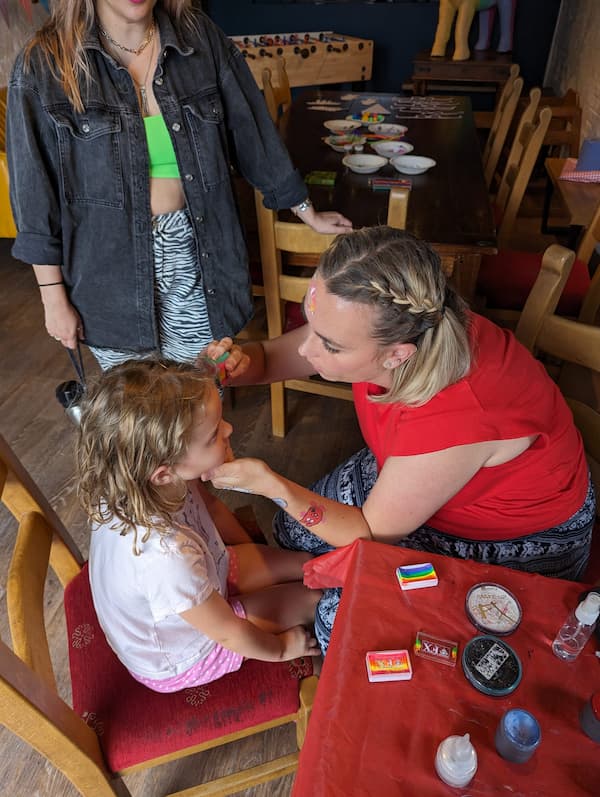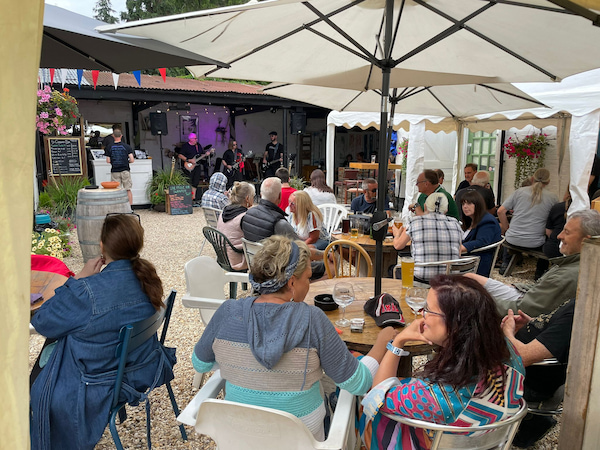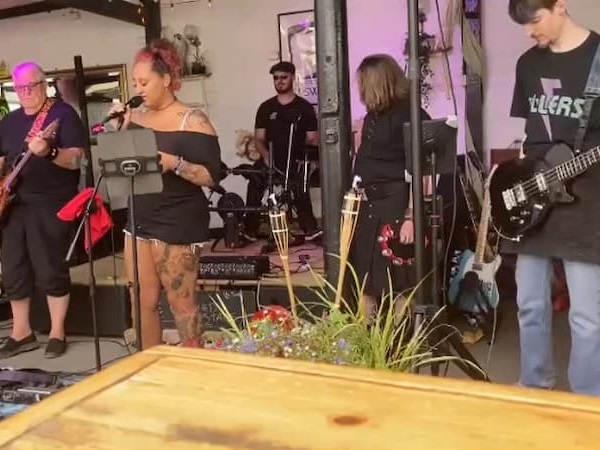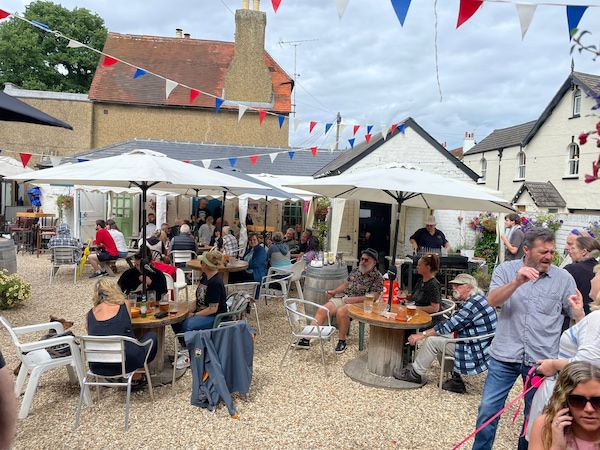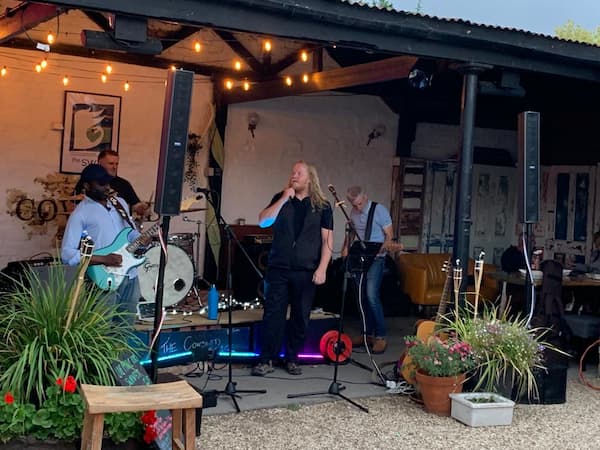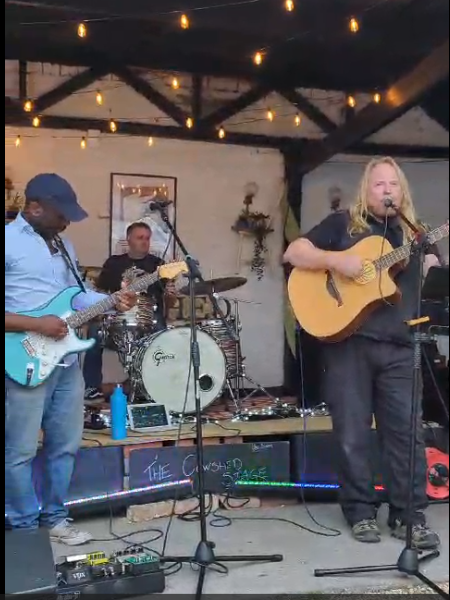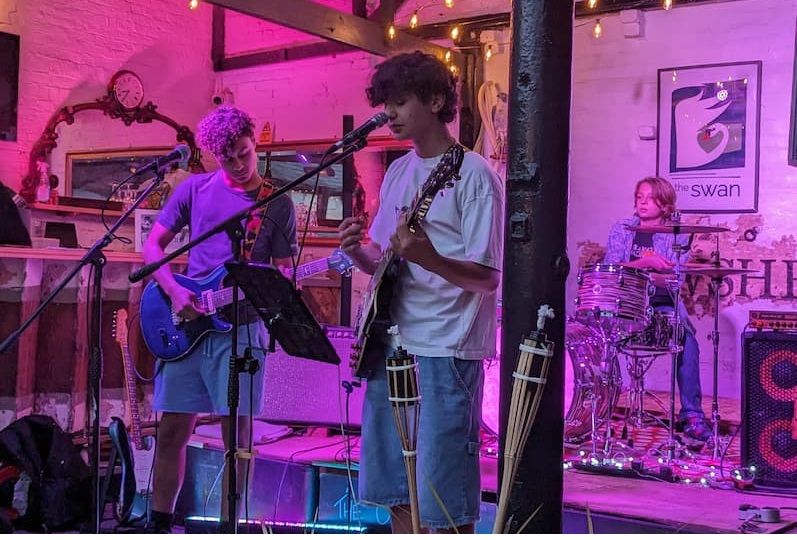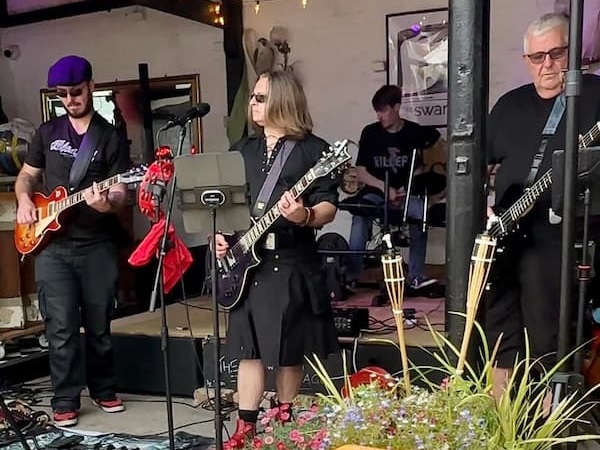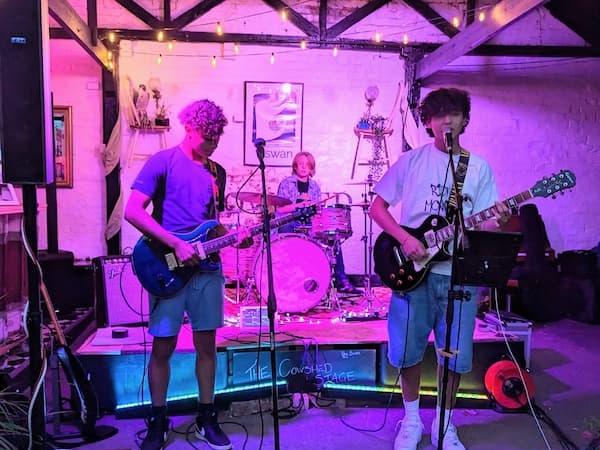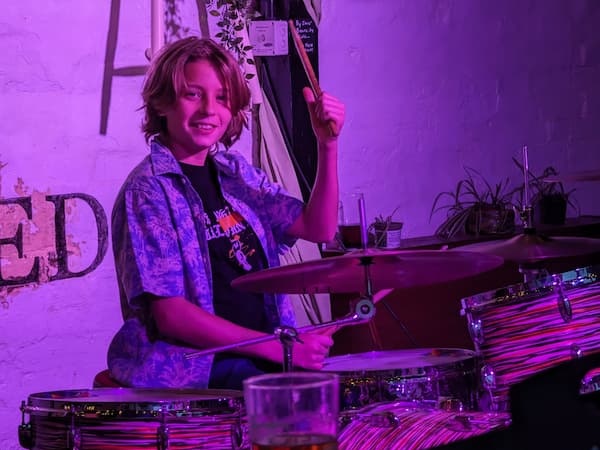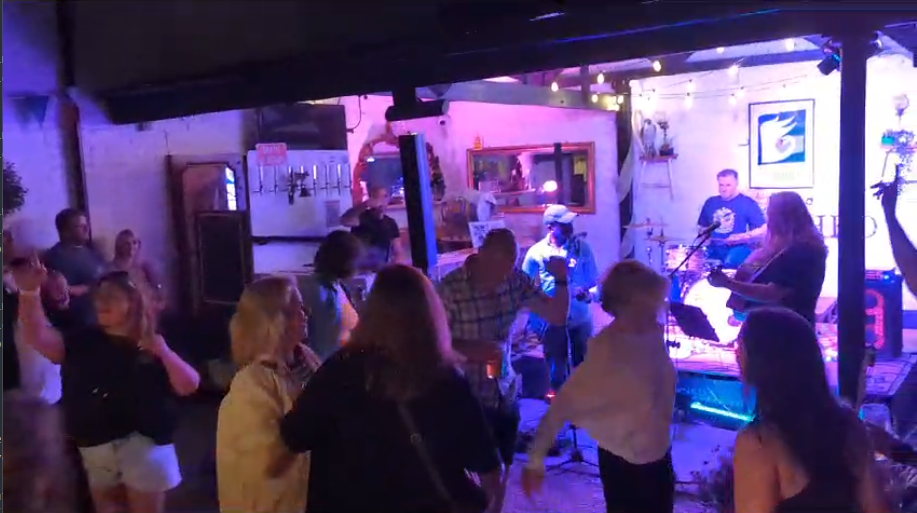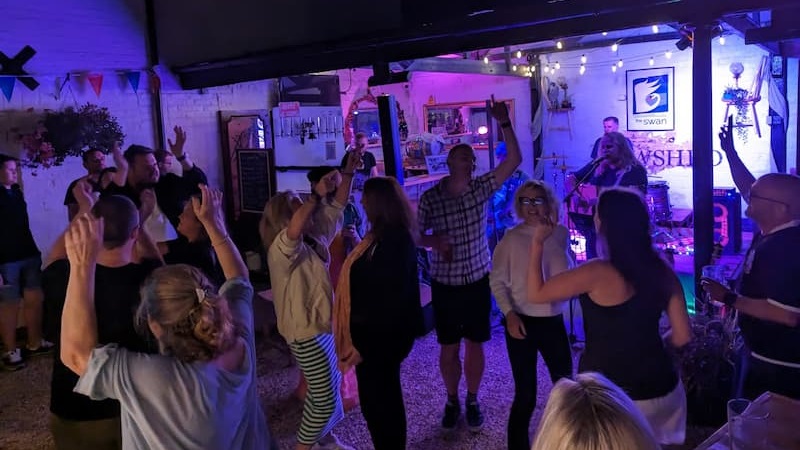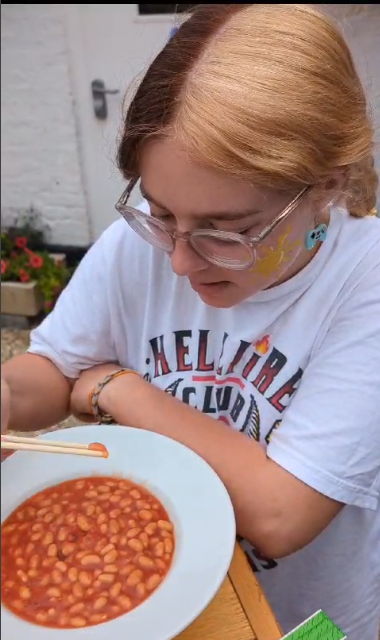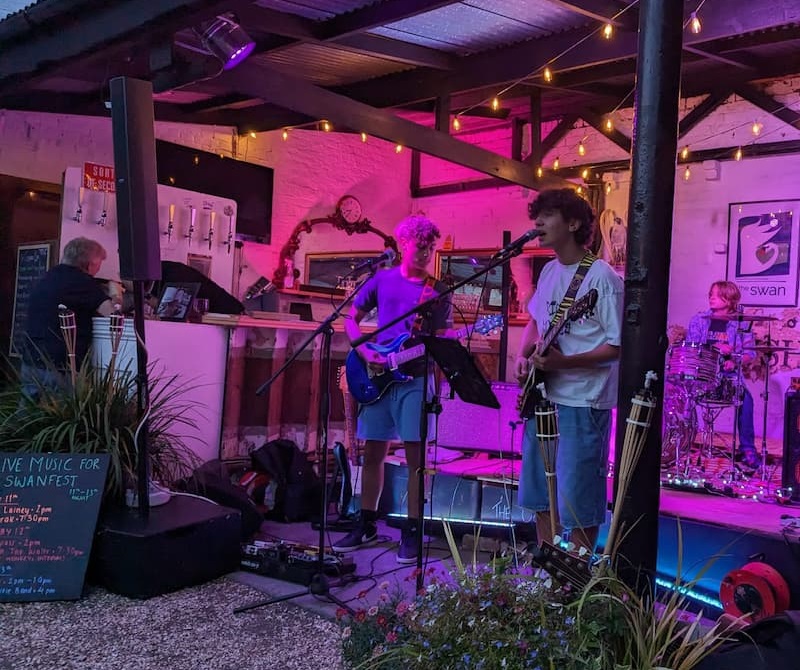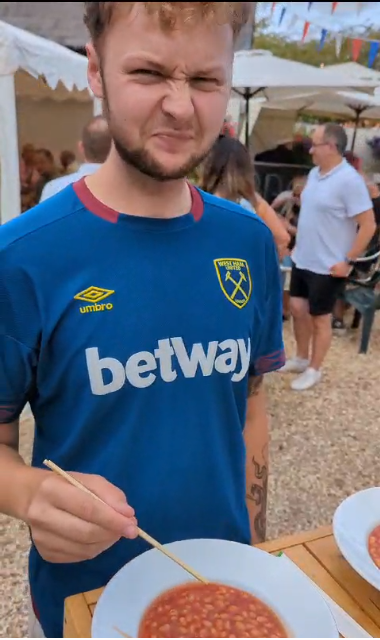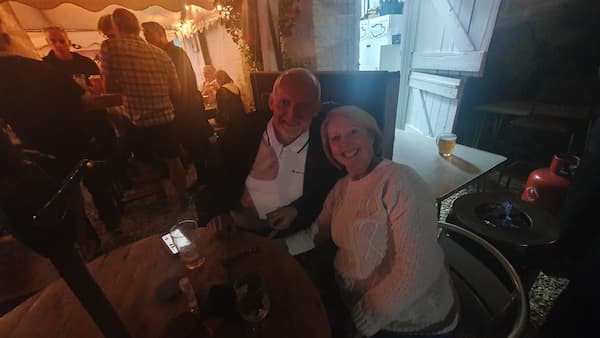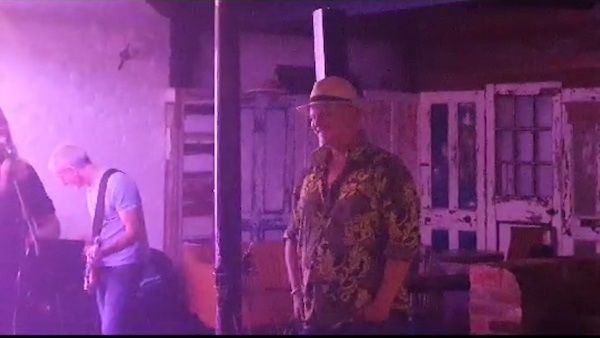 SwanFest Day 3 - Sunday
So the first outing for the Windsor Ukulele Group was a real success! They had a packed Courtyard singing along to a variety of traditional and light pop songs. This was a real community event. Well done! Note, they meet every Tuesday at 7pm, all welcome.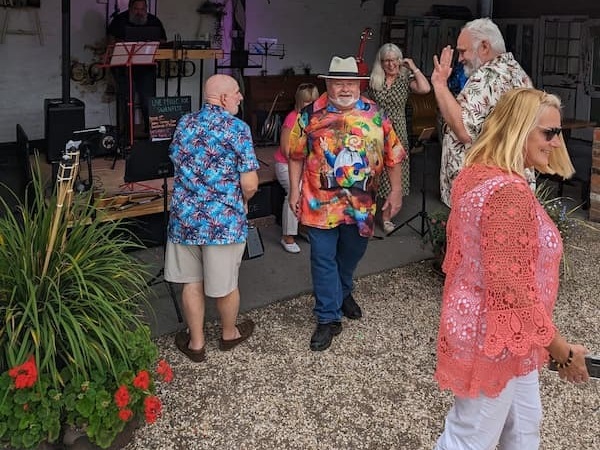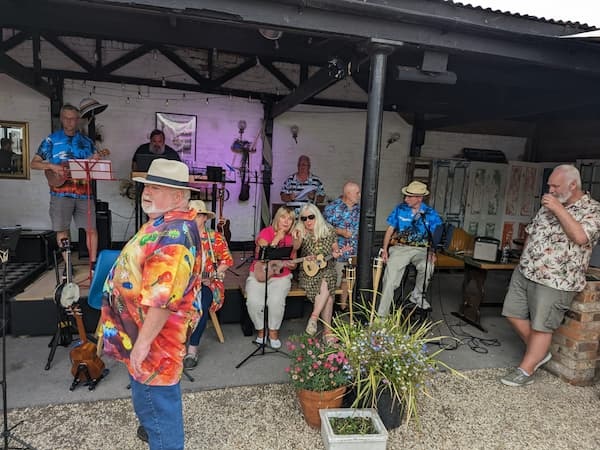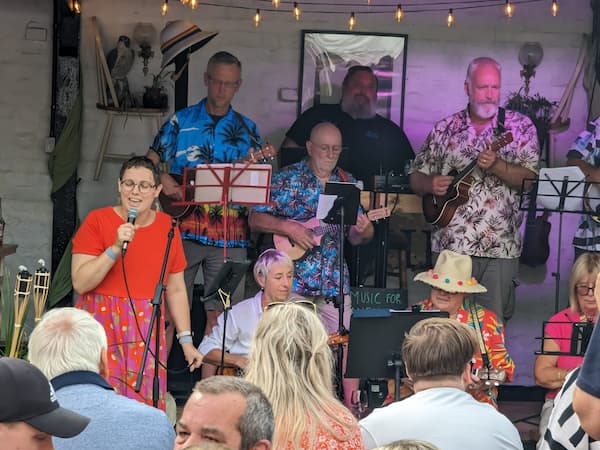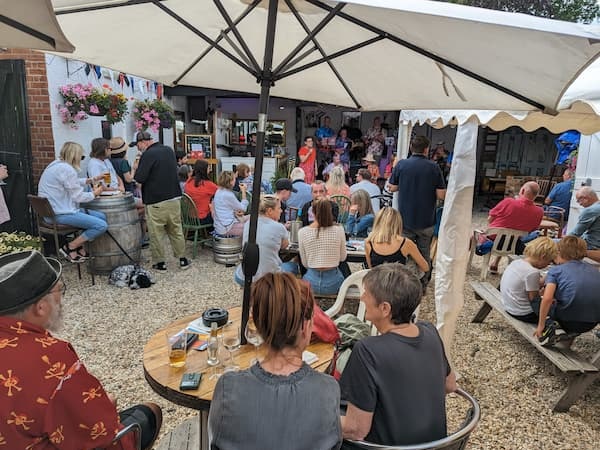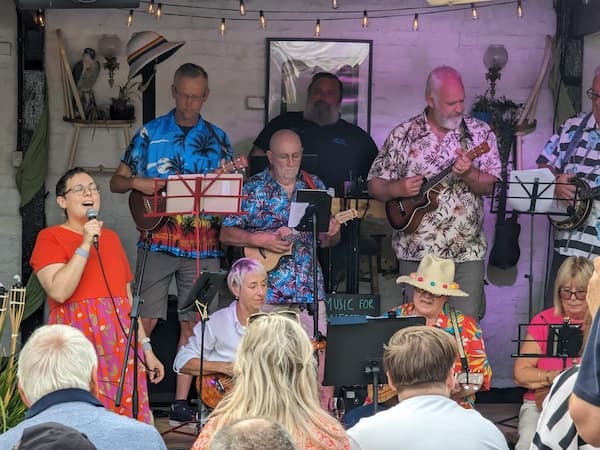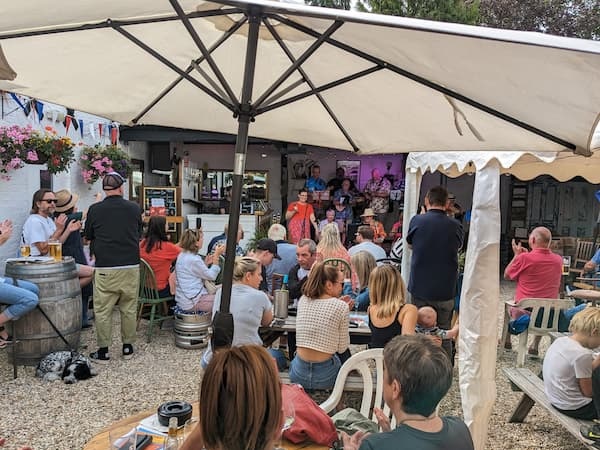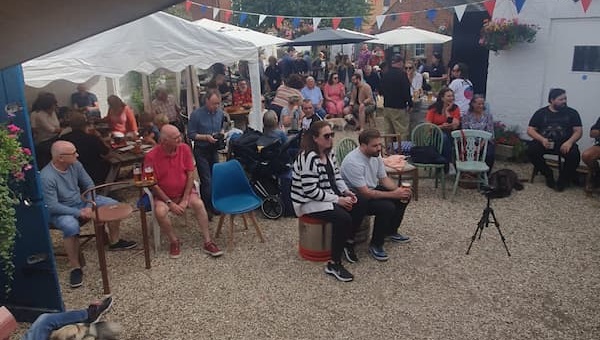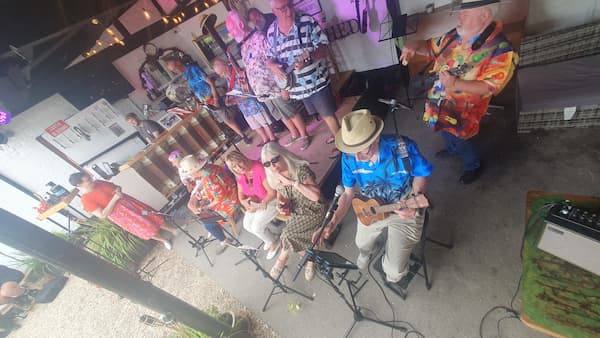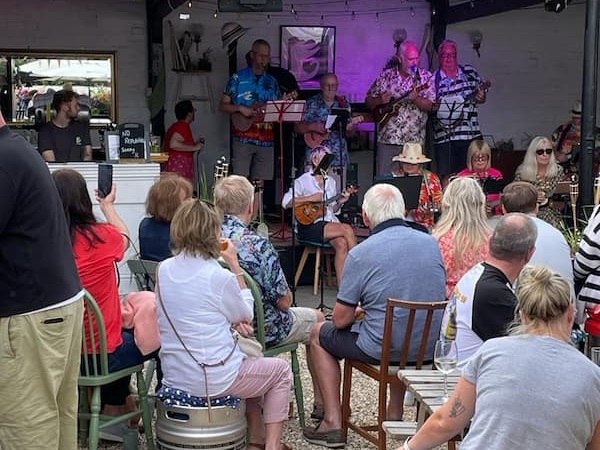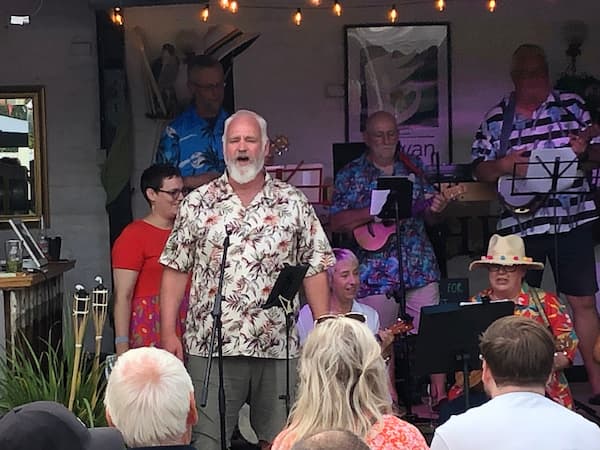 And DJ Wildcat, well he was fantastic as always. Who wanted to go to the Racecourse with entertainment like this?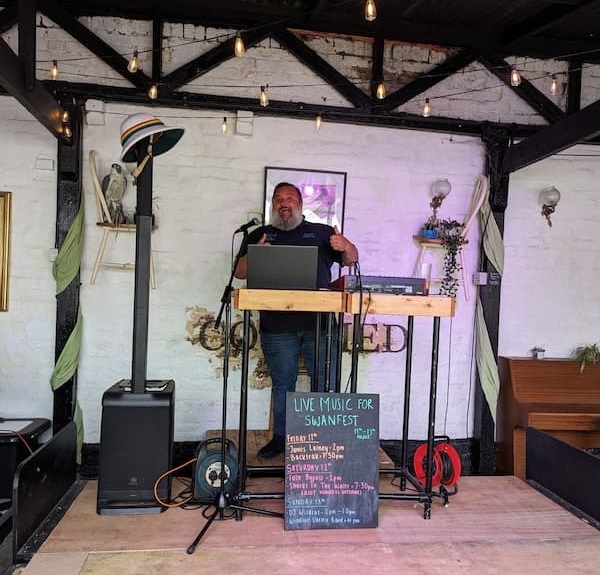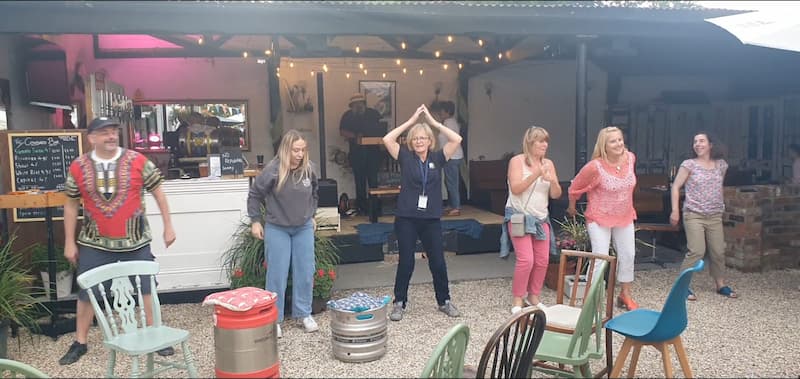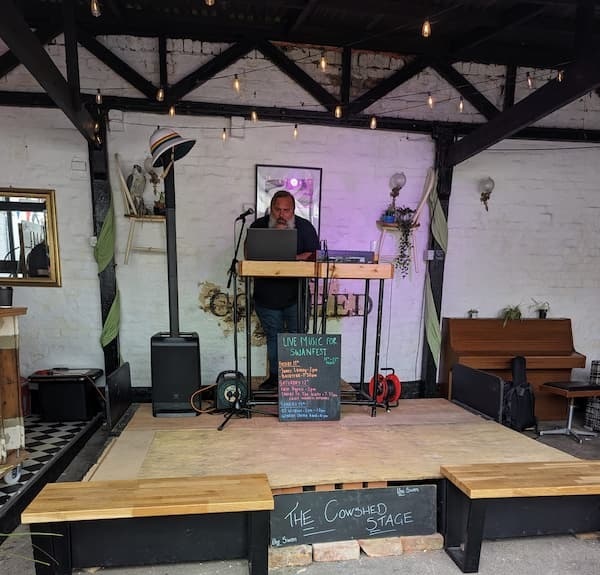 The raffle was really popular raising over £1,500 towards the renovation funds. Thank you to all our sponsors for donating prizes, really appreciated.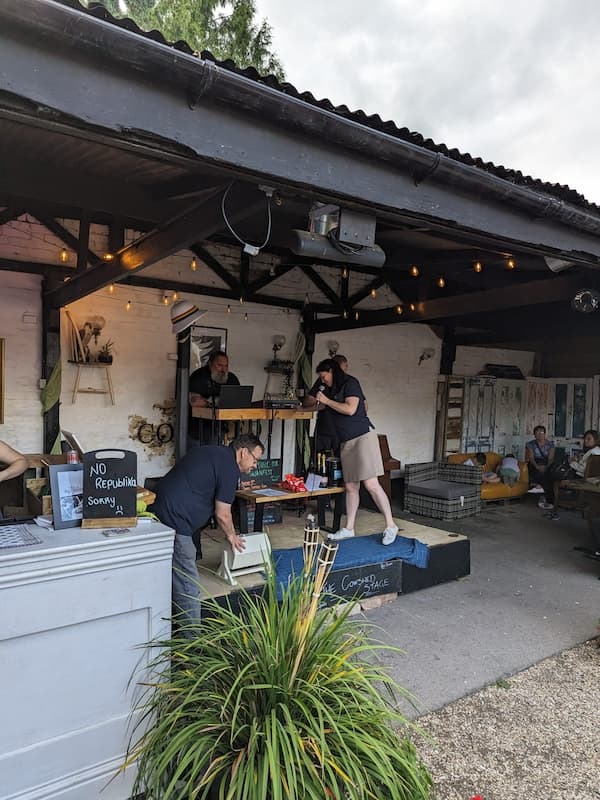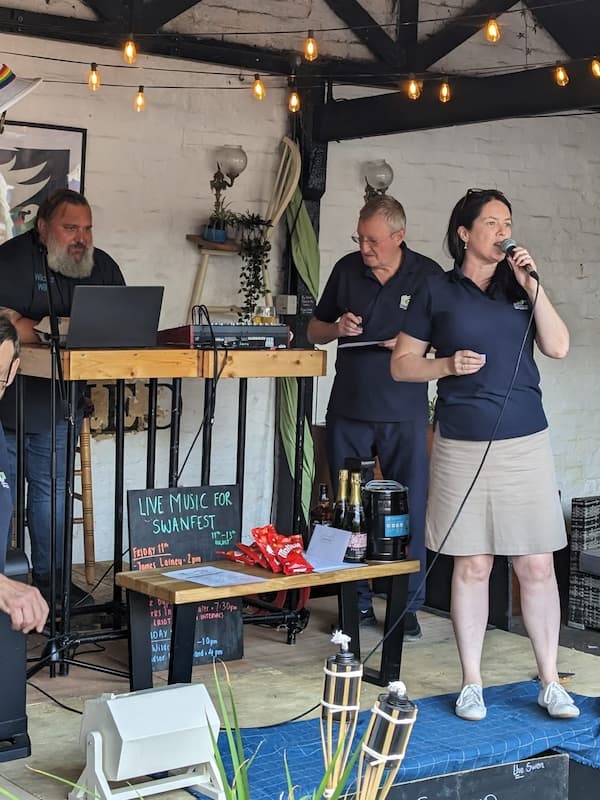 There was a world record attempt regarding the number of spoons balanced on your nose. We beleive that Kelly has achieved that with 37 spoons. We are writing to Guinness World Records with evidence and will let you know the outcome.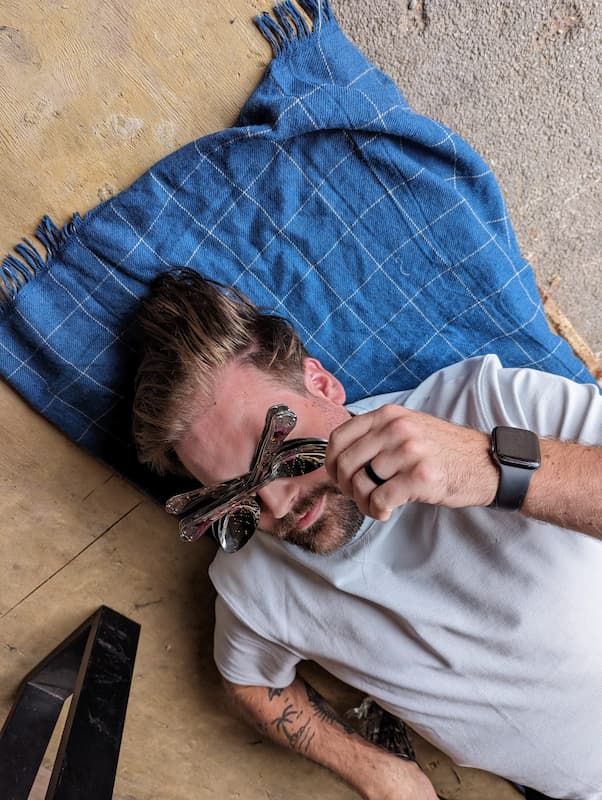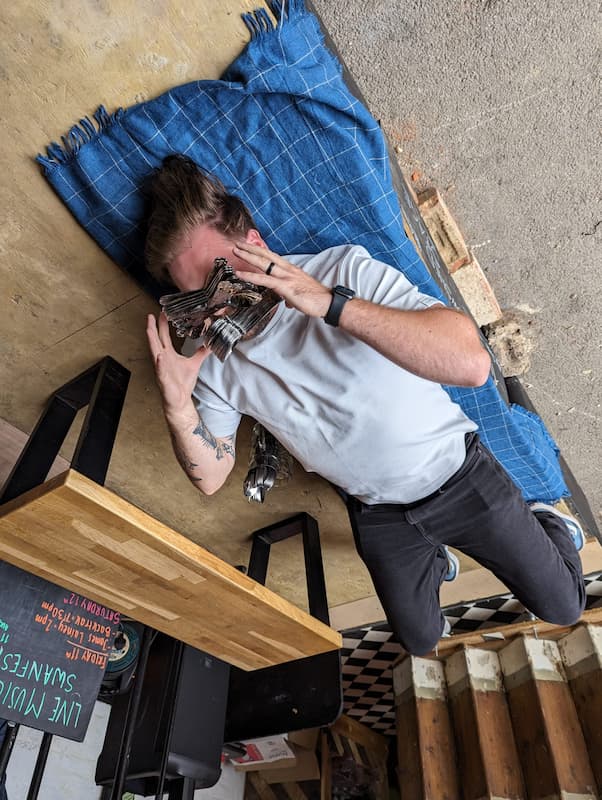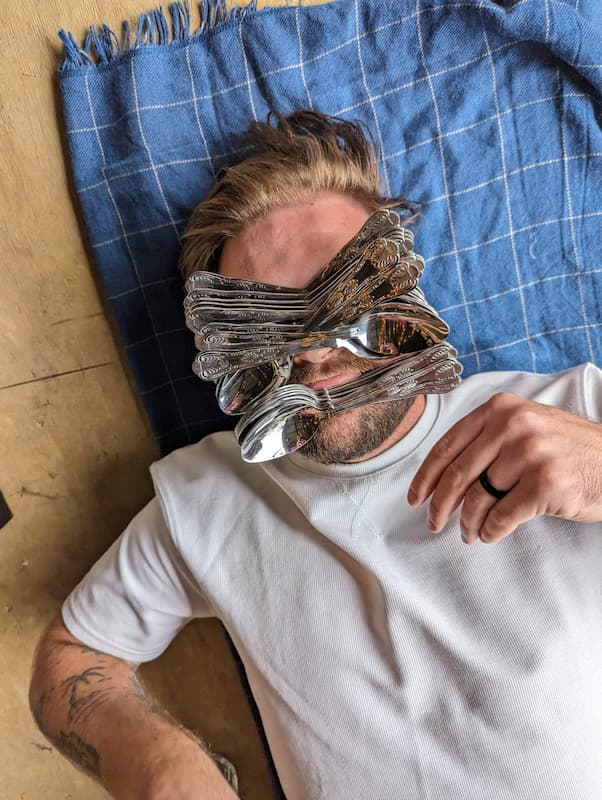 At time of writing, the pub had seen the most customers over a weekend and taken in more money than ever before. THis is really good news as people, know the pub has been struggling a little with utility bill & mortgage increases, as well as in core elements such as beer and wine. A huge thanks to the community for your support.
The SwanFest Raffle
The raffle is run by the Friends of The Swan in aid of the renovation funds. As you know, we still have a long way to go to finish all the work and with costs escalating, this is becoming more of a challenge. You can buy one ticket for a pound, or five for £5. You must be 18 to enter the raffle.
The prize list is below and we will keep adding it right up to draw time. We have a number of company and private donations for this so the prizes so far look fantastic. Are you able to donate? Please do get in contact.
The draw will take place on Sunday 13th August at 6pm. All winners will be contacted by telephone or email. Any personal details taken in order to contact winners will be destroyed as soon as the prize has been collected. Prizes must be claimed from The Swan, Mill Lane within 4 weeks of the draw, unless alternative arrangements are made. We are sorry, but no switches or substitutions are possible.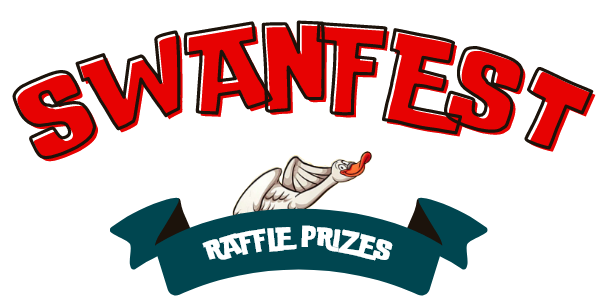 We would like to offer a HUGE THANKS to each and every one of the people, charities and companies that have offered a prize. In these tough economic times, we are extremely grateful to receive these. Again, thank you from all at The Swan.
Please note that you view donator's website by simply clicking on their name.
SwanFest - The Preparation
A lot of preparation goes into SwanFest by Micky, staff and volunteers. It started way back and included Micky making our own beer, the stage, the raffle prizes, all the beers, the ... you get the idea hopefully! Here are some snapshots of what happened over the last days and weeks. Will start with the making of our own brew: SwanFest Sumer Ale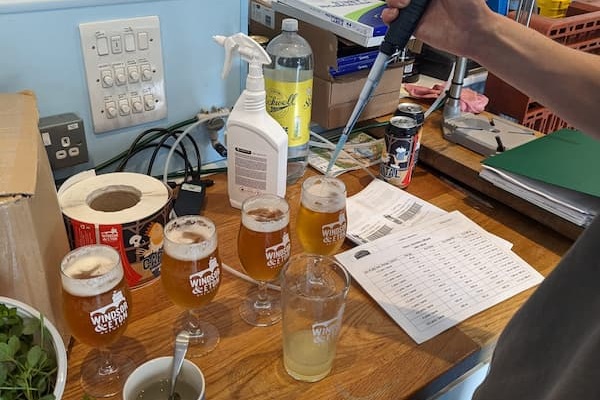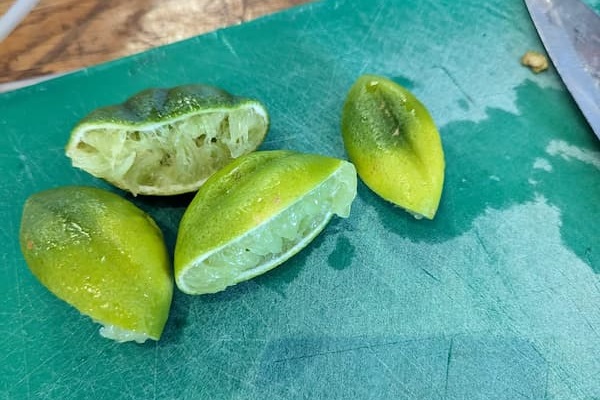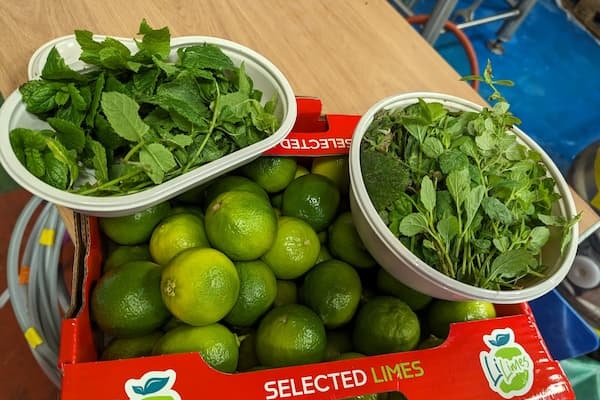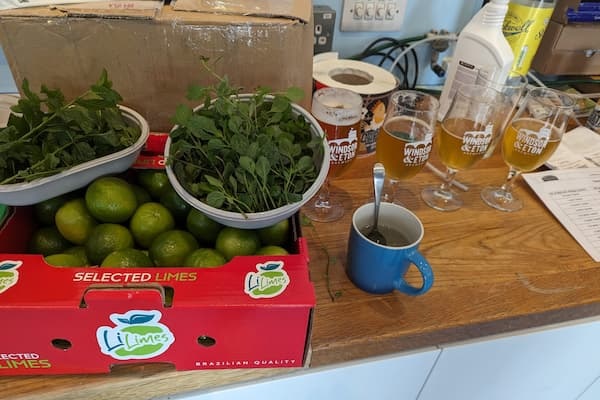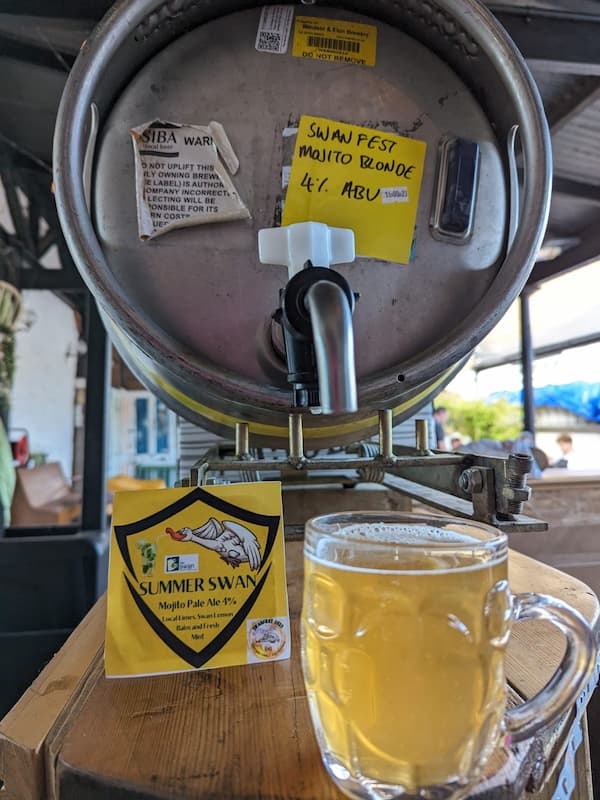 And there was several deliveries of beer made to The Swan. Here is just a small sample of our guest ales that we have on in the main bar ...

The outside bar was set-up as the WEBrew Bar selling a wide range of Windsor & Eton beers. Also there was a small stage built to accomodate the various singers, groups and bands over the three days.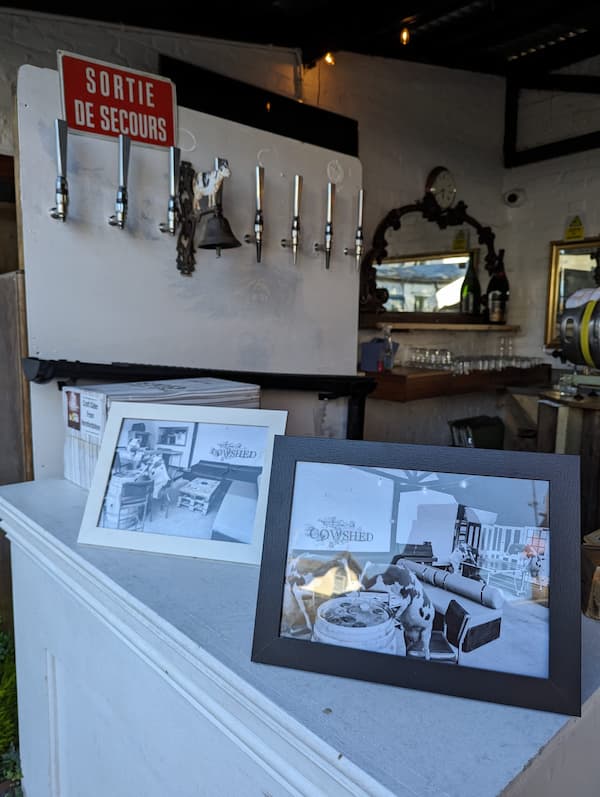 SwanFest Beer Listing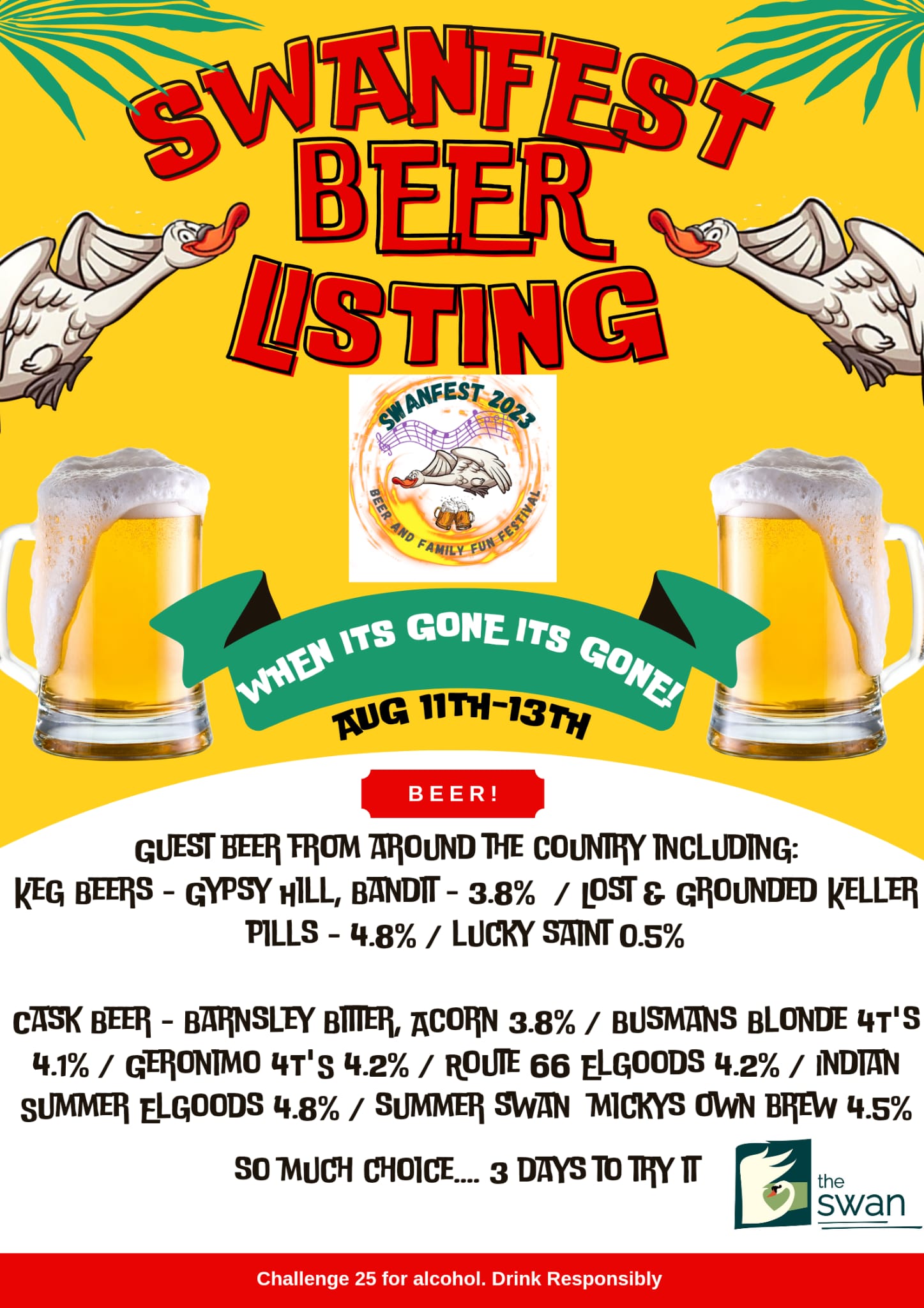 Keg Beers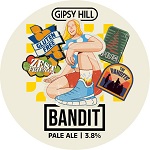 Bandit
£6.25/pint
Bandit is gluten-free and flavour-full! Brewed with Citra, Simcoe and Ekuanot. It's got zips of citrus zest with a soft piney bitterness. Perfect for SwanFest and the eternal hope of sunshine. This beer is brewed used products containing gluten using a natural enzyme to break down the gluten chains leaving the product with less than 20ppm of gluten. (3.8% ABV)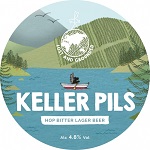 Keller Pils
£6.25/pint
Sometimes the simple things in life are the best. Taking Pilsner malt from Germany and Belgium and combining with three traditional hop varieties – Magnum, Perle and Hallertauer Mittelfruh – to produce a clean, unfiltered, Hop Bitter Lager Beer. Gold Award Winner at the World Beer Cup 2023 in the 'Kellerbier/Zwickelbier beer-style' category. (4.8% ABV)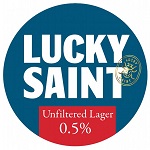 Lucky Saint
£6.00/pint
Superior unfiltered lager. Brewed with centuries-old techniques to create a truly modern lager, the beer is left unfiltered for maximum flavour without the alcohol. Lucky Saint is a smooth, refreshing, citrussy alcohol-free lager with a golden haze and heavenly white head. With just 4 natural ingredients (Pilsner Malt, Hallertau Hops, Water & Yeast). Vegan friendly. (0.5% ABV)
Cask Beers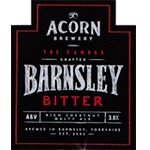 Barnsley Bitter
£5.00/pint
Brewed using the finest quality Maris Otter malt and English hops. Chestnut in colour, having a well rounded, rich flavour, it retains a lasting bitter finish. Brewed using yeast strains used in the 1850's to brew 'Barnsley Bitter'. (3.8% ABV)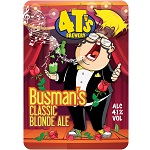 Busmans Classic
£5.00/pint
An English Blonde Ale for the more traditional beer drinker. Single hopped with Pioneer Hops. This is a classic ale with a smooth mouthfeel, sweet maltiness and light Hoppy Bitterness. (4.1% ABV)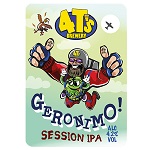 Geronimo
£5.00/pint
Session IPA, extra pale in colour brewed with Cascade, Centennial, Chinook and finished with an air strike of simcoe hops to finish. Resulting in a smooth bitterness with explosions of citrus and grapefruit. (4.2% ABV)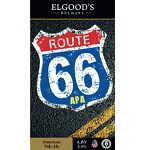 Route 66
£5.00/pint
Pale APA brewed with solely US hops Chinook, Amarillo and Comet for a hoppy aroma. (4.4% ABV)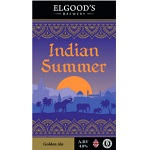 Indian Summer
£5.00/pint
Deep golden beer, spicy hop flavour, hints of honey sweetness. (4.8% ABV)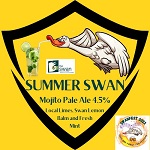 Summer Swan
£5.00/pint
A light in colour pale ale with Lemon Balm grown at The Swan and Limes from the Eton Pantry. A zesty ale perfect for the summer. (4.0% ABV)
Ciders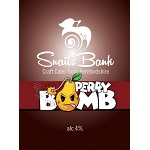 Perry Bomb
£5.50/pint
Perfectly blended perry pears expertly blended with a blast of sweet red cherry makes this one go off with a bang. (4.0% ABV)