The Swan Heroes
They come in all shapes and sizes. They offer time, materials, reductions, freebies, samples, equipment, knowledge, advice and help. They are a unique bunch who all have helped with the renovation of The Swan. Without them, the whole project would not be possible.
Our fantastic Business Supporters
We've had a huge response from local companies, suppliers and tradesmen. It has been absolutely fantastic and we thank each one for their help. We could not have progressed so far without you.

WINDSOR GLASS
Are providing all The Swan's glass needs free of charge to help our local community. This is a fantastic gesture as we have quite a few broken panes as you know.

RBFRS
Station 20 Red Watch of the Royal Berkshire Fire and Rescue Service answered our emergency call and took down our very tired, old pub sign from the inaccessible front of the pub.

St JOSEPH'S FURNITURE MARKET
Are a charity from Chalfont St Peters who have been really helping us with the seating for the bar area and also free of charge seating for the school.

CTD
Sandra and the team at Ceramic Tile Distributors in Slough are helping us with our tile needs whilst giving us a good discount towards the renovations.

CROWN PAINTS
Are providing all our paint solutions at a fantastic price to help us get our pub and community hub up and running as soon as possible.

ULTRA QUICK HIRE
Chris and Robin have done a cracking deal for us on the acrows (supports) and the mini lift forms that are essential for opening up the bar area.
NEW LEAF ELECTRICAL
The lads at New Leaf will be completely rewiring the building in stages, starting with the bar area. We've been most impressed with their work and enthusiasm.

SIMPSON SKIP HIRE
Simpson gave us a reduction on the hire price and were very helpful with finding skips that would actually fit through the gates!

BERKSHIRE SCAFFOLDING
Providing the much needed scaffolding at a really competitive price plus they are not charging us any rent.

TOILET HIRE LIMITED (THL)
Providing our portaloo at a knock down price and duration. And came to our rescue at very short notice.

we are 3FOLD
Matt Regale-Day from 3 Fold has volunteered his time and provided us with high quality floor plans and 3D drawings of the entire site, which we will be using to design and install all aspects of the building's services and features

PETER GAMBLE ESTATE AGENTS
Covered the cost of one full van load of waste removal on our site clearance day.
Meet Our Professionals
We have people going above and beyond to help us. Pushing the boundaries to help us get The Swan renovated as quickly as possible. These professonals are offering us very good mate's rates and going out of their way with outstanding business offers. All trying to help us. These are our real heroes! A huge thanks to every single one of them.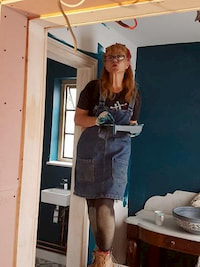 MARILYN MORRISON
Marilyn is providing all project management for the renovation of The Swan. Also leading on the decorating and styling.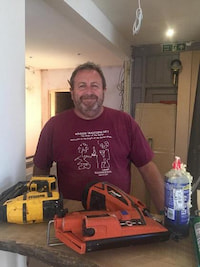 PETER KEEN
Peter is our builder looking after all the works going on within The Swan. From flooring, to ceilings, to building the bar. He is the man!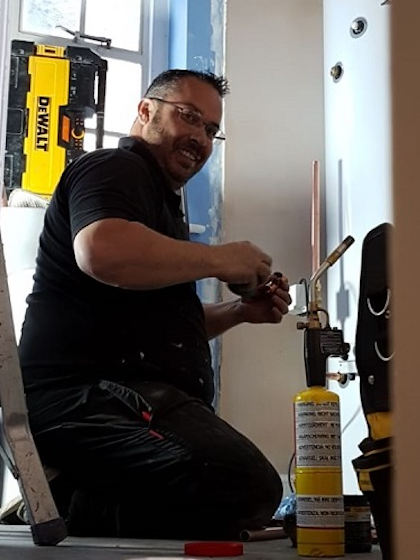 SCOTT KEENAN
Scott is providing all our plumbing and heating solutions throughout the pub and at ecellent rates. His company is SKPH Ltd if you are looking for him to provide you with a solution.
LEN GILSON
Len from Lino Len' has given us a great discount o the flooring materials and free fitting too!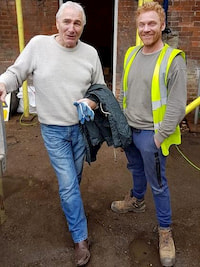 WARREN OF BERKSHIRE SCAFFOLDING
David helping his son Warren from Berkshire Scaffolding who are providing the scaffolding at very preferential rates.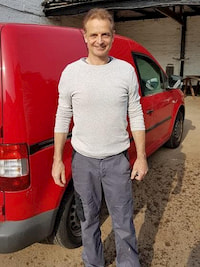 IAN GRAY
Ian is a local lad who has his own plastering business. We are getting the toilets done at very good mate's rates.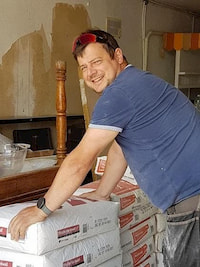 STUART MANDER
Provided plaster and beading free, and a team of plasters at a knock down price.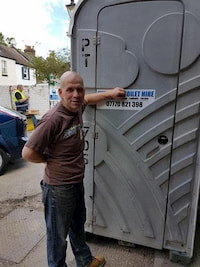 KELVIN OF THL
Came to our rescue for the BBQ when we realised that we didn't have enough toilet facilities.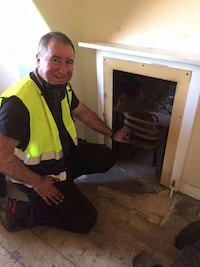 PAUL CLARKE OF SOOTBUSTERS
This is one of the two Victorian fireplaces that we discovered in the attic rooms that Paul has carefully cleaned for us.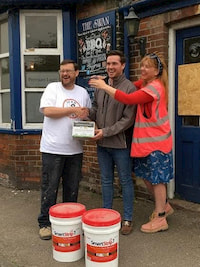 MATT RAYBOULD
From the supplier of the excellent paint stripper. Not only did he not charge us, he drove down from Manchester to deliver it too.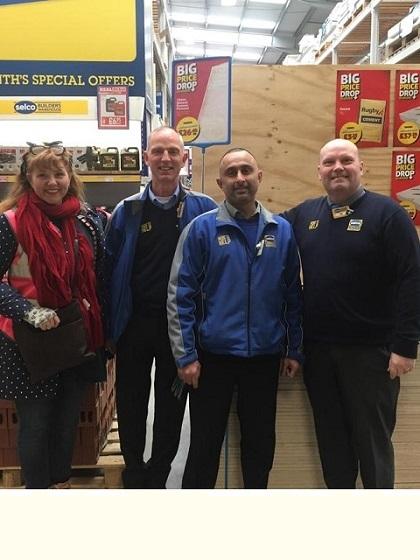 THE TEAM AT SELCO
This is the management at Selco Slough who will kindly give us 10% off all purchases.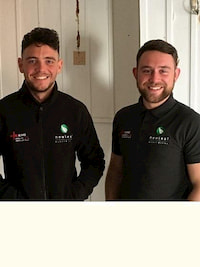 FRANK AND KARL OF NEW LEAF ELECTRICAL
The guys are doing a fantastic job for us and even working through holidays!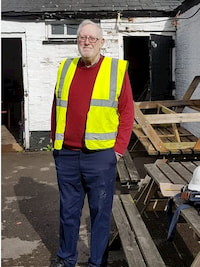 DAVID HOWES
Our structural engineering looking at removing the pillars in the bar area.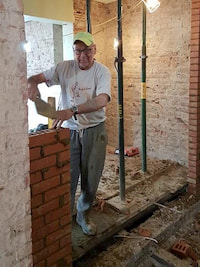 PAUL THE BRICKIE
Helping us put The Swan back together.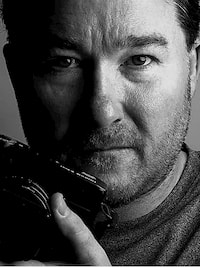 DOUG SEEBURG
Freelance photographer who has done a lot of the photos on the website and social media.
Weekday Warriors
These are the guys who come in during the week on a fairly regular basis. On holiday, or have some free time between meetings, perhaps retired, or unemployed, maybe shift workers ... you name it and they will probably have been down helping out.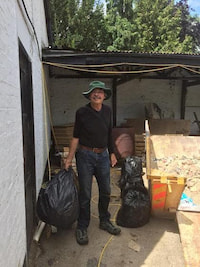 DERMOT GOFF
Our recycling guru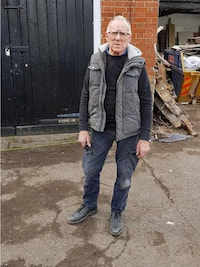 JEFF SAUNDERS
Our plumbing expert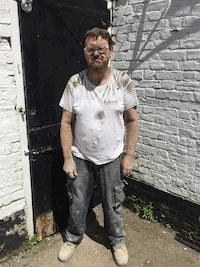 IAN BIRCH
Our general building specialist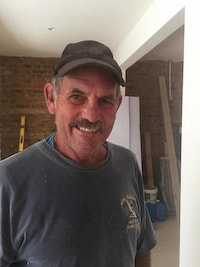 JOHN SYMON
Mr "School Room"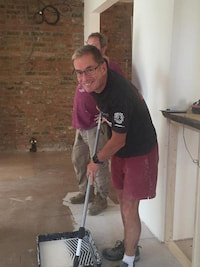 TREVOR HARVEY
Mr "Give It Ago"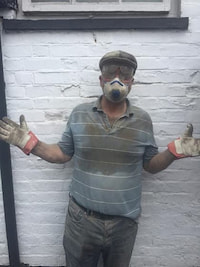 ADRIAN CHOJNACKI
Ceiling destruction specialist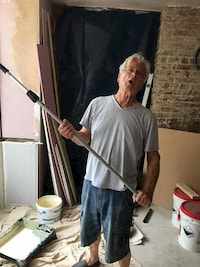 JIM HOUSTON
Singer and Do-Anything Expert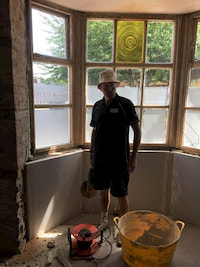 BOSCO RIDGE
Plasterboard Guru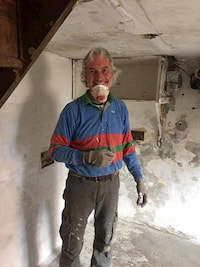 TONY CROSS
All rounder and BBQ chef too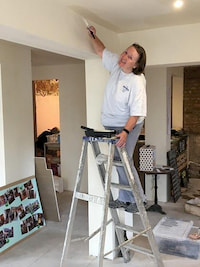 LIZ SUTHERLAND
Mrs "Does whatever is required"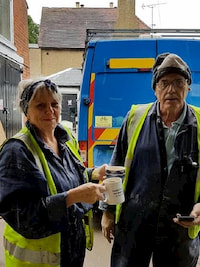 ALAN & GERRY WICKENS
Pointing specialists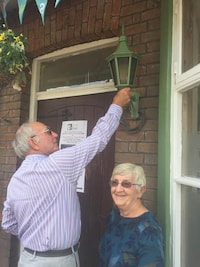 BAS & DIANA WILLIAMS
Finishing Specialists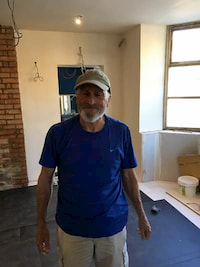 DUNCAN BELL
All rounder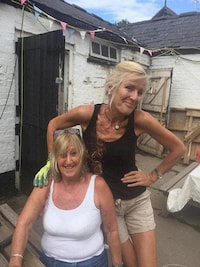 MIRANDA & BES
Queens of the Strippers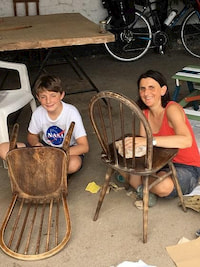 LAURA and JACK
Our chair painting specialists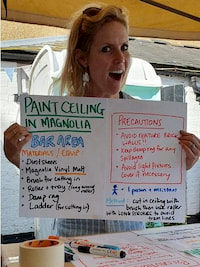 LEXIE SYMON
Born organiser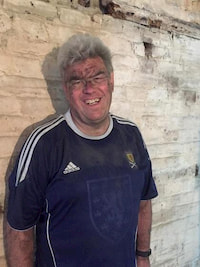 KEN SUTHERLAND
All rounder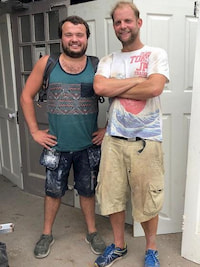 DANIEL JACOBS & MATTHEW ALLEN
School House Rockers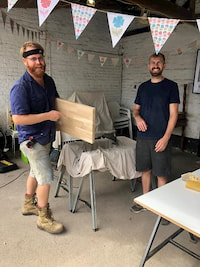 ASHLEY SHEEHAN & MARK DALY
Furniture Makers
Others will be added very soon. If we do miss anyone it is an honest mistake. Please email us at webmaster@theswanwindsor.co.uk and we will make an update to the website. Thanks for your help.
Event Volunteers
Without these folk we would not have been able to run the events that we have. The BBQs, the quizzes, the special evenings. They have all donated their time and effort to help generate funds for The Swan, record the events and to ensure the community have a good time.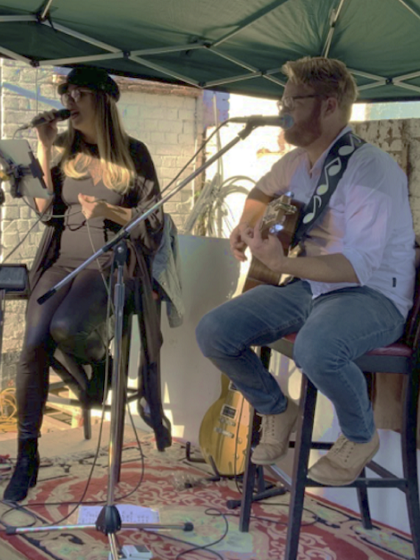 MARK DALY & SHERRIDAN
Musical Maestros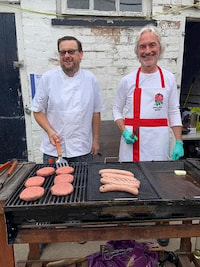 IAN BIRCH & TONY CROSS
Masters of the BBQ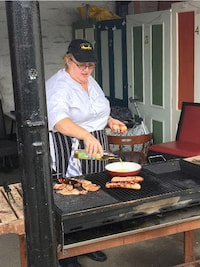 LOUISE BIRCH
Cook Extraordinaire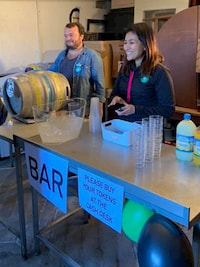 ANGEL ALLEN & DANIEL JACOBS
Baristas
Need photo and names of the orginal two BBQs. Do you know them? Also who can forget Mr Quiz Master? All to be added.
Sewing Volunteers
The sewing group have put together all the soft furnishings within the bar.
Need to add group photo.
Marilyn, Sasha, Lexie's Mum, Miranda, Michele, Bes, Liz, Diana, Dawn, ...who have I missed?
Weekend Volunteers
We have a huge team of volunteers that come down to our organised events. They throw themselves in to tasks that are unusual, dirty, unclear and will undoubtedly have an unexpected outcome. They do it with an enthusiasm and humour that makes every occasion unique and a delight to attend. You willoften find the Weekday Warriors here too.
UNDER CONSTRUCTION - people will be added shortly
If we miss anyone it is an honest mistake. Please email us at webmaster@theswanwindsor.co.uk and we will make an update. Thanks for your help.