Meet the Bar Staff
The bar staff team are very experienced at running a busy and diverse pub. They have had quite a few interviews to pass to b offered the job. The team are employed by the Community Interest Company and will focus solely on The Swan.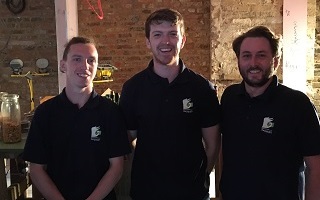 The team are now in action with their first real trial being the opening day on the 20th July. They did an admirable job working from a temporary bar and considering it wasn't ready until 11.30pm the night before. Please welcome our team when you next pop in.
Meet the Management Team
All the Management Team want to help strengthen the fabric of the local community, through making connections between people, increasing skills and supporting social and cultural renewal. They want to open The Swan as a local pub and a community hub.
Meet the Building and Renovations Team
The building team have really got stuck in and made big strides in our journey to re-opening. Apart from organising volunteer events, they have had specialists in to perform work behind the scenes. Soon visible signs such as scaffaling will be part of The Swan whilst we make repairs to roofs, windows and brickwork.
Meet the Communications and Event Committee
All volunteers. All passionate about The Swan. All want to restore The Swan as a local pub ... and to create a unique community hub. Aim of the team is to spread the word and to raise funds for the renovation.

With a quite varied approach - from web, to social media, to traditional press and radio - the team evangelise the story of The Swan. Further, the team are making grant applications to varied and appropiate potential benefactors. Ideas and suggestions are always welcomed.