Meet the Bar Staff
The bar staff team are very experienced at running a busy and diverse pub. They have had quite a few interviews to pass to b offered the job. The team are employed by the Community Interest Company and will focus solely on The Swan.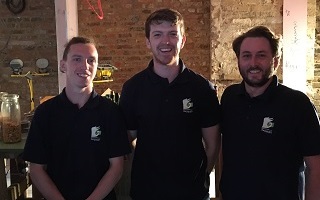 The team are now in action with their first real trial being the opening day on the 20th July. They did an admirable job working from a temporary bar and considering it wasn't ready until 11.30pm the night before. Please welcome our team when you next pop in.
Matt Baker

Pub General Manager

Growing up in High Wycombe I went to school in Holmer Green. I went on to study business at Henley college and then sports sciences at Amersham and Wycombe. As a student looking for a part time job I ended up at Legoland Windsor and I quickly fell in love with the hospitality industry. After spending 5 years playing with Lego, I moved on to manage branded restaurants. Since then, I've worked in various locations for some fantastic brands in the hospitality and catering sector. 17 years on I have found myself back in Windsor, working for Windsor and Eton Brewery. Now a proud father of 4, and married to a wonderful and supportive wife, I'm very much looking forward to this new venture and working along side the community and all involved at the Swan.

Connor Lindop

Bartender

I have worked at the Royal Windsor Racecourse for over 3 years, in which I have learned so much about working behind a bar in a very busy environment. I have been responsible for running bars there since summer of 2018, and I have gained so many skills and accomplished much more than I thought I would have by the age of 21! I believe that working here at The Swan will help me progress my skills and engagement with new customers and new people. I look forward to seeing what we can achieve here!

Kelly Duncan

Bartender

I am a proud mother to my 6 month old son, Toby and am fortunate enough to have a very supportive fiancé by my side.

Having studied my A levels at Henley College nearly 9 years ago, where I met my fiancé, I quickly progressed my marketing career and am now a Digital Marketing Manager within the skincare retail industry. However, having never been able to sit still for long, I have worked part time at local pubs for about 4 years. The community surrounding The Swan is a charm you can't say no to & one I'm certainly proud to now be a part of.

Michael Howard

Barmeister
Meet the Management Team
All the Management Team want to help strengthen the fabric of the local community, through making connections between people, increasing skills and supporting social and cultural renewal. They want to open The Swan as a local pub and a community hub.
Richard Allen

Director

I grew up in Windsor, attended the local schools, and taught in both Windsor Girls' and Boys' schools, before starting Everyday Theatre in 2004, which progressed on an interesting journey to the Green Room schools we have today. I am passionate about people, education and pubs The Swan presents an opportunity to pursue all of these in what will hopefully be a groundbreaking initiative.

The Green Room School began in 2011 as a part time project with three pupils, helping them re-engage with education. It now operates as 2 independent schools, in Windsor and Kingsley, and a 6th form provision (GR6). All three, judged as Ofsted Outstanding, offer unique opportunities for our learners but are bonded by the same ethos that drives our work. We aim to provide an inspirational alternative learning environment, where every young person has the help they need to achieve success.

Buying The Swan is great news for the local community and also for our school as we now have a perfect place we can use for our GR6 pupils. We hope it can provide a venue for learning, an inspiration for Masters Edge projects and a perfect place to learn vital life and work skills as our pupils prepare for adulthood. Having a pub to be used by the school is a new and exciting project, it sounds like something we should do!

Will Calvert

Director

I moved to Windsor in 1985 and it's where my kids grew up and Rebecca and I call home. The Swan is a long term project in which my involvement is about making Windsor a better, more inclusive community. The role of the Green Room School is essential to this. Our commitment as directors is to manage all individuals' investment wisely so that, in five years' time, we've created a community hub that changes lives positively and we're all proud to be part of. It will be hard work but worthwhile and good fun for all involved.

Richard Douglas

Company Secretary

I moved to Windsor 40 years ago, having met my wife, Hilary, a Windsor lass, at teacher training college. After two years teaching, I was commissioned into the Royal Army Educational Corps. Twenty years later, I left the Army and became CEO of a large grant-making charity. Since taking early retirement I have been looking for the right opportunity to volunteer within the local community. From the first public meeting held at the Brewery I was inspired by the vision of what The Swan in Clewer could become and could provide. Using my experience in education and the charity sector, I hope to be able to help develop a community hub that will support the pupils of The Green Room School and the residents of Windsor.
Meet the Building and Renovations Team
The building team have really got stuck in and made big strides in our journey to re-opening. Apart from organising volunteer events, they have had specialists in to perform work behind the scenes. Soon visible signs such as scaffaling will be part of The Swan whilst we make repairs to roofs, windows and brickwork.
Lexie Sparks

Volunteer & Site Coordinator

I am a founding member of The Green Room School, and my roles within our organisation have encompassed every element of the education we provide. I now focus on innovation in our schools and developing new directions for our pupils. It is exciting to be at the forefront of such a ground-breaking project as The Swan. It will be the perfect opportunity for our young people to transition into the world of work and be embraced by a community which many of them otherwise would not have the chance to be a part of.

Matthew Allen

Project Manager for The GRS

Teacher of the Edge/Life Skills and the IB.

Marilyn Leonard

Site Project Manager

I love archeology & history and, in particular, social history and the history of architecture. Buildings from all centuries fascinate me. Until recently I lived in Jersey, where I volunteered for a number of organisations over the years. I am a member of the following UK organisations: Society for the Protection of Ancient Buildings (SPAB) and Institute of Historic Building Conservation and English Heritage. I run a small project management company that specializes mainly in historic buildings but I do work on modern ones too ... after all these buildings will be historic one day! I love to sympathetically bring them back to life and research the history and the people that lived and worked in them. I have degrees in Construction Management & Building Studies and am currently looking into taking a Masters in Historic Conservation. To be asked to work on the Swan as one of my first UK projects has been a dream. I am not only peeling the building back and 'making it better' but gathering snippets of history as I go along. The Swan has some amazing stories to tell ... watch this space!

Graham Cunningham

Site Consultant

I have lived within 200yds of The Swan for 16 years. My wife & I have three young kids who go to school, play sports and thrive in the local area. I have more than 20 years of experience of working in Property and Construction and am now helping The Swan team on project design and delivery. I have a passion for heritage-buildings, design, beer and food; and see The Swan as a great opportunity to further enrich the local community.

Sasha Harbridge

Financial Wizard

I moved to Windsor 10 years ago with my husband and two boys and love the community spirit Windsor seems to evoke. As an experienced Commercial Manager and Finance Analyst, I am keen to help out with the financial management of The Swan. Particularly as both boys have been through the Windsor Youth Football Club with Willie as Chairman and the family are all fans of the amazing work that The Green Room do (and their future plans for The Swan). Not to mention that fact that my husband & I are regulars at both the Brewery and The George! Cheers!.
Meet the Communications and Event Committee
All volunteers. All passionate about The Swan. All want to restore The Swan as a local pub ... and to create a unique community hub. Aim of the team is to spread the word and to raise funds for the renovation.

With a quite varied approach - from web, to social media, to traditional press and radio - the team evangelise the story of The Swan. Further, the team are making grant applications to varied and appropiate potential benefactors. Ideas and suggestions are always welcomed.
Anne Tebbatt

Chair & Press

I moved to Windsor in 2002, intending to stay for no more than 12 months.... 16 years later, I am still here! I work as a Global Project Manager in clinical research, which allows me to travel to some amazing places, but have been searching for something to get me more involved in the community I now call home. As a lover of 'proper pubs and proper beer' with a goddaughter who has been diagnosed as autistic, the vision of The Swan as a community hub and social enterprise seemed to align perfectly with things important to me, so when the opportunity to get more involved came along I was excited to volunteer. I enjoy travelling, walking, watching sport (especially rugby), dancing, baking, the theatre and much more... so keeping busy is not difficult!! I hope to see you for a pint when we open!

Rachel Cross

Twitter

I am a born and bred Windsorian, married with a daughter. I am the headteacher of a Slough primary school and also support across Slough Borough with school improvement. I am the 'Chief Tweeter' for the 'SaveSwan' Twitter account. I developed a liking for beer when the brewery first opened as I wanted to support a local business and I needed to drink something when accompanying my husband there! We've watched the business grow and I wanted to be part of a project that brought together beer with my passion for education, especially supporting young people with additional needs having once been teacher in charge of an infant special needs resource base.

Louise Winch

Events

I have had the pleasure of calling Windsor my home for over 20 years. I live on Parsonage Lane and my community means a lot to me. I am married to Martin, have two rugby mad boys called Jimmy and Eddie and have a lively Cavapoo dog called Evie. My job in marketing at O2 has given me the opportunity to put my skills to use to bring us together to save The Swan and I am keen to be involved in ensuring it meets the needs of the community and brings joy to many. You'll find me drinking a nice glass of Sauvignon Blanc.

Ian Birch

Facebook & NextDoor

I was born and bred locally and moved to Clewer a year ago, after my wife Louise and our son inherited her family home. We have been married for 19 years. After 20 years as a mechanical engineer, I changed career path to move into property refurbishment, which I still do today. I was a volunteer for The British Red Cross, and also for the King George VI Day Centre in Clarence Road. I am a keen real ale supporter and a member of CAMRA. In fact, Louise and I can often be found enjoying evenings in the tap room at Windsor & Eton Brewery. Clewer Village already has a community feel, and I believe the opening of The Swan will bring a whole new atmosphere to the area.

Ric Casale

Brand

I have lived in Windsor for the last 12 years. I walk the dog or cycle past The Swan too many times to count, and am keen to see it reopen so I can drop in for a coffee or a pint! I am a tech entrepreneur working on the Internet of Things to make products and places more interactive with people and the environment. My former roles as a marketing director for The Coca-Cola Company and management consultant should prove useful too, as well as advisory board work for a local charity. I'm interest in social enterprises and sustainable development, and have written a book about the importance and impact of civic action (www.civicrevolution.com). I love the sense of community in Clewer Village and the ambition of turning The Swan into a community hub.

Peter Clifford

Marketing

I am a husband to Claire and father to 3 grown-up children. Our family have lived in Windsor for almost 30 years. Having spent a career in Marketing and Commercial Planning, which included 5 years service on a food industry PR and Communications committee, I have recently taken early retirement, giving me the opportunity to invest both my time and my energy, as well as my experience, into The Swan. I am a lifelong supporter of real ale with an interest in local independent breweries; so I am really keen to see the reopening of The Swan early in 2019 in order to indulge this passion!

Ken Sutherland

Web & IT

I am currently trialling retirement; before that, I had various management positions within the telecoms industry. I moved down from Scotland to Windsor almost 20 years ago and, to be honest, I am still loving it! People who know me will tell you that I love beer and curries (which explains my size). I used to be a regular at The Swan and have some fabulous memories and met some fantastic people. My aim is simple: to help The Swan become phoenix-like and bring it back to life as a cracking wee local pub.