The Swan in Clewer, Windsor
The local community have bought this gorgeous 18th century pub and have started renovating it. It's a big job as the pub had been closed for over three years: all of the electrics, plumbing, ceilings, heating, etc need totally replaced. Our vision is to restore The Swan as a local pub, a real community hub and as a social enterprise assisting young people with additional needs. The renovation work required is being funded by the local community.
The pub opened for business on July, 20th. The Windsor Town Cryer made the official opening announcement booming it across the pub courtyard and into the local environs.
The boys telling us that the pub is, well, open
The first drink after three years
However, this is just the very first early step in the journey. There is still much work to do. We do hope you will come down or a regular basis and see the progress we are making.
Pub opening hours
The pub is now open for business. Until late August we will be operating from a temporary. Seating will be in the courtyard. That said, all our drinks and food are properly stored and served at the correct temperature.
During the week, gates will open at 6pm and close at dusk.
Saturday, gates will open at 11am and close at 10pm.
Sunday, gates will open at 2pm and close at 10pm.
BBQs during August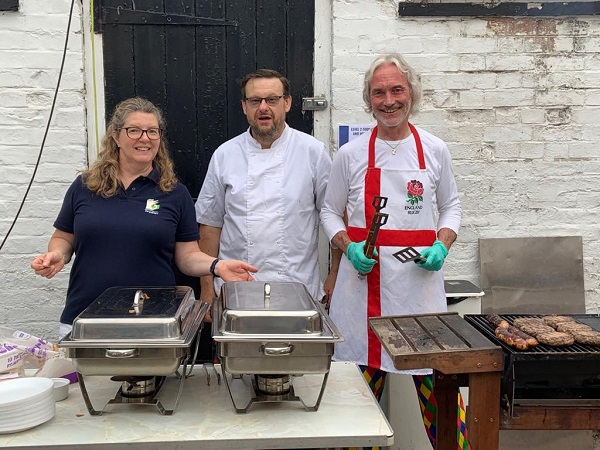 During August we are having a series of BBQs on a Saturday evening from 5pm 'til 8pm. The menu will vary week-to-week but will include options for meat lovers, vegetarians and vegans. Accompliments will be provided. All items will be £5 and all profits will be focussed towards the renovation of the kitchen. This is being manned by volunteers.
This week we are also very lucky to have live music from Iassen and Zoe. Also known as The Soul Works Duo they are an acoustic duo who cover a wide range of artists from Eva Cassidy to Jessie J and George Michael to U2. Weather permitting, their set will start at 6pm for about an hour.
During the BBQs, there will be an opportunity to order or buy Swan merchandise such as polo shirts, pictures, earings and a selecion of other Swan realted items.
What's happening down at The Swan?
To catch-up on what's happening down at The Swan, we are keeping diary. This is constantly being updated to ensure that they it is up-to-date and have most recent information and pictures.
Got ideas, stories or pictures? Please do get in contact to discuss. We are hoping to publish a history section soon - please contribute.
What is available
In our first weeks we will be trying a range of beers, spirits, juices and mixers. We want feedback from customers on what is popular, about pricing, about what is missing, etc. We are also doing some more competitive analysis to get the latest information.
What will be offered on tap is a range of Windor & Eton ales and one of their lagers. As well as this, we will be offering a cider on tap and probably a guest ale or lager too. Based upon the feedback before the pub opened, the community gave a resounding "we want good wine please". We have worked hard to do that and are currently trialing what we consider to be a good quality list.
The bar will be fully staffed by professional bar staff of Matt Baker and his team. This will allow us to offer a good service and ensure we get all the feedback we can.
Once things have settled down, we will share more information about the offering both here and in social media.
The opening day - Saturday 20th July
The In line with our vision from the outset, from this autumn we will have a fully functioning and cosy - if a little rustic - pub, proudly serving the community of Clewer and beyond. However, to get us to this point, there is much renovation work still to be done.
We took the decision to open ASAP in order to give investors and, indeed, all of our customers, the opportunity to sample the atmosphere of The Swan and quench their thirst during the summer months. However, throughout the summer, the renovation work will still progress as The Swan continues on its journey to becoming a fully- fledged pub.
As usual there is photo gallery with pictures from our professional photographer and those from various supporters.
The W&E Brewery dray arriving
Will Calvert with The Swan in the background
Join our emailing list
Want to keep up-to-date with what is going on with Supporting Our Swan? It couldn't be simpler! You can join our emailing list and receive regular updates from us.
Subscribe to our mailing list by filling in all the fields below, it's really simple:
To find out what we do with your details, please view our Privacy Policy
Having any issues receiving our emails? Please have a look at the FAQs.
Soaked in history
The Swan always been more than just a watering hole for thirsty locals. Situated on Mill Lane within the Clewer Village area of Windsor, it's a leisurely 20 minute walk from Windsor Castle. The Swan dates from the 18th century, and during its long history has served as a coaching inn and courthouse. It's also been known variously as The Swan Inn and The Swan Hotel too.
According to local folklore, there is a tunnel linking The Swan to the local church of St Andrews. There is a debris filled hole within the pub which is claimed to be the entrance. Whether this is true, or one of the Victorian pranks common in Windsor, is unclear. Around the 1870s, the coroner held inquests and post mortems at The Swan for those that had drowned in the nearby Thames. It is said that the last journey of those unfortunate souls was through the tunnel to the church.
Being close to the Thames Path for walkers, National Routes 4 and 61 for cyclists, and the Royal Windsor Racecourse means that this community hub is never too far from the action. It finally closed in 2016.
Now it's our turn to open its doors and write the next chapter in its long-standing history.