SwanFest 2022
Our exciting and fun celebration ran from Friday 19th until Sunday 21st August. We were open from 11am until 11pm each of the three days of party. All were welcome and as a bonus, there was no entrance charge. We had an excellent range of activities for all ages including,:
Family fun - face painting, games and crafts.
A beer festival.
Music each afternoon and evening.
A raffle with excellent prizes.
And our famous BBQ each day too.
Read on and see our various pages for each of the days to soak in all the fun.
SwanFest Diary
For each of the three days of SwanFest we have created a separate webpage with the stories and photos of the day. Please just click on the photo of the day and you will be whisked there. Enjoy!
What Was On
The Raffle
We had a traditional raffle with an excellent range of prizes. All funds raised went to the continued renovation of the pub. A MASSIVE thank you to all our prize donaters without whom this would not be possible, really appreciated by all the team. Here are our winners:
We are sorry, but no switches or substitutions are possible. All winners have already been contacted by telephone or email. Any personal details taken in order to contact winners will be destroyed as soon as the prize has been collected. Prizes must be claimed from The Swan, Mill Lane within 3 weeks of the draw, unless alternative arrangements are made.
Thanks to The Team
Unfortuantely we didn't get a picture of the team that put the whole event on. Just to say a huge thanks both to the staff and volunteers who helped make SwanFest 2022 a real success. Without you, it would not have been possible. Here are some photos of the team at the BBQ, or the raffle, or in the stocks (as you do), or in the bar, or face painting, or selling tickets, or .....
If your picture isn't here, apologies.
Feathered Friend
Micky created our own special beer for SwanFest. It was a red IPA at 4.5%. Lighter than a Guardsman in colour with a lovely red tinge. See more of the story on our special page talking about 'Feathered Friend', our very own beer for SwanFest. It went very quickly as it wa very popular.
Guest Beers
We had a fine range of guest beers during SwanFest including: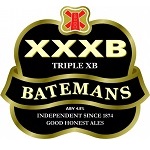 Batemans Triple XB
Batemans Brewery
A malty multiple-winner of CAMRA's Champion Premium Beer of Britain, our much loved XXXB is what you'd call an English tawny beer. Just like the first batch they crafted in 1978, it's brewed with four malts and three varieties of hops, for a deliciously spicy, fruity and biscuity flavour. (4.8% ABV)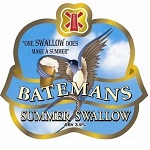 Summer Swallow
Batemans Brewery
A summery beer that breezes in just like the migrating swallows. It's made with lager malts giving it a light body, while Cascade, Chinook and Bramling Cross hops are added late in the brewing process for a lovely hint of lemon. A crisp, dry, refreshing pale ale, deserving of a proper summer's day. (3.9% ABV)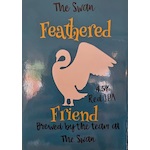 Feathered Friend
Windsor & Eton Brewery
The team at The Swan are working with The Brewery to produce a special beer for SwanFest. Is is currently brewing and will be a Red IPA exclusive to our event. Once it's gone, it's gone! (4.5% ABV)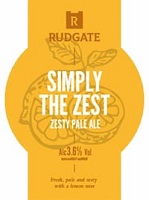 Simply the Zest
Rudgate Brewery
Fresh, pale and zesty with a lemon nose. (3.6% ABV)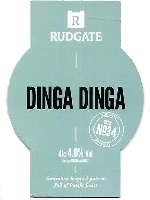 Brew No.34 Dinga Dinga
Rudgate Brewery
Australian inspired pale ale full of Pacific fruits. (4.0% ABV)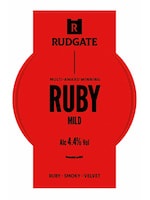 Ruby Mild
Rudgate Brewery
Multi award winner. Ruby red colour with complex and smoky flavours and a rich velvet finish. (4.4% ABV)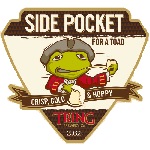 Side Pocket for a Toad
Tring Brewery
It's a toad not a frog! Unmistakable citrus and floral notes from only the best American Cascade hops balanced with a crisp dry finish make this straw coloured ale a fantastic session beer. All that flavour in a 3.6%. Oh Yes. (3.6% ABV)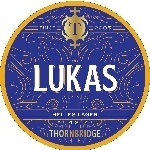 Lukas
Thornbridge Brewery
Helles is a traditional, elegant Bavarian style of beer originating in Munich. Lukas is straw blonde, full-bodied yet sparklingly light. Gluten free. (4.2% ABV)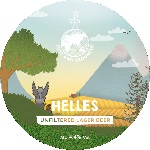 Lost and Grounded
Helles
Gentle and balanced, Helles uses the same pilsner malt blend that is gently hopped with Magnum, Perle and Tettnang. (4.4% ABV)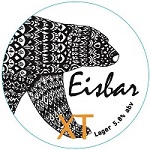 Eisbar Lager
XT Brewing Company
Eisbar (ice bear or polar bear) is a true craft lager brewed in the German Helles style, with a minimum of 4 Sundays in tank and brewed according to the Reinhartsgebott (German purity laws), with no artificial ingredients or preservatives. (ABV 5%)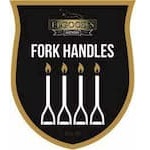 Fork Handles
Vale Brewery
Another British comedy classic with this Blonde ale brewed with all English Malt. The hops are all English too. Orange, spicy First Gold and Mango, passion fruit Olicana make a great double act in this fruity thirst quencher. (4.2% ABV)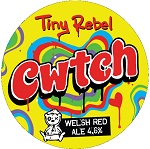 Cwtch
Tiny Rebel
Cwtch (rhymes with butch) means a hug full of Love. Arguably the coolest word on the planet (according to them), Cwtch is a Welsh Red Ale. 6 malts, 2 US hops and weeks of Tiny Rebel love and attention go into making this unique beer. (4.6% ABV)
World Record Attempts
Each day at 5pm we had our own version of the hit BBC programme 'Record Breakers'. Remember the McWhirter brothers and Roy Castle? Well we had our own version with our very special compere Micky who hosted our world record breaking attempts. Despite some brave attempts, we were unsuccessful.