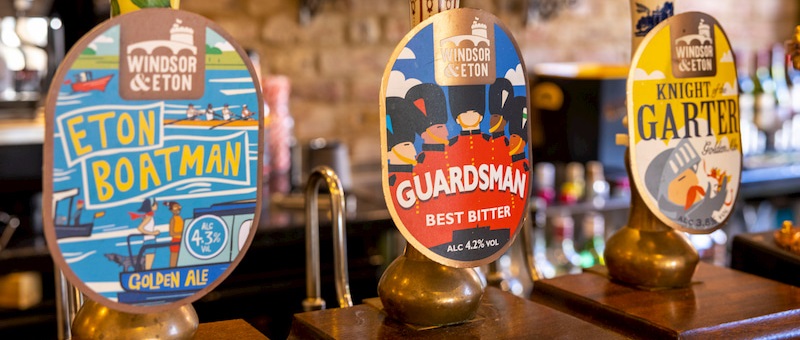 Mobile App
New from Monday 2nd August.
We now have a mobile app that allows you to order and pay for your drinks from your table. These can either be collected at the bar or delivered to your table, you choose. This is provided by a third party specialist company called ROUND. You will need to download and subscribe to their service, more details can be found here:
FYI, The George in Eton uses the same app so you can use it there if you are in town and need a wee refreshment.
The rest of this web page tells you about special offers on beers, details about our wine list, and other items to make your visit to The Swan one to remember.
Drinks Menu
Cocktails
From Monday 2nd August.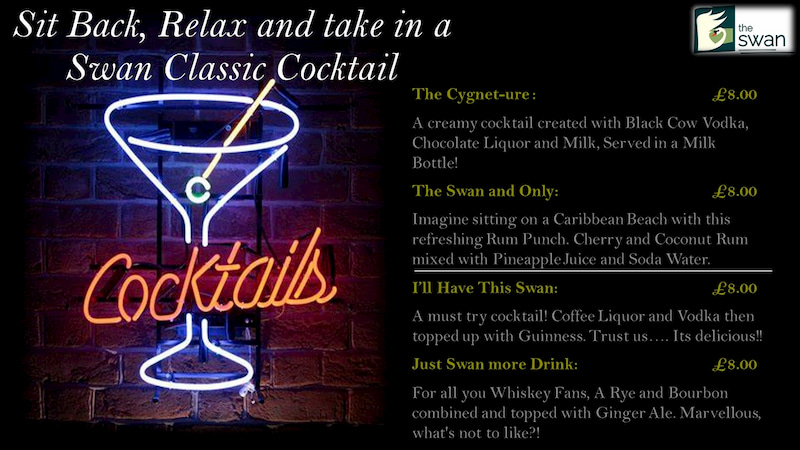 Special Offers on Beers

Guardsman
£3.50/pint
This Best Bitter is a copper-coloured classic British ale with tangy taste and fresh hop aroma. It is brewed with locally grown premium pale and crystal malt for its caramel notes, while the traditional use of Golding and Fuggles hops provide the quintessentially bitter balance. (4.2% ABV)

Knight of the Garter
£3.50/pint
A flaxen-coloured, easy-drinking Golden Ale with distinctive fresh citrus notes brought on by the use of American Amarillo whole leaf hops, giving a strong grapefruit aroma. Zesty sunshine in a glass! (3.8% ABV)

Capital
£4.00/pint
A dry-hoppped Helles style lager first created in summer 2018, brewed with Mandarina Bavaria and North American Lemondrop Hops for a well-balanced dry and crisp beer with sharp zesty citrus notes. (4.0% ABV)
Guest Ale of The Week

Junction
£4.00/pint
Premium Bitter. Named with a nod to their local train station Junction is a rich, premium ale. Sweeter than Wandle it is brewed with Maris otter Pale and a dose of crystal and roasted barley with Challenger, Goldings and Bramling X hops. There is now a good reason to go Up the Junction. (4.5% ABV)
Pitchers and Steins
Convenient with great sharability and reduced waiting times.
2 Pint Pitcher or Stein
| | |
| --- | --- |
| Guardsman | £7.00 |
| Knight of the Garter | £7.00 |
| Devon Red Cider | £9.50 |
| Republica | £10.00 |
| White Riot | £10.40 |
| Treason | £11.20 |
| Capital | £8.00 |
| Guinness | £9.80 |
4 Pint Pitcher
| | |
| --- | --- |
| Guardsman | £14.00 |
| Knight of the Garter | £14.00 |
| Devon Red Cider | £15.00 |
| Republica | £20.00 |
| White Riot | £20.00 |
| Treason | £22.00 |
| Capital | £16.00 |
Non-Alcoholic Options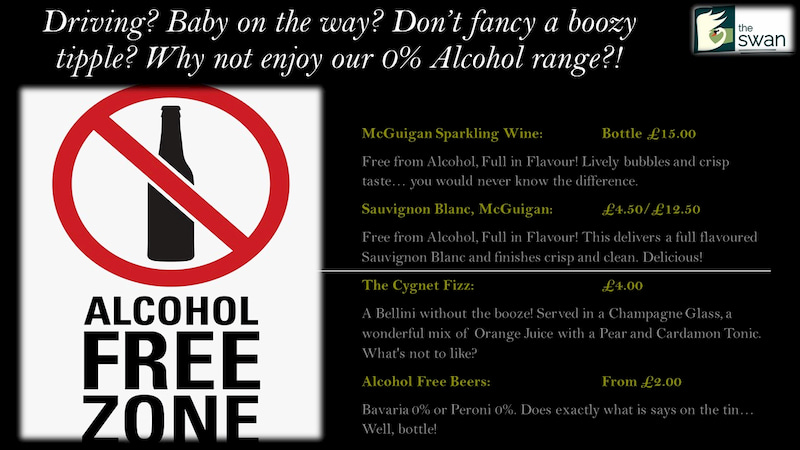 Wine List
SPARKLING WINES
Prosecco DOC Treviso, Vinicola Serena / Veneto, Italy
A young and exciting sparkling wine, full of lively and crisp flavours. It has a delicate lemony character, accompanied by floral aromas of acacia flowerand wisteria, alongside fruitier hints of fresh golden apples. Fragant, fresh and entirely harmonious on the plate, with an aromatic and dry finish.
£7.90
(bottle)
Prosecco Quadri Extra Dry, Botter, Bottle
Fresh, light and lovely on the palate. A complex bouquet of peach, green apple and lilac aromas leads to flavours of citrus and stone fruit. Crisp, refreshing and harmonic.
£26.00
(bottle)
---
CHAMPAGNE
Brut Baron de Marck Gobillard / Champagne, France
A pure, limpid and soft champagne with stylish character. Its fruit is fresh and appealing, burstingwith apples and lemons. An uplifting note of freshly baked brioche adds complexity and class to an elegantly balanced palate.
Should be £39.00, now as a

special offer: £30.00

(bottle)
---
WHITE WINE
Chenin Blanc, Stormy Cape / Western Cape, South Africa
Known as something of a busy bee variety, Chenin Blanc flourishes wherever grapes are grown, and South African winemakers have really made it their own, evolving the style to suit the climate, the food and the people. Think passion fruit and green apple. This is a stunning, spritely little number with a snappy finish.
£4.40
(125ml)
£6.40
(175ml)
£18.00
(bottle)
Chardonnay IGP Pays d'Oc, Leduc / Languedoc-Roussillon, France
Hues of pale gold are displayed in this Chardonnay followed by aromas of peach, pineapple and citrus. Generous tropical fruit shows palate with a hint of honey and vanilla. A very elegant wine with a long finish.
£6.20
(125ml)
£8.30
(175ml)
£25.00
(bottle)
Not Your Grandma's Riesling, Chaffrey Bros Wine Co / South Australia
Floral, lemon/lime and lychee aromas are followed by intense apple and orange blossom on the palate. The wine has great length with the soft refreshing acidity balancing the intensity of fruit and providing the backbone to enable medium to long term cellaring if so desired.
£6.85
(125ml)
£9.75
(175ml)
£28.50
(bottle)
Monte Llano Blanco Rioja, Ramón Bilbao / Rioja, Spain
Pale lemon in colour with green hues. On the nose aromas of tropical fruits such as banana and citrus fruits can be found. The palate is fresh, vibrant and fruity with a balanced acidity.
£6.30
(125ml)
£8.50
(175ml)
£26.00
(bottle)
Pinot Grigio, Via Nova / Veneto, Italy
Lemony on the nose, with a delicious balance in the mouth, this Pinot Grigio is a very esay-to-drinkdry white with medium alcohol and a gorgeous lingering finish.
£4.60
(125ml)
£6.50
(175ml)
£19.50
(bottle)
Yealands Estate Sauvignon Blanc, Yealands / Malborough, New Zealand
This wine shows flavours of passionfruit and blackcurrent leaf with underlying notes of wet stone and thyme. The palate displays good weight and texture, with a focused mineral acidity.
£6.85
(125ml)
£9.75
(175ml)
£28.50
(bottle)
Longue Roche Sauvignon Blanc, IGP Cotes de Gascogne / South West France
Vibrant and zesty with the classic sauvignon nose of gooseberries and a hint of tropical fruit on the light bodied, crisp, unoaked palate.
£6.20
(125ml)
£8.30
(175ml)
£25.00
(bottle)
---
RED WINE
Carignan Vin de France, Le Rouleur / Languedoc-Roussillon, France
This wine has been designed to give the best picture of the Carnignan grape from the Languedox-Roussillon in the South of France one of the most emblematic grape from the region giving fresh red fruit aromas whilst being full-bodied an earthy on the palatein a smoother version to Cavernet Sauvignon.
£4.40
(125ml)
£6.40
(175ml)
£18.00
(bottle)
Monte Llano Tinto Rioja, Ramón Bilbao / Rioja, Spain
Red violet colour with purple hues. On the nose the wine leaves subtle aromasof ripe fruits: blackcurrants and raspberries. On the palate it is fresh, structured and very fruity.
£6.30
(125ml)
£8.50
(175ml)
£26.00
(bottle)
Skaapveld Syrah, MAN Family Winers / Western Cape, South Africa
Distinctive aromas of ripe plum and pepper spices, mouth-filling sweet red-berry flavours and gentle tannins characterize this wine A touch of Viognier was co-fermented with the Shiraz for the aromatic lift it gives to the wine, which emphasises the berry fruit and spice aromas on the nose. The American oak barrels give a hint of vanilla spice and contribute to the smooth silky tannins.
£5.20
(125ml)
£7.40
(175ml)
£22.00
(bottle)
Reserve Malbec, Bodegas Santa Ana / Mendonza, Argentina
Dense purple in colour with bright brick red highlights. Powerfully aromatic, showing concentrated stone fruit aromas such as plums and prunes with a hint of spice oak. The palate is medium to full bodied with a stylish balance between dense blackfruit flavours , tightly knit fine grained tannin and judicious use of oack. Finishes firm and grippy- perfect for drinking with red meat. Sweet aromas of blackberries and plums are enhanced by sibte vanilla notes. Good structure and velvety texture, with soft tannins and long length.
£5.60
(125ml)
£7.80
(175ml)
£24.00
(bottle)
---
ROSÉ WINE
Pretty Gorgeous Rosé, IGP Pays D'Oc / Languedoc-Roussillon, France
A delightful and dainty rosé, ideal during the warmer months. Intense lychee and strawberry notes are greeted with hints of violet and good acidity enabling the wine to be sipped as an aperitif or paired with food.
£4.50
(125ml)
£6.50
(175ml)
£20.00
(bottle)
Comte de Provence Rosé, La Vidaubanaise / Provence, France
Classic light pink in the glass. A light, bright nose of wild strawberries. Refreshing and smooth on the palate. Moreish finish.
£6.40
(125ml)
£9.00
(175ml)
£26.50
(bottle)
Pinot Grigio Blush, Via Nova / Veneto, Italy
Light and refreshing with fresh cranberry and raspberry notes on the nose. On the palate the wine is crispand some citrus flavours with a core of red fruit such as strawberries. Lovely and easy-drinking.
£4.80
(125ml)
£6.80
(175ml)
£22.00
(bottle)
---
NON-ALCOHOLIC WINE
McGuigan Zero Sauvignon Blanc
Free from alcohol, full in flavour, the McGuigan Zero range is a contemporary alcohol-free range that allows you to enjoy wine without the alcohol. This wine has generous aromas of gooseberry and citrus fruits with a subtle grassy tone. This refreshing full flavoured Sauvignon Blanc delivers flavours of passionfruit and lime whilst finishing clean and crips but with no alcohol.
£4.50
(250ml)
£12.50
(bottle)
McGuigan Alcohol Free Zero Sparkling Wine
An alcohol free Chardonnay from the McGuigan Zero range. This wine is full in flavour with attractive aromas of white peach combines with subtle influences of vanilla and oak. The palate is driven by stone fruit and honey melon flavours with toasty oak ensuring a well-rounded, generous finish. McGuigan have over 15 years' experince in low and no alcohol wine production.
£15.00
(bottle only)
Bar Food
Apologies but we do not currently offer bar food. We have decided to stop our offering from the Food Van. You'll have noticed it is no longer in The Courtyard.
We have restarted our famous BBQs at the weekends and do hope to open The Kitchen some time during the late summer. For BBQs, watch out for news in our emails and in our social media channels.
In the meantime, when we are not offering food, we are happy for people to order in takeaway food to eat on site. This could be from local takeaways and may use the likes of Uber and Deliveroo. For deliveries, please remember parking is limited in Mill Lane and we do not wish to inconvenience our neighbours.
Booking a Table
We have a limited number of tables available for booking (walk-in is therefore still possible). These are under the covering in The Courtyard and will have heaters. Bookings can be requested by emailing your details to pub.manager@theswanwindsor.co.uk Please note that there is only a 15 minute grace on your time of arrival. The 'rule of six' applies at all times.