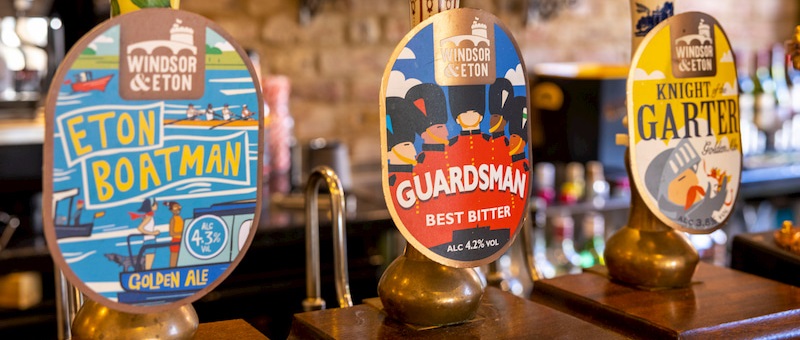 Drinks Menu
Fever-Tree Mixers
Premium Indian Tonic Water
Uniquely fresh tasting with subtle and supportive citrus notes, perfectly balanced by naturally sourced quinine from the Rwanda Congo border.
Refreshingly Light Indian Tonic Water
Made with Fructose (fruit sugars) and naturally sourced quinine from the Rwanda Congo border, with 46% fewer calories that Fever-Tree Indian Tonic Water.
Lemon Tonic Water
Made with only the finest Sicilian lemons, using the 'sfumatrice' extraction method to produce a refreshing citrus taste.
Mediterranean Tonic Water
By using rosemary and lemon-thyme from the shores of Provence, Fever-Tree have created a unique tonic with a delicately sweet herbaceous taste.
Ginger Beer
A blend of three different rare and unique ginger roots from Cochin, Nigeria and Ivory Coast, have been used to make an authentic fiery ginger beer.
Spiced Orange Ginger Ale
A sweet, delivate clementine taste is combined with a subtle cinnamon and Fever-Tree's singature earthy Nigerian ginger.
Smoky Ginger Ale
Delicate and sweet notes of smoked applewood blend with smoke and Fever-Tree's gingers to deliver an aromatic taste profile.
Mexican Lime Soda
Uniquely refreshingly, zesty limes are perfectly balanced with floral and citrusy notes of Japanese yuzu.
Raspberry and Rose Soda
Sweet raspberry is perfectly balanced with delicate, floral notes of Bulgarian rose.
Italian Blood Orange Soda
Sweet and juicy Italian blood oranges are perfectly balanced with a unique blend of herbal botanicals.
Whte Grape and Apricot Soda
Light white grape is perfectly balanced with notes of sweet apricot and herbaceous French verbena.
Spirits
Apologies, coming soon. We are currently updating this and will publish it soon.
Non-Alcoholic Options
McGuigan Sparkling Wine
Free from alcohol, full in flavour!. Lively bubbles and crisp taste ... you would never notice the difference.
£15.00
(bottle)
Sauvignon Blanc, McGuigan
Free from alcohol, full in flavour! This delivers a full flavoured Sauvignon Blanc and finishes crips and clean. Delicious!
£4.50
(glass)
£12.50
(bottle)
The Cygnet Fizz
A Bellini without the booze! Served in a champagne glass, a wonderful mix of orange juice with a pear & cardamon tonic. What's not to like?
£4.00
(glass)
Alcohol Free Beers
Bavaria 0% or Peroni 0%. Does exactly what it says on the tin ... well, the bottle!
From £2.00
(bottle)
Wine List
SPARKLING WINES
Prosecco DOC Treviso, Vinicola Serena / Veneto, Italy
A young and exciting sparkling wine, full of lively and crisp flavours. It has a delicate lemony character, accompanied by floral aromas of acacia flowerand wisteria, alongside fruitier hints of fresh golden apples. Fragant, fresh and entirely harmonious on the plate, with an aromatic and dry finish.
£7.90
(bottle)
Prosecco Quadri Extra Dry, Botter, Bottle
Fresh, light and lovely on the palate. A complex bouquet of peach, green apple and lilac aromas leads to flavours of citrus and stone fruit. Crisp, refreshing and harmonic.
£26.00
(bottle)
---
CHAMPAGNE
Brut Baron de Marck Gobillard / Champagne, France
A pure, limpid and soft champagne with stylish character. Its fruit is fresh and appealing, burstingwith apples and lemons. An uplifting note of freshly baked brioche adds complexity and class to an elegantly balanced palate.
Should be £39.00, now as a

special offer: £30.00

(bottle)
---
WHITE WINE
Chenin Blanc, Stormy Cape / Western Cape, South Africa
Known as something of a busy bee variety, Chenin Blanc flourishes wherever grapes are grown, and South African winemakers have really made it their own, evolving the style to suit the climate, the food and the people. Think passion fruit and green apple. This is a stunning, spritely little number with a snappy finish.
£4.40
(125ml)
£6.40
(175ml)
£18.00
(bottle)
Chardonnay IGP Pays d'Oc, Leduc / Languedoc-Roussillon, France
Hues of pale gold are displaid in this Chardonnay followed by aromas of peach, pineapple and citrus. Generous tropical fruit shows palate with a hint of honey and vanilla. A very elegant wine with a long finish.
£6.20
(125ml)
£8.30
(175ml)
£25.00
(bottle)
Not Your Grandma's Riesling, Chaffrey Bros Wine Co / South Australia
Floral, lemon/lime and lychee aromas are followed by intense apple and orange blossom on the palate. The wine has great length with the soft refreshing acidity balancing the intensity of fruit and providing the backbone to enable medium to long term cellaring if so desired.
£6.85
(125ml)
£9.75
(175ml)
£28.50
(bottle)
Monte Llano Blanco Rioja, Ramón Bilbao / Rioja, Spain
Pale lemon in colour with green hues. On the nose aromas of tropical fruits such as banana and citrus fruits can be found. The palate is fresh, vibrant and fruity with a balanced acidity.
£6.30
(125ml)
£8.50
(175ml)
£26.00
(bottle)
Pinot Grigio, Via Nova / Veneto, Italy
Lemony on the nose, with a delicious balance in the mouth, this Pinot Grigio is a very esay-to-drinkdry white with medium alcohol and a gorgeous lingering finish.
£4.60
(125ml)
£6.50
(175ml)
£19.50
(bottle)
Yealands Estate Sauvignon Blanc, Yealands / Malborough, New Zealand
This wine shows flavours of passionfruit and blackcurrent leaf with underlying notes of wet stone and thyme. The palate displays good weight and texture, with a focused mineral acidity.
£6.85
(125ml)
£9.75
(175ml)
£28.50
(bottle)
Longue Roche Sauvignon Blanc, IGP Cotes de Gascogne / South West France
Vibrant and zesty with the classic sauvignon nose of gooseberries and a hint of tropical fruit on the light bodied, crisp, unoaked palate.
£6.20
(125ml)
£8.30
(175ml)
£25.00
(bottle)
---
RED WINE
Carignan Vin de France, Le Rouleur / Languedoc-Roussillon, France
This wine has been designed to give the best picture of the Carnignan grape from the Languedox-Roussillon in the South of France one of the most emblematic grape from the region giving fresh red fruit aromas whilst being full-bodied an earthy on the palatein a smoother version to Cavernet Sauvignon.
£4.40
(125ml)
£6.40
(175ml)
£18.00
(bottle)
Monte Llano Tinto Rioja, Ramón Bilbao / Rioja, Spain
Red violet colour with purple hues. On the nose the wine leaves subtle aromasof ripe fruits: blackcurrants and raspberries. On the palate it is fresh, structured and very fruity.
£6.30
(125ml)
£8.50
(175ml)
£26.00
(bottle)
Skaapveld Syrah, MAN Family Winers / Western Cape, South Africa
Distinctive aromas of ripe plum and pepper spices, mouth-filling sweet red-berry flavours and gentle tannins characterize this wine A touch of Viognier was co-fermented with the Shiraz for the aromatic lift it gives to the wine, which emphasises the berry fruit and spice aromas on the nose. The American oak barrels give a hint of vanilla spice and contribute to the smooth silky tannins.
£5.20
(125ml)
£7.40
(175ml)
£22.00
(bottle)
Reserve Malbec, Bodegas Santa Ana / Mendonza, Argentina
Dense purple in colour with bright brick red highlights. Powerfully aromatic, showing concentrated stone fruit aromas such as plums and prunes with a hint of spice oak. The palate is medium to full bodied with a stylish balance between dense blackfruit flavours , tightly knit fine grained tannin and judicious use of oack. Finishes firm and grippy- perfect for drinking with red meat. Sweet aromas of blackberries and plums are enhanced by sibte vanilla notes. Good structure and velvety texture, with soft tannins and long length.
£5.60
(125ml)
£7.80
(175ml)
£24.00
(bottle)
---
ROSÉ WINE
Pretty Gorgeous Rosé, IGP Pays D'Oc / Languedoc-Roussillon, France
A delightful and dainty rosé, ideal during the warmer months. Intense lychee and strawberry notes are greeted with hints of violet and good acidity enabling the wine to be sipped as an aperitif or paired with food.
£4.50
(125ml)
£6.50
(175ml)
£20.00
(bottle)
Comte de Provence Rosé, La Vidaubanaise / Provence, France
Classic light pink in the glass. A light, bright nose of wild strawberries. Refreshing and smooth on the palate. Moreish finish.
£6.40
(125ml)
£9.00
(175ml)
£26.50
(bottle)
Pinot Grigio Blush, Via Nova / Veneto, Italy
Light and refreshing with fresh cranberry and raspberry notes on the nose. On the palate the wine is crispand some citrus flavours with a core of red fruit such as strawberries. Lovely and easy-drinking.
£4.80
(125ml)
£6.80
(175ml)
£22.00
(bottle)
---
NON-ALCOHOLIC WINE
McGuigan Zero Sauvignon Blanc
Free from alcohol, full in flavour, the McGuigan Zero range is a contemporary alcohol-free range that allows you to enjoy wine without the alcohol. This wine has generous aromas of gooseberry and citrus fruits with a subtle grassy tone. This refreshing full flavoured Sauvignon Blanc delivers flavours of passionfruit and lime whilst finishing clean and crips but with no alcohol.
£4.50
(250ml)
£12.50
(bottle)
McGuigan Alcohol Free Zero Sparkling Wine
An alcohol free Chardonnay from the McGuigan Zero range. This wine is full in flavour with attractive aromas of white peach combines with subtle influences of vanilla and oak. The palate is driven by stone fruit and honey melon flavours with toasty oak ensuring a well-rounded, generous finish. McGuigan have over 15 years' experince in low and no alcohol wine production.
£15.00
(bottle only)
Bar Food
The Kitchen launched on 13th May, 2022 with a range of excellent homemade pizzas and specials including fish & chips, burger & chips and sausage & mash. As we get more experience and feedback, this will be adapted and fine tuned. To find out more information you can visit our Kitchen page or our online Food Menu.
Booking a Table
We have a limited number of tables available for booking (walk-in is therefore still possible). These are under the covering in The Courtyard and will have heaters. Bookings can be requested by emailing your details to pub.manager@theswanwindsor.co.uk Please note that there is only a 15 minute grace on your time of arrival. The 'rule of six' applies at all times.