What Is It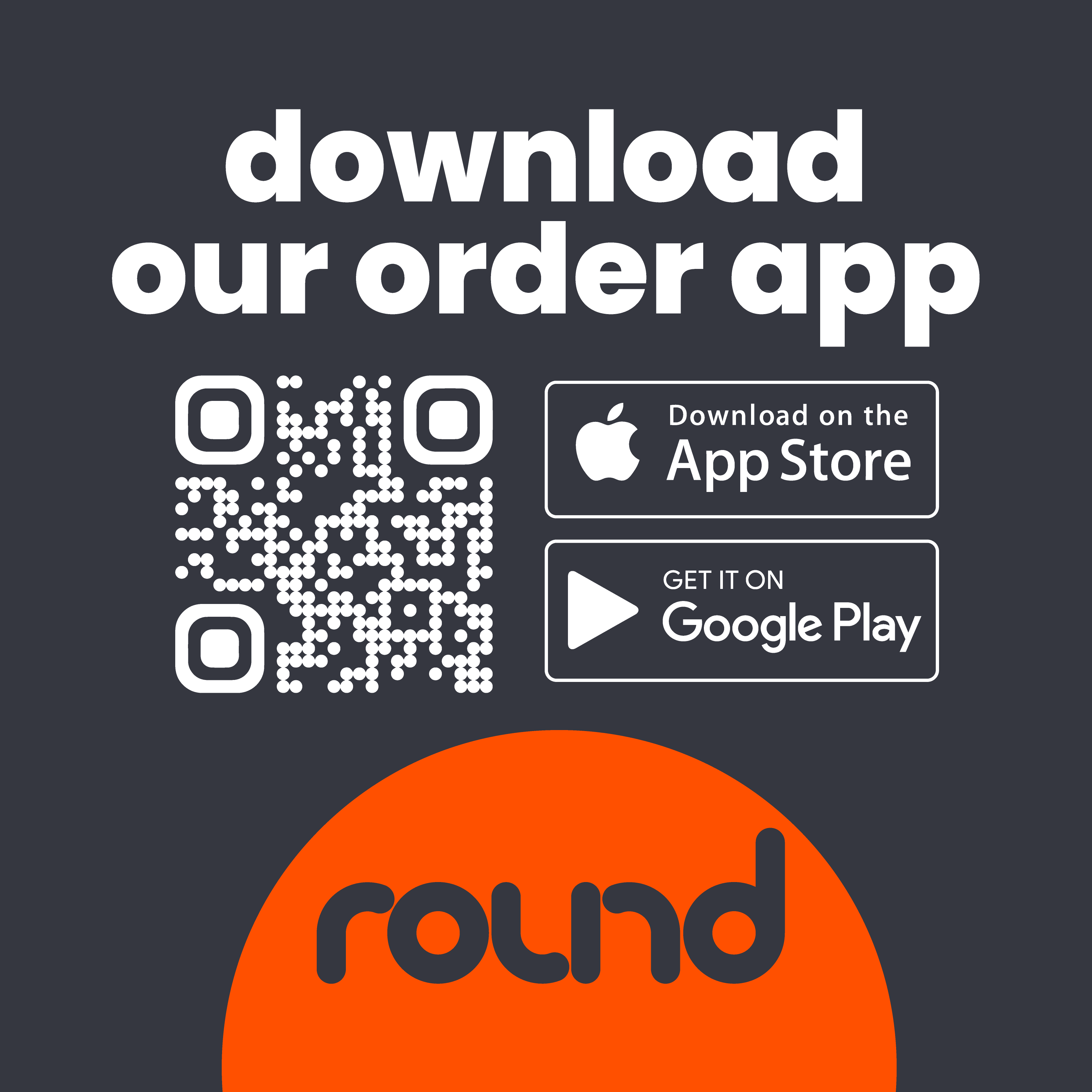 Our new app is coming!
It allows you to order food & drink to your table or for collection at the bar. ROUND is a third party application that the Swan Clewer CIC is utilising to allow you to order and pay for food and drinks from your smartphone or tablet, that can be served to your table or for collection at the bar.
Available from Monday 2nd August.
Which Devices
ROUND works on iPhone, iPad and Android devices. For specific versions of the operating system and devices, please check with the appropriate app store. It works with most versions but ROUND only guarantee the current operating system and the previous one. It will require approximately 100MB of space on your device.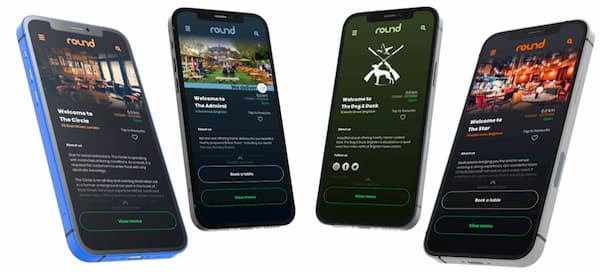 Order From Your Mobile
You can download the app from the appropriate app store.
Signing Up
After downloading ROUND from the appropriate app store, open the application up. On using the app for the first time, you will be given the chance to watch a short tutorial.
You will then be asked to sign-up to the ROUND service. If you are not a subscriber already, you will be asked to provide:
your name,
date of birth,
and provide an email & password.
Instead of using your email for your ROUND account you can link to your Facebook, Appple of Google account. The choice is yours.
Agreement with ROUND's T&Cs is required. You can opt out/in of their marketing communications as desired.
Due to the download and subscription process, we do advise downloading the app prior to visiting The Swan. If not, please use our WiFi which is free - just ask staff for details.
Payment
ROUND accepts all debit and credit card payments, which are paid out same day to The Swan. ROUND also accepts Google Pay and Apple Pay too. You can set up the payment method when you place your first order. The ROUND app has the ability to remember your details so you don't have to keep inputing the information. That data is held securely. The app will allow you to select between multiple payment methods should you wish.
Ordering
The process is relatively simple. The first time might feel a little weird, but after that it is like riding a bike. It is very similar to other apps that have been used by the big pub chains and The George in Eton.
Open the ROUND app.
Select 'The Swan in Clewer CIC'.
Browse our Drinks Menu.
Add the items you want to your order.
Specify collection at the bar or delivered to your table.
You can review your order if desired.
Pay for the order and checkout.
You can keep tabs on the progress of your order (pls turn on notifications).
Your order can then be collected at the bar or will be delivered to your table as requested.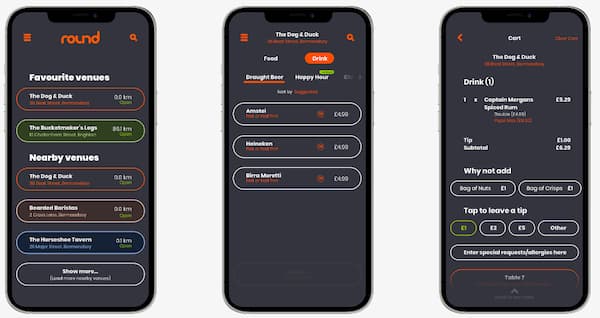 Privacy
The ROUND Privacy Policy explains what personal data they collect from you. To access the policy, please go to: https://round.app/privacy/
The ROUND app may use, but many not be limited to, the following types of data:
data used to track you: location.
data linked to you: purchases, contact info, financial info and identifiers.
data not linked to you: diagnostics and usage data.
Usage and order data is shared with The Swan so that we can offer you the best service possible.
More Info
More details about ROUND and their application:
App name: ROUND Order and Pay Mobile Application
Category: Food & Drink Ordering
Rating: PEGI 16 (Use of alcohol)
Supplier: Round App Ltd
Website: https://round.app/
Help portal: https://user.round.app
Privacy Policy: https://round.app/privacy/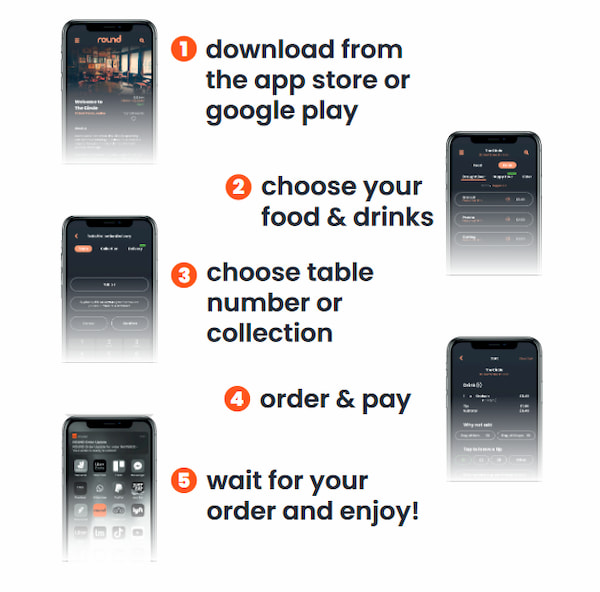 Having Issues
If you are unable to place an order due to a payment issue, please:
Check your card's payment details are correct.
Ensure your card has not been 'frozen' by the card issuer.
Check that you are not requiring a PIN entry to validate the transation.
Try an alternative payment method (e.g. Apple Pay or another debit/credit card)
If you are not getting updates about the progress of your order, please:
Turn on notifications on your mobile device.
Ensure you have placed your order with The Swan and not another location.
Talk to a member of the Bar Team and they will help you.
There is a short video from ROUND that explains the whole process. We recommend having a quick view of that.
If none of the above has resolved your issue, please visit ROUND's FAQs via this button:
Lastly, you can email contact ROUND directly at help@round.app or preferably by raising a help ticket.
If you are unhappy with the ROUND app, please let us know. You can delete the app from your mobile device should you want. To delete any information that ROUND holds about you, please contact them directly via help@round.app or via their social media.
Food
Apologies but we do not currently offer bar food. We have decided to stop our offering from the Food Van. You'll have noticed it is no longer in The Courtyard.
We have restarted our famous BBQs at the weekends and do hope to open The Kitchen some time during the late summer. For BBQs, watch out for news in our emails and in our social media channels.
In the meantime, when we are not offering food, we are happy for people to order in takeaway food to eat on site. This could be from local takeaways and may use the likes of Uber and Deliveroo. For deliveries, please remember parking is limited in Mill Lane and we do not wish to inconvenience our neighbours.
Booking a Table
We have a limited number of tables available for booking (walk-in is therefore still possible). These are under the covering in The Courtyard and will have heaters. Bookings can be requested by emailing your details to pub.manager@theswanwindsor.co.uk Please note that there is only a 15 minute grace on your time of arrival. The 'rule of six' applies at all times.