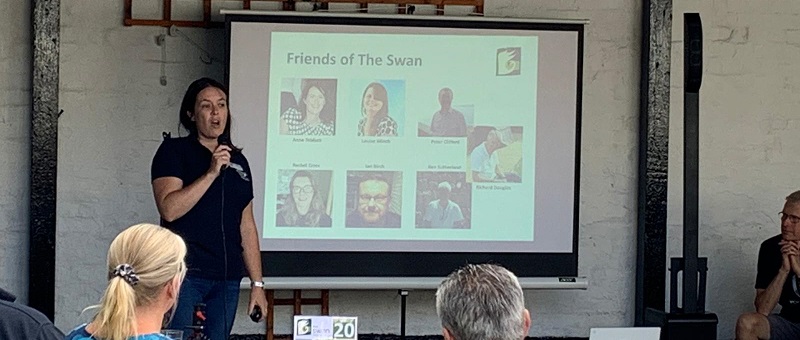 The Swan Clewer Community Interest Company owns and runs The Swan in Clewer, Windsor. It has over 200 investors of all shapes and sizes, and two major share holders through Windsor & Eton Brewery and The Green Room School. The Swan is unique - it is a pub, it is a community hub, and it is a school. No other place is like it in the UK.
Each year we hold an AGM in the summer out in The Courtyard to let in as many investors as possible. Our AGMs have the school, the pub and the community present an update. There is also an opportunity for questions. Documents, videos, minutes et al can be found via this page.
AGM 2021
Our second birthday past a few weeks ago but due to Covid restrictions, it made running the AGM extremely difficult. We therefore delayed it until we could do it in a safe and legal way. The day was called 'Freedom Day' when the last of the restrictions were lifted, we called it our 'The Swan AGM'. Our evening was opened by Soul Duo who provided some excellent music as people arrived. They are our first band in over a year due to covid restrictions.
AGM 2020
We have been quite open with the AGM holding it in The Courtyard of the pub with the event being streamed live via Facebook. Information here is to help people understand about the CIC, and clearly demonstrate that ANY and ALL profits are re-invested back into the pub to allow further refurbishment activities.
Why not take the opportunity to subscribe to The Swan's YouTube channel? You should be able to get notifications and access to new content as soon as it is uploaded. You can of course upload your own too. We are trying to preserve these videos for the future.
Disclaimer
Please note that these do not reflect any documentation for or any commitment to HMRC or Companies House or any third parties. They are as accurate as possible on the day but are liable to change without notice. They are for information only. If you have any questions or doubts, please contact the Company Secretary who will be able to help you out.