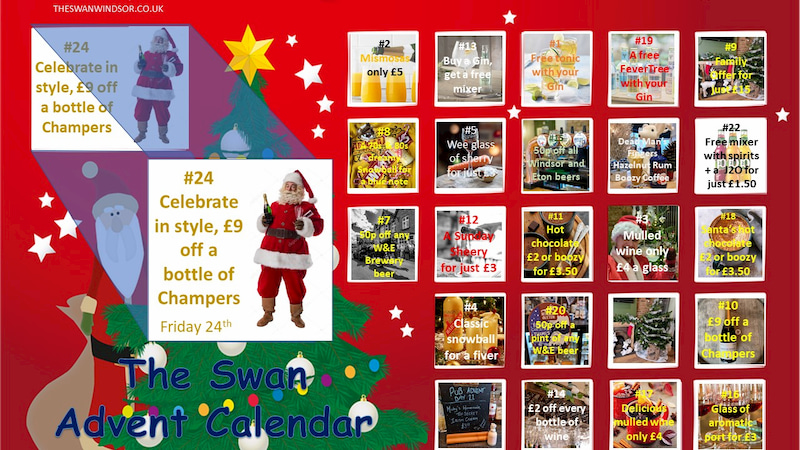 The Swan Advent Calendar
Okay Advent and Christmas is over for 2021. We had a blast despite covid. We had some cracking Advent offers that went down a storm. So come back in eleven months and see what 2022 brings us. Until then, have a fantastic year! We hope to see you down at The Swan soon. Stay safe.
Today's Offer
Day #25: Saturday 25th December

Happy Christmas! We're open from noon until 2pm. Hope to see you for a wee celebratory drink.

Day #24: Friday 24th December

A great way to toast Christmas Eve in style - a huge ££9 off a bottle of our fine champagne. Yes, NINE POUNDS OFF! An excellent offer from young Micky when bubbles are the best way to celebrate. Merry Christmas!

Day #23: Thursday 23rd December

Behind today's door Micky has a great family offer: 2 soft drinks and 2 alcoholic drinks *excludes bottles for just £15. And today is the last day for sending a letter to Santa - get yours in quickly!

Day #22: Wednesday 22nd December

Micky has a fab offer behind door twenty-two today: a free mixer with any spirit AND a J2O for just £1.50. Just in time for the quizzers tonight to help stimulate those little grey cells!

Day #21: Tuesday 21st December

Getting excited yet? Micky is for sure! Today we have his homemade Irish Cream which has been made to a Top Secret recipe handed down fom Santa himself. A real special and only £3 a glass. Go on, give it a go!

Day #20: Monday 20th December

We're closing in on Christmas Day and with just a few days to go, behind door twenty Micky has one for the beer drinkers amongst us - 50p off a pint of any of our Windsor and Eton draught beers. Plus the pub is opening at midday too to allow you to take advantage of this offer.

Day #19: Sunday 19th December

Santa and Micky know that gin is very popular in Windsor so behind today's door we have a free premium FeverTree of your choice when you buy a gin. Now that's perfect for a leisurely Sunday afternoon!

Day #18: Saturday 18th December

Santa was at The Swan this morning so Micky have to make sure we have something for young and old alike. What's better than a delicious hot chocolate on a cold Saturday morning? The answer, of course, is nothing! Enjoy! Available all day.

Day #17: Friday 17th December

Behind the seventeenth door is the traditional and popular winter drink Mulled Wine (aka spiced wine). Micky and Connor's secret recipe has gone down a storm so makes a welcome return just in time for the Carol Singing this evening.

Day #16: Thursday 16th December

What's behind today's door Micky? A lovely glass of aromatic port that goes well with a wee Christmas mince pie or a slice of stollen. Self-indulgent, scrummy and sure to delight.

Day #15: Wednesday 15th December

Today behind the door is one for the beer drinkers amongst us: 50p off all Windsor and Eton beers. This includes both draught and bottled beers. Brilliant!

Day #14: Tuesday 14th December

Micky has opened today's door and found it is a real ladies' special: £2 off every bottle of wine today. With some excellent good value wines, this is right out of a cracker.

Day #13: Monday 13th December

Behind today's door: buy a gin, get a free mixer. Hard to beat a refreshing G & FeverTree with ice & a slice. One of Micky's favourites!

Day #12: Sunday 12th December

A lovely wee Sunday Sherry is on offer behind today's door ... only £3 for a glass. Underrated, well worth a wee go with this excellent offer.

Day #11: Saturday 11th December

Our special visitor today - Santa - requested Micky put on something for kids and adults alike. Behind today's door is delicious hot chocolate for only £2, or spiced up a bit with a little booze for just £3.50.

Day #10: Friday 10th December

Micky has plaid a blinder today - a huge £9 off a bottle of fine champagne. Yes, NINE POUNDS OFF! A great offer for a Friday when some bubbles are required to celebrate the end of another week.

Day #9: Thursday 9th December

Behind today's door is a great family offer: two soft drinks and two alcoholic drinks *excludes bottles for just £15.

Day #8: Wednesday 8th December

So popular that Micky had to bring it back in time for the quiz tonight. Behind today's door is the classic Snowball. Give it go and remember the era of Starsky & Hutch, Abba, Saturday Night Fever. Just a fiver a go.

Day #7: Tuesday 7th December

Behind today's door is a special offer on Windsor & Eton beers - draught or bottled. Micky has set the tills to take FIFTY PENCE off for today. Fab especially when there is a sneaky pin of Conqueror on draught!

Day #6: Monday 6th December

Dead Man 's Fingers Rum Coffee. Hazelnuts and spiced rum might not be the first pairing that jumps to your mind, but Micky can vouch for its deliciousness! And when added to coffee and topped with cream, the result is fantastic!

Day #5: Sunday 5th December

Sherry, for those in the know, is absolutely wonderful. Often stereotyped, Micky is trying to change all that with today's special offer from the bar: a wee glass of sherry (25ml) for just £3.

Day #4: Saturday 4th December

Behind today's door Micky has the Snowball Cocktail, a classic (70s & 80s) holiday drink. Using only the best Warninks Advocaat - which is synonymous with the infamous Snowball drink – this is both refreshing & festive! Go on - give it a go!

Day #3: Friday 3rd December

Day 3 and it's a hearty warmer for the Winter Fayre and Windsor Living Advent Calendar. A pound off a glass of steamy mulled wine! Young Micky is seen showing off the benefits of mulled wine - a slight red face and you grow a Santa costume!

Day #2: Thursday 2nd December

It's day 2 and Micky is offering Mismosas for just a fiver. Chilled champagne and chilled orange juice lovingly stirred together and served straight-up in a flute glass.

Day #1: Wednesday 1st December

To kick off our advent calendar we have a cracking offer for Gin aficionados. Buy a Gin and get any tonic free! This includes our popular FeverTree branded range of tonics. What's not to like?